For tech enthusiasts, Chromebooks can be an acquired taste. Advanced users don't need a stripped-down operating system, and the low computing power generally disqualifies Chromebooks from being a serious, primary PC. But Chromebooks can often find a welcome spot in an enthusiast's home as a secondary or (after the phone) tertiary device. And when that Chromebook comes in a detachable form factor with a screen that's slightly larger than most competitors, it fits that role well.
The HP Chromebook x2 two-in-one makes a play for this space with an 11-inch display that offers more screen area than rivals like the 10.1-inch Lenovo Chromebook Duet, the 10.5-inch Microsoft Surface Go 3, or even similarly priced iPads. HP's portable, bendable (and did we mention blue?) Chromebook is ripe for travel and less intensive tasks.
Specs at a glance: HP Chromebook x2
Worst
Best
As reviewed
Screen
11-inch 2160×1440 IPS touchscreen
OS
Chrome OS
CPU
Qualcomm Snapdragon 7c Compute Platform
RAM
4GB LPDDR4x-2133
8GB LPDDR4x-2133
Storage
64GB eMMC
128GB eMMC
64GB eMMC
GPU
Qualcomm Adreno 618 (integrated)
Networking
Qualcomm Atheros 802.11a/b/g/n/ac (2×2) Wi-Fi, Bluetooth 5
Ports
2x USB 3.1 Gen 1 (Type-C), 1x microSD card reader
Size
9.9×7×0.3 inches (252.5×176.8×7.6 mm)
Weight
With keyboard and kickstand: 1.2 lb; Tablet only: 1 lb
Battery
32 Wh
Warranty
1 year
Price (MSRP)
$570
$680
$600
Other perks
HP Rechargeable USI Pen
4G LTE
HP Rechargeable USI Pen
Despite an MSRP of $600-$680, depending on the configuration, I've seen the HP Chromebook x2 at more appropriate sale prices of $370, $400, or $480. Considering its level of power, its touchpad that demands a hard surface, and a keyboard cover that feels like a temporary solution, you'll want to wait for that discount.
A little color never hurt anyone
I appreciate a piece of tech that's not afraid to show some color. Those who like a typical-looking computer can get the Chromebook x2 in Shade Gray. But for those craving more flavor, there's Night Teal.
The computer itself is silver (with thick black borders) regardless; HP isn't that bold. What Night Teal gets you is a detachable keyboard and back cover/kickstand in an exciting ocean-like shade of blue. That blue makes the white font on the keyboard pop and is just dark enough not to look childish—a fine line to walk for any Chromebook.
Powerful magnets secure the back cover to the tablet and help guide the keyboard into place with five-point pogo pins. Attachments required minimal work; the magnets just pull everything right into place.
On its own, the back cover is thin but hard. It didn't give when I tried bending it, except with firm movements at the designated metal hinge. I still felt secure with the Chromebook angled back at the maximum 170 degrees, allowing me to type in my most aggressive fashion or mark away at the screen with the stylus.
Thin, detachable keyboards like this aren't long-term solutions for hardcore typists, but I was happy with how readily the system connects to the keyboard. It reliably woke from sleep when opened and closed, just like a true clamshell. However, every now and then, the on-screen keyboard would fail to show up when I needed it (logging out or restarting always fixed that issue, though). This could be a fault of Chrome OS, but it's still a potential downside to opting for a detachable.
The two accessories are coated in polyurethane, with a nice, mildly textured finish. The system itself has the reflective HP logo on the back, kept company by a Chromebook logo and a camera bump.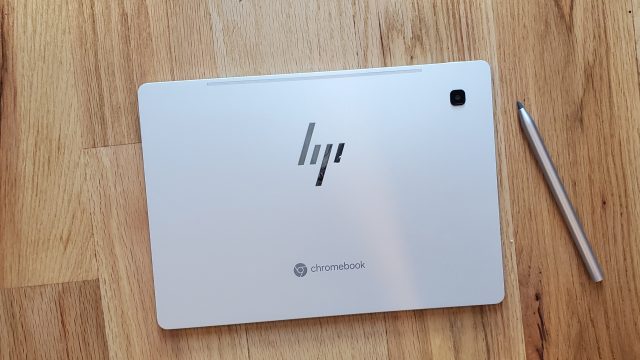 With the kickstand on, the only visible branding comes from the Bang & Olufsen stamp on the left-side trim. Two USB-C ports at 5Gbps and a microSD card reader also live there, separated by a volume rocker. At first, I thought it was odd for a volume control to interrupt the flow of ports. But this turned out to be a smart layout because I ended up using the USB-C ports and volume rocker the most. The USB-C ports are about as good as it gets for Chromebooks, offering USB Power Delivery and DisplayPort 1.2, so you can connect a supporting monitor.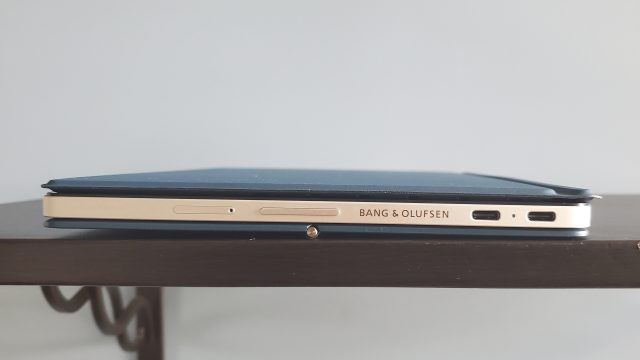 On the right side of the screen is a WWAN LTE slot. Opting for 4G LTE requires both payments to your service provider and the most expensive configuration of the Chromebook x2, which, for some reason, doesn't come with a stylus (you can buy HP's pen separately for $49). I wish you didn't have to pick between 4G or a stylus.
The computer weighs one pound without the kickstand and keyboard and 1.2 pounds with them attached. Keep the kickstand and keyboard on during travel, because even with those parts, three sides of the computer's edges are exposed. The machine is made out of one piece of CNC-milled aluminum and uses Gorilla Glass on the screen to fight scratches, so it's not cheaply finished, but it is possible for the power button to get accidentally pressed or for the stylus to be pushed off the side of the screen.
An 11-inch screen provides a bigger playground than the 10.1-inch Lenovo Chromebook Duet or the 10.5-inch Surface Go 3. Yet it doesn't make for a heavier system. If you're using the keyboard, the x2 is lighter than the Chromebook Duet (2 pounds). If you're not, HP's device weighs the same as the Lenovo and a hair lighter than the Surface Go 3 (1.2 pounds).
The bigger screen does mean a bigger system, but not by much. HP's Chromebook is 9.9×7×0.3 inches, Lenovo's Chromebook Duet is 9.6×6.3×0.3 inches, and Microsoft's Surface Go 3 is 9.7×6.9×0.3 inches.
Mr. Alright for Now keyboard
Sacrifices must come somewhere, and we see them in the detachable keyboard.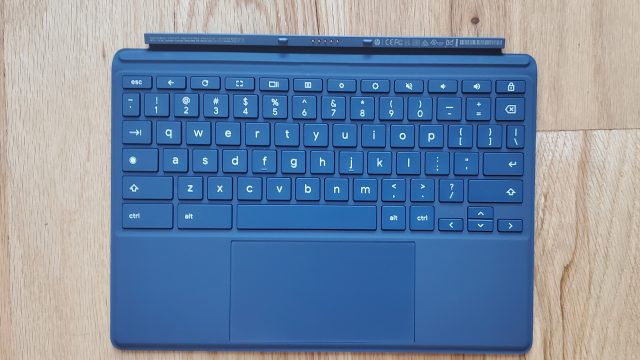 At least it's not awful. The keys have a solid amount of travel, so I was certain I was registering inputs when pressing. That's a kind of assurance I don't typically feel when smashing a piece of hardware this flat and thin. Plus, the keyboard reliably stayed connected to the computer when on a table (we'll get to what it does on laps momentarily).
But the keyboard can't help feeling like an afterthought. I encountered significant flex, whether typing on a hard surface or a soft one like my lap. Similar to Lenovo's 10.1-inch Chromebook Duet, you're left with a truncated backspace key and scant "" key. These are omissions you don't have to tolerate on the Surface Go 3.
I wouldn't want to rely on this detachable part as my primary keyboard, especially since my job requires a lot of writing. But the keys' travel really saves it, making it a sufficient temporary solution for a long typing session. Don't think of this as a Mr. Right situation but more of a Mr. Alright for Now.
The accompanying touchpad is a pleasantly smooth plastic, and as with the keyboard, there's enough travel and an audible click here to ensure you know when you're pressing it. Not surprisingly, the touchpad is more responsive on hard surfaces than soft ones. When I tried surfing the web with the kickstand and keyboard on my lap, I met with occasional stuttering, times when the cursor didn't move in line with my finger, and some accidental clicking. And when typing, I'd often inadvertently apply pressure to the bottom and left corners of the detachable keyboard with my wrists. Then, I'd hear the same sound heard when clicking the touchpad, which was distracting and sometimes resulted in misclicks.
A quality screen, but competition lurks
If you're after a bigger-screened detachable Chromebook, this 11-incher is one of your best options. However, Lenovo's Chromebook Duet 5 makes the proposition more complicated because it offers a 13.3-inch OLED screen at a starting MSRP of $430.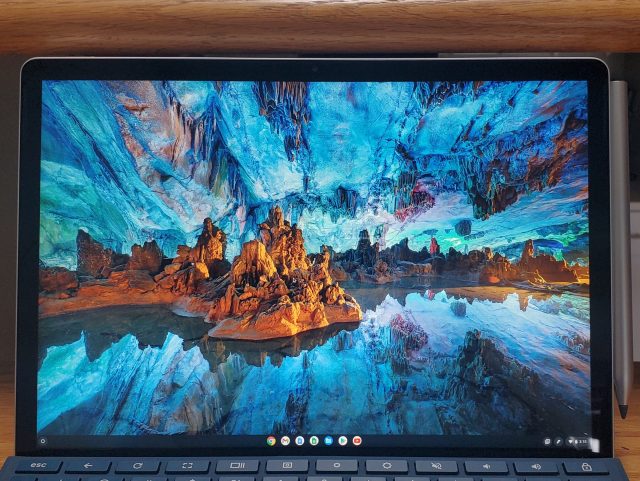 The larger screen should be equally bright at 400 nits but more colorful, if you take Lenovo's word for it. Lenovo's new Chromebook claims 100 percent of the DCI-P3 color space, while the HP Chromebook only claims 100 percent of the smaller sRGB space, which means P3 coverage is even smaller. Contrast for the HP Chromebook is pretty high at 1,400:1, although that's nothing compared to the theoretically infinite contrast of OLED. There's more to a detachable than its image quality, but if you're after the biggest, most colorful Chrome OS screen in a portable package, the Chromebook Duet 5 is stiff competition for the Chromebook x2, despite the latter winning the portability contest.
That's not to say the Chromebook x2's screen doesn't deliver. It opts for a 3:2 aspect ratio rather than the common 16:9 with a 2160×1440 resolution. That's a pixel density of 236 pixels per inch (ppi), a bit sharper than what you get with the 10.1-inch Chromebook Duet's 16:10 screen (1920×1200 for 224.17 ppi) and Surface Go 3's 10.5-inch, 3:2 display (1920×1280 for 220 ppi).
Text at Chromebook's native resolution, however, looked very tiny and like near-chicken scratch from a normal seated distance. Bigger text, like headlines, however, were sharp and crisp. Once I either peered closer, zoomed in, or scaled the display settings, smaller text matched. Pixels were somewhat visible as well but not remarkably so. In a quick comparison, they looked as visible as those of a 13-inch, 1920×1080 Dell XPS 13 (9310) I had on hand.
400 nits may sound like it's on the brighter side for a laptop, but in a screen this small, it was just enough to be able to work outside on a sunny day without straining. I wouldn't mind a little more brightness, as I work right next to a large window and like things extra bright.
Still, colors were detailed on the Chromebook's screen. When I watched a movie, it portrayed the subtler pinks and oranges in a purple dusk sky and the juicy orange of a nightclub (which sometimes fades to yellow on lesser screens). The display also depicted bright colors, like yellow and green, without looking overblown. I could even make sense of what was going on in the movie's darker scenes.
Comfy pen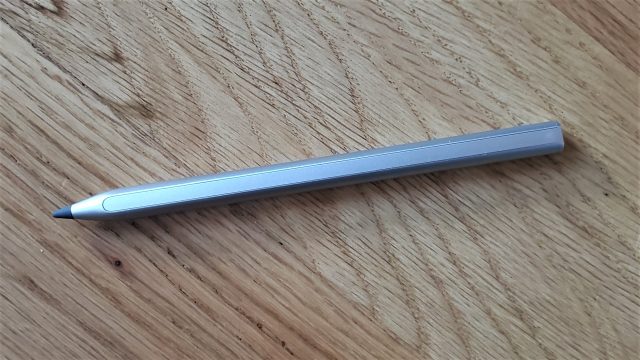 If you opt for the non-4G versions of the Chromebook x2 11, you'll get a stylus that HP claims can last 20 days if you use it for 2 hours a day and leave it idle otherwise. If you're scribbling away nonstop, that figure drops to 3.33 days. I, however, never had to think about recharging the pen because I usually kept it docked to the PC's side, where it automatically charges.
The pen's shape and thickness provided more comfort and control than some other styluses I've used, including the MSI Pen that comes with the MSI Summit E13 Flip Evo two-in-one. It was also easier to achieve a straighter line with a straight edge here and write but harder to pick up the pen without applying pressure.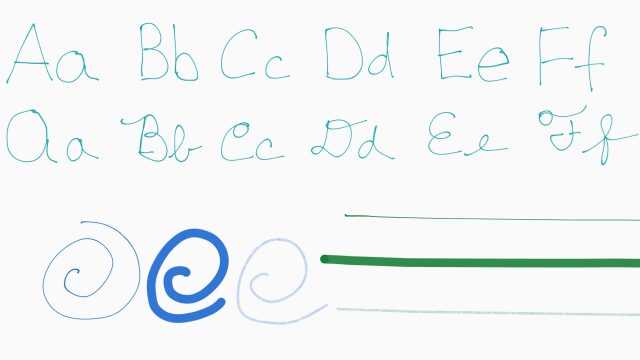 The tip is a little wobbly when secured and easier to remove from the pen than I'd like, considering HP doesn't readily sell replacement tips for this stylus. However, the HP Rechargeable USI Pen, sold separately, comes with extra tips, plus the ability to charge via USB-C.
The stylus is certified by the Universal Stylus Initiative, which makes industry standards for PC pens. That means it should work with other supporting USI devices. However, because the pen included with the Chromebook lacks any port, I'm unsure how you'd power it without this specific Chromebook.
The x2's 2x cameras and speakers
The x2 carries duo cameras: a 5MP webcam, plus an 8MP camera around back. A pair of mics accompanies each.
Under ideal lighting conditions, the webcam fared relatively well. Colors appeared only slightly lighter than real life, and the image looked pretty sharp. However, there's little wiggle room for lesser lighting conditions, like being too close to a window, where the image can get even more faded and grainy. I got a similar, slightly paler effect from the rear camera.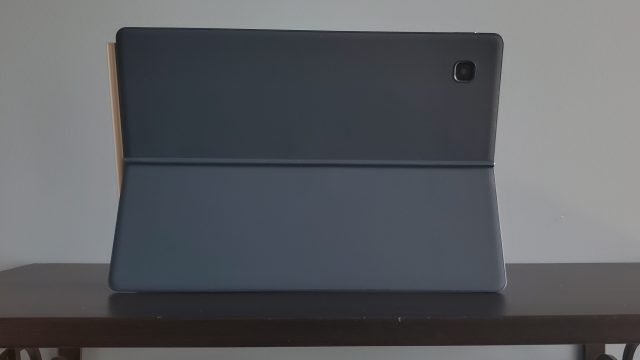 The speakers brag about their Bang & Olufsen heritage on the side of the PC, and I can see why. They pack a surprising amount of volume. Yes, audio has a bit of that tinny effect that can just ruin the bass in a good song or make whispered dialogue a strain to decipher. But the speakers still impressed for what's essentially an 11-inch tablet.
Specs comparison
Keen eyes may notice this Chromebook using the 1st-gen Qualcomm Snapdragon 7c rather than the 2nd gen. That's what was available when HP was developing the detachable, so that's what's here. Generally, that wouldn't seem like a massive deal. The biggest difference between the octa-core, octa-thread SoCs is that the predecessor is specced for a clock speed of up to 2.4 GHz (via 2 cores), while Gen 2 can hit 2.5 GHz. But the difference becomes more noticeable when realizing that the menacing 13-inch Lenovo Chromebook Duet 5 is on Gen 2. Since I don't have that system in my hands, I can't make any experience-based comparisons. That information is just food for thought.
The older 7c used in HP's Chromebook isn't limited to Chrome OS devices. You can find it in Samsung's $300 Galaxy Book Go, for example. It was designed to prioritize battery life (HP claims up to 11 hours and 15 minutes here) and heat management with fanless designs. The chip is also fit for enabling LTE among entry-level PCs. All sound right up the Chromebook x2's alley.
In addition to the 7c, my Chromebook review-unit configuration has 8GB of LPDDR4x-2133 memory, plus 64GB of eMMC storage.
For comparison, the 10.1-inch Lenovo Chromebook Duet has a MediaTek Helio P60T specced for up to 2 GHz, 8 cores, 8 threads—but only 4GB of memory.
The comparison charts below include the Google Pixelbook Go with an Intel Core m3-8100Y (2 cores, 4 threads, and up to 3.4 GHz), 8GB of memory, and 64GB of eMMC storage.
On the Windows side, the cheapest configuration ($400) of the Surface Go 3 has 4GB of RAM, 64GB of eMMC storage, and an Intel Pentium Gold 6500Y (2 cores, 4 threads, and 1.6 GHz clock speed that can boost to 3.4 GHz). And if you compare a configuration closer to the HP Chromebook's MSRP, you can get a $630 Surface Go 3 with an Intel Core i3-10100Y (2 cores, 4 threads, 1.6 / 3.9 GHz).
I've also brought in the ninth-generation iPad and iPad Air. You can get the latest iPad (10.2 inches) with Apple's A13, 3GB of RAM, and 256GB of storage for a starting price of $479. Starting at $600, the iPad Air (10.9 inches) has an A14, 4GB of RAM, and 64GB of storage.
Performance
This is the first Chromebook to hit the Ars lab in a while, so recently tested machines for comparison are limited. As such, the charts below include numbers from some recently reviewed devices, as well as publicly available test results for the Surface Go 3 and Google Pixelbook Go. Since Ars didn't test the two machines, take those results with a grain of salt because we can't be certain of all the testing conditions used.




Ars Technica





Ars Technica
Both iPads blow the Chromebook x2 out of the water in productivity and, as you'll see below, graphics performance.
In the single-core Geekbench test, the Chromebook x2 lagged behind the results I pulled for the Surface Go 3 with both the i3-10100Y and less powerful Pentium Gold CPU, as well as results publicly available for Google's Pixelbook Go.
Once the Chromebook x2 employed all its cores it was better equipped to compete with those machines. It earned the best score among the non-iPads, especially the Pixelbook Go, which only has 2 cores compared to the HP's 8.
In the 256KB Androbench storage benchmark, the Chromebook x2's eMMC storage recorded a 136.2MBps sequential read speed and 103.6MBps sequential write speed. Moving to 32,768 KB (32.768MB), the Chromebook x2 11 reached sequential read and write speeds of 120.01MBps and 171.94MBps, respectively.
At 4KB, the system's random read speed hit 80.7MBps, while random write was at 19.1MBps.
In real-life performance use, with a few others apps open, namely Slack, Spotify, and the Settings, I noticed a small amount of lag by the time I tried to open my 15th Chrome tab. This lag progressed gently as I made my way to a couple-dozen tabs. By the time I hit tab 25, I was noticing a small delay, especially with loading pictures or when trying to rearrange windows.
Graphics
The Chromebook x2's graphics are powered by the 7c's Adreno 618 integrated GPU. Unfortunately, there aren't reliable public results available for the aforementioned comparison machines, but you can see that opting for a current-gen iPad or iPad Air nets much higher frame rates overall.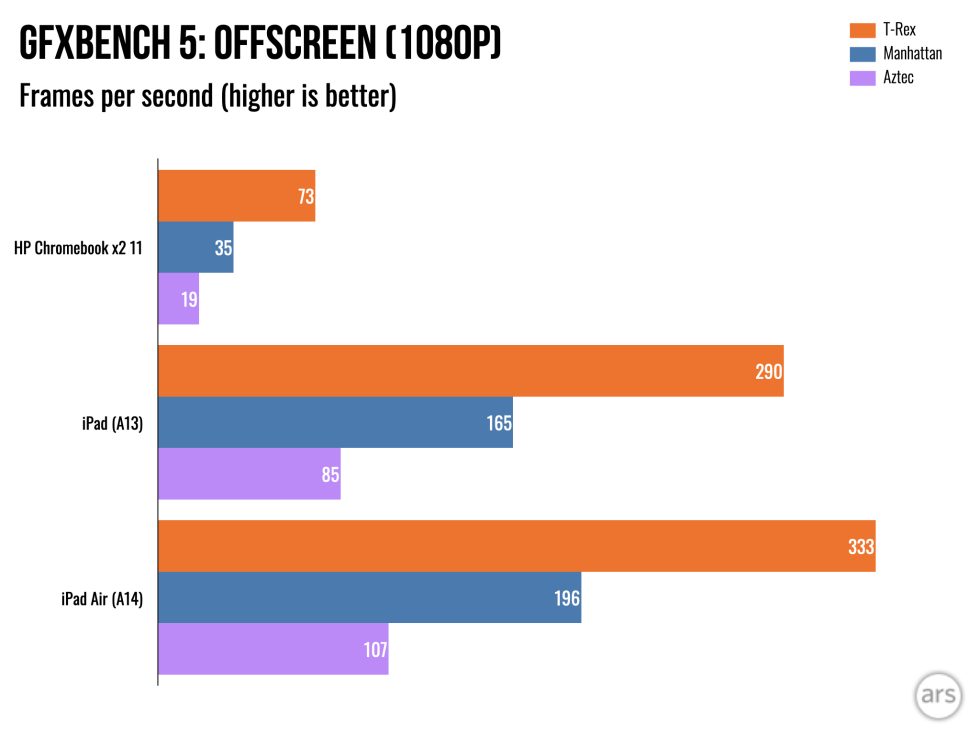 Battery life
One of the reasons OEMs opt for the Snapdragon 7c is battery-life potential. With the screen set to 40 percent brightness, HP expects its Chromebook to last up to 11 hours and 15 minutes before needing the cable. You can find the full parameters of the test used to get that figure here.
That claimed battery life is 1:15 longer than what the 10.1-inch Chromebook Duet claims, while the newer Chromebook Duet 5 claims up to 15 hours. Lenovo is less descriptive about how it measures battery life but says the figure is "based on a mixed usage profile that includes online browsing, playing music and video, reading, intuitive writing, and typing."
The Surface Go 3 claims up to 11 hours if you opt for the priciest configuration with an i3-10100Y and run the PC at 150 nits' brightness (you can see full details here).
Finally, the iPad and iPad Air each claim up to 10 hours while "surfing the web on Wi-Fi or watching video."
Once the Chromebook x2 11 is out of juice, it charges via the 45W USB-C power adapter, a notable boost over the 18 W one the older Chromebook Duet comes with or the 30 W of the newer one.
HP says you can get 50 percent battery after 45 minutes, give or take 4-5 minutes, of charging, after which point "charging speed will return to normal speed."
Handy but pricey
HP's Chromebook x2 delivers Chrome OS in a form factor that feels more appropriate for advanced users considering a secondary or tertiary device. It can handle a few apps and a decent number of browser tabs before starting to lag, and the company claimed that battery life is good compared to rivals, even those with smaller screens to power.
There are some quality-of-life sacrifices that certain advanced users may not be willing to live with, though. The keyboard won't do for frequent, serious typists, and the touchpad gets annoying if it's used on something soft, like a lap or couch.
Worse, full MSRP makes the detachable $600 to $680, when the sale prices of $380 to $480 that we've seen feel much more fitting. For $30 more than the nonsale MSRP of the Chromebook I tested, you can get a Windows 11-powered Surface Go 3 with a faster-specced and higher-threaded Intel Core chip—but a notably smaller screen.
The competition gets even thicker when looking at a similarly priced ninth-gen iPad or iPad Air. Both showed much better productivity and graphical performance than the x2, although you'll get a smaller screen, less memory, and no keyboard, cover, or stylus.
That makes the Chromebook x2 seem like a standout if you're looking for a detachable with more screen real estate than most. But Lenovo's recently released Chromebook Duet 5 with a 13.3-inch OLED screen and $430 starting MSRP steals the spotlight in that regard.
However, an 11-inch screen is more portable, so the Chromebook x2 nicely fits a specific niche. To get an iPad that size you have to enter iPad Pro territory for at least $800.
If you can find the Chromebook x2 on sale and can put its portability to use, it's a worthy consideration as a backup or travel device.
The Good:
Reliable, successful kickstand
A big and bright screen for a Chrome OS detachable
Impressive speaker volume for a tiny thing
Small footprint for the screen size
The Bad:
Finicky touchpad
Not a permanent replacement for a real keyboard
The Ugly:
MSRP should be closer to sale prices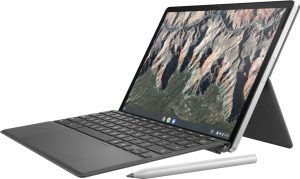 HP Chromebook x2