PRYMORSKE, UKRAINE—This stretch of Black Sea coastline is almost deserted, save for a small hut, running entirely on solar power. About 50 kilometers across the blue water is Zmiinyi (Snake) Island, which two Russian warships attacked at the beginning of the invasion last year. It was during this attack that the now-ubiquitous phrase "Russian warship, go fuck yourself" was first-uttered by border guard Roman Hrybov. Ukraine reclaimed the island in June.
Rare Polar Bear Attack in Canada | Extreme Earth
The clean, cold air slaps in waves, straining the tall golden grass along the coastline, while swans and gulls congregate on the calmer waters in the bay. The landscape perfectly resembles the Ukrainian flag. Now, the atmosphere is oddly calm.
Staff at Tuzlovski Lagoons National Park take a spindly, faded skeleton down from a high cabinet, as well as three more unmistakably beaked skulls. These are the remains of just a few dolphins of around 100 that have been found dead nearby. "So far, we estimate the total number as at least 50,000," says ecologist Ivan Rusev, who is head of research here at the park.
While just an estimate, the figure seems to hold water. Over just one 6-kilometer stretch of coastline, Rusev has found 38 dolphins, while some 3,000 dead are recorded in data from other Black Sea countries (Bulgaria, Romania, Turkey). However, he suspects thousands more have simply sunk to the bottom of the sea. Night footage from motion-sensor cameras show local wildlife such as jackals eating their remains, rendering them useless for scientific assessment.
G/O Media may get a commission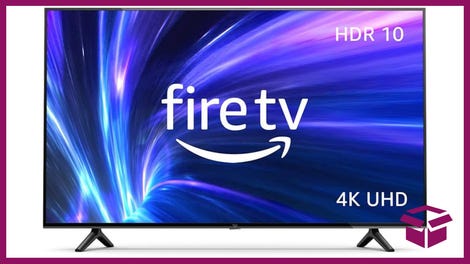 Amazon Fire TV 50″ 4K Smart TV
Incredible visuals
This smart TV has access to a wide array of streaming services, all of which are easier to navigate, has 4K visuals for a stunning picture, and comes with an Alexa Voice Remote too.
There have been fewer dead mammals washing up over the winter months, staff say, as cetaceans migrate to deeper and warmer waters. (There are three species living in the Black Sea: the Black Sea harbor porpoise, Black Sea bottlenose dolphin, and the short-beaked common dolphin.) They are nervously watching for the numbers to start rising again.
"From March to October, many dolphins come to this area to feed and to breed," says Rusev. He has been tracking the corpses washing up along this now-serene stretch of coastline and is monitoring for signs of an impending new spike.
Rusev says there are several wartime factors leading to the mass deaths of dolphins in the region: sonar damages their capacity to hunt; they're suffering burns from the use of phosphorus incendiaries; and they can get embolisms and decompression sickness from the sheer impact of explosions causing them to rise to the surface.
"This house that you saw, it is located 50 kilometers from Snake Island," Rusev says. "It was trembling from the falling bombs. This is what we felt. And in the water, this feeling is many times stronger, and dolphins, when they are close to the fall of bombs, they automatically simply rise to the surface of the water."
Sonar emanating from vessels in the Black Sea is a major issue in terms of the mammals' hunting capabilities. Because dolphins 'see' with echolocation, the heavy presence of sonar can throw them off course. "They get acoustically traumatized and become deaf. They cannot see and cannot hear and cannot use echolocation to navigate," says Rusev.
This phenomenon has been previously documented, specifically when a mass stranding of Cuvier's beaked whales took place in the Bahamas in the year 2000, during U.S. naval exercises. The government concluded the stranding was the direct result of mid-frequency active sonar use. This is even without considering the very real impact of stress on the animals.
"The recovery of dolphin populations will take decades," Ruslan Strilets, Ukraine's minister of environmental protection and natural resources, tells Gizmodo. Only partial access to the Black Sea coastline means that figures could be much higher than even Rusev's estimates. "The scale of the tragedy along the entire coast of the Black and Azov Seas is difficult to even imagine," he adds.
In Ukrainian-controlled territories, the only protected areas are the Tuzlovski Lagoons and the Danube Biosphere Reserve. "We do not have access to the rest due to the actions of the Russians, and we are afraid to even imagine the consequences of the occupation," says Strilets.
Russia's attacks on areas around the park and unusually high levels of naval activity in the Black Sea more generally mean that the local ecology has been suffering tremendously. Along with devastating marine mammal populations, massive, stray S-200 rockets contaminate the land and seabed, and birds inhabiting the region have had their nests destroyed by missiles.
"They're destroying habitats, they're destroying a lot of nesting sites, they're destroying a lot of these places where animals reproduce," says Jana Asselman, head of the Blue Growth Research Lab at Ghent University. "When we're thinking about larger animals that have a once-a-year reproduction cycle, you might see a long-term impact on the population, and we might see some bird species declining."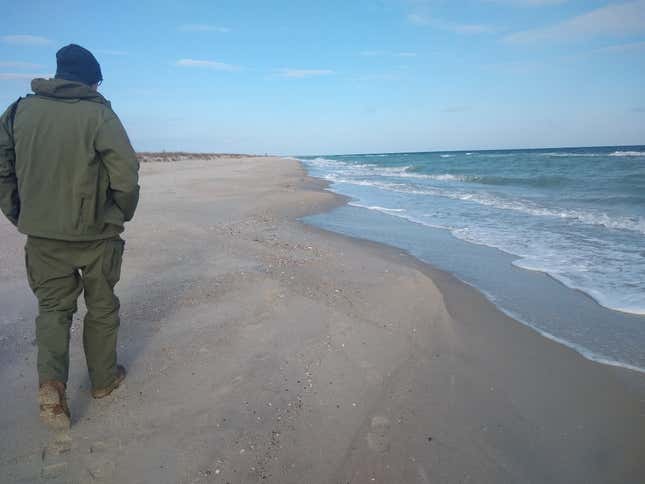 The wide-scale environmental impact of war extends much farther than this stretch of coastline. Water levels have been dropping massively in the Kakhovka Reservoir, on southern Ukraine's Dnieper river, since February this year, harming the local ecology and endangering the nearby Zaporizhzhia nuclear power plant.
"We may have a second Japanese 'Fukushima' on our territory," Strilets says. "Spring and warmer temperatures will lead to a deterioration in water quality,[and] the accumulation and spread of toxins," Strilets adds. "Fish are already dying en masse."
'Ecocide'
Russia has deliberately targeted oil depots, as well as Ukraine's nuclear facilities, leading officials to start pursuing ecocide charges.
"Of course, ecocide is taking place here in Ukraine," Maxim Popov, from Ukraine's prosecutor's office, tells Gizmodo. He says that his office is "currently prosecuting 11 criminal cases with that legal qualification," while more than 100 further criminal proceedings relating to environmental damage as a consequence of war are being investigated.
Article 441 of Ukraine's Criminal Code stipulates that the mass destruction of flora and fauna and the poisoning of air or water resources should result in a prison term of eight to 15 years. The dolphin deaths would very much fall under the banner of "mass destruction of fauna," says Popov.
Russia's attacks on oil depots comprise the overwhelming majority of the 11 specific ecocide cases. The destruction of just two of them in Kyiv region polluted over 30,000 square meters of land. "[There] was a huge contamination of air as well as the contamination of soil and groundwater, and it directly influenced the health of the people who reside in that area," adds Popov.
Responding to a question about whether he thought Russia's intent was to cause ecological devastation, he notes that the destruction of oil depots gave Russia no obvious military advantage—and only caused pollution and inconvenience to ordinary civilians. "The question arises, what was the reason for attacking such a huge quantity of oil storages?" he said. Russia has not exactly held back from making life miserable for ordinary civilians, though.
Intended or not, the overall impact is no doubt catastrophic. Some 330,000 hectares of forests have burned over the course of the invasion (deforestation and illegal logging were also issues in the country prior to the war), and 33 million tons of greenhouse gases (carbon dioxide equivalent) have been released into the atmosphere as a direct result of Russia's armed aggression, according to Ukraine's environment ministry. "Warfare has damaged all types of natural ecosystems (soil, water, air) that are the basis [of existence] for humans as well as other living creatures," says Yuliia Spinova, co-founder of the Ukrainian Nature Conservation Group (UNCG), tells Gizmodo.
Further east, out of the protected park area and in a village close to Mykolaiv, old rocket fuel canisters and remnants of cluster bombs are strewn across the area. Russia targeted it with heavy shelling from the beginning of the war, partially destroying a school, among several other buildings. Strategically important, it was seen as a 'stepping stone' to Russian forces taking Odesa. Both at the national park and here near Mykolaiv, waste disposal seems to have been a casualty of the war, too; trash is strewn about the landscape along with the remnants of heavy weaponry. Spinova cites the "absence of the system of waste collection and disposal at the state level" and overfilled disposal points, while locals suggest that the absence of large vehicle drivers (who may be fighting) and general lack of sorting habits among villagers might contribute to the issue.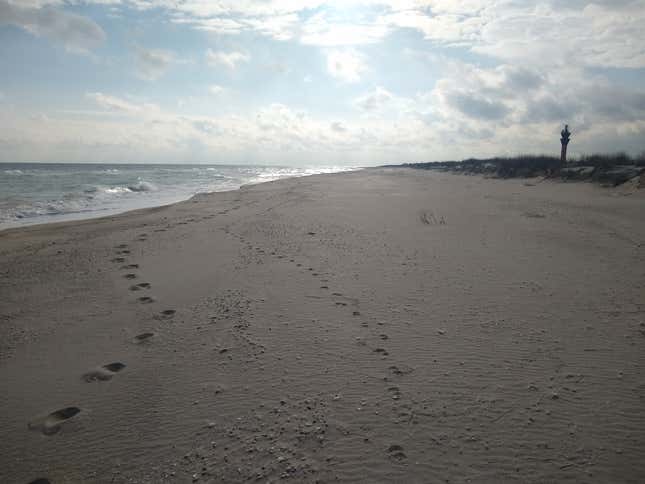 These remnants of months of assaults on the region and many others across Ukraine, as well as heavily mined terrain, may also cause serious environmental damage. Explosives such as TNT can release lead, copper, arsenic, and nitroaromatic metabolites into the environment, according to one study.
"174,000 square kilometers of Ukrainian territories are contaminated with mines and unexploded ordnance. These mined territories are twice the size of Austria," Ukrainian president Volodomyr Zelensky said in a video address Thursday.
There remains relatively little research on the long-term impacts of this contamination. "The problem is we know very little, the long-term effects of these low concentrations," says Asselman. She adds that explosives like TNT and petrol that end up in the environment are the most harmful, but a less obvious environmental issue could be the casing of incendiary devices, which could release metals into the soil. Soil samples from military training areas have previously been found "contaminated with various concentrations of heavy metals," with "most of the contamination was in soil samples from UXO sites and explosion craters."
That said, common explosives such as TNT, RDX, and HMX "don't tend to bioaccumulate," Assleman added. "The only good thing about them is they they dissolve very quickly, which means that if you have a large body of water, the concentrations go from very high to very low very quickly."
Meanwhile, local scientists have been mourning the general dearth of research on the issue. "Observing the impact of hostilities on natural and semi-natural ecosystems and speaking about the assessment of the environmental consequences of the war in Ukraine over the course of nine years, one can generally note with regret the low interest of the scientific community," Spinova tells Gizmodo.
Clean energy?
The wider context of the war is also important to consider. EU gas dependency on Russia has historically contributed to western European leaders' reluctance to deal with Russia too harshly—permitting the continued construction of the now-sabotaged Nord Stream gas pipelines, against Ukraine and eastern Europe's wishes. Climate Transparency's 2022 report noted that fossil fuels comprised 57% of the country's primary energy supply in 2021 (Russia accounts for around 5% of global carbon dioxide emissions, while the U.S. accounts for around 15%). In 2021, prior to the full-scale invasion, more than 50% of Russia's crude oil exports went to European nations.
"In many ways it has reshaped the entire world's energy market," said Angelina Davydova from the Ukraine War Environmental Consequences Work Group, in February. "Decarbonization and moving past the use of fossil fuels is an important step on the way to democratization and global security." Europe has started moving away from dependence on Russian gas and pivoting toward American imports of liquefied natural gas, as well as developing a broader interest in the prospects of nuclear energy.
Nationwide power outages in Ukraine have driven public interest and demand for solar power, such as that powering the coastal hut (over the holiday period, the Christmas tree in Kyiv train station was even lit up with the power of cycling). Ukraine is well-placed to pursue these initiatives further: "It has an incredible industrial base, it has an incredible scientific, academic base," Sagatom Saha, a researcher at Columbia University's Center on Global Energy Policy, recently told Roll Call. "It has many of the things you look for to build a clean-energy economy."
However, some of Ukraine's own renewable facilities have been damaged by war, and the best potential for wind and solar is in the country's southern areas, some of which have been or still are occupied by Russia, Artem Semenyshyn, executive director of the Solar Energy Association of Ukraine, told Scientific American. And as Strilets points out, the broader war damage that we are aware of only concerns the territories that Ukraine currently has access to—many of them remain under Russian control. "Such natural treasures as Askania-Nova, Oleshkivski Sands, Dzharylgach, and others are still under occupation," wrote Victoria Litvinova, deputy prosecutor general of Ukraine. The long-term impact is still very much to be seen, both at home and abroad. "The environment has no borders," she added.
Aliide Naylor is the author of The Shadow in the East: Vladimir Putin and the New Baltic Front (Bloomsbury, 2020).