Whether we're talking about the iPhone 14, the iPhone 14 Pro, or the iPhone 14 Pro Max, this year's update focuses on the cameras.
Yes, the Pro models have always-on displays and an oh-so-very-Apple approach to replacing the controversial screen notch. But as nifty as those perks are, they shouldn't be the reasons you buy these phones.
The cameras are now so prominent—in the Pro models especially—that it's starting to feel like we should call these devices "smartcameras" rather than smartphones.
The smartphone has been more or less perfected over the years; there aren't many new frontiers to explore in that space. But in ways both big and small, Apple (along with its competitors) keeps finding new ways to improve the amateur digital photography experience.
As a result, the iPhone 14 models are some of the best smartcameras you can buy—even though they're not a revolutionary upgrade over the devices that came before them.
About the iPhone 14
Because the iPhone 14 is such a modest year-over-year update, we've lumped it in with the 14 Pro in this review. Most of the review will discuss the 14 Pro and 14 Pro Max, but we'll discuss the regular 14 briefly in its own section here, and we'll assess the phones together in the performance and cameras section of the review.
The iPhone 14 is barely a step up over 2021's iPhone 13. It has the same design and, at least at launch, the same feature set. It also has the same system-on-a-chip (SoC), the A15, so it offers identical performance, though the thermals are reportedly a little better for sustained performance, and there's a tweak that should slightly improve graphics performance, too.
The iPhone 14's most important advantages over the iPhone 13 are in battery life and photo quality. Whereas the iPhone 13 advertises up to 19 hours of video playback, the iPhone 14 promises up to 20. It's not much of a jump (and we didn't notice it) but hey, we'll take what we can get since few things are more important than battery life.
As for photo quality, we'll look at some comparison shots in the camera section of this review, but here's the quick rundown: there's a new front-facing, TrueDepth camera with a faster aperture and support for autofocus. The main practical benefit from those improvements is that the camera should have better low-light performance.
The wide-angle camera on the back of the iPhone 14 has a larger sensor and a faster aperture, and it promises 49 percent better low-light photo performance than its predecessor. Apple has expanded the software suite for the camera somewhat to offer improved low-light performance across all the cameras on the phone. In other words, the regular iPhone 14 is getting some perks that were seen in last year's Pro models.




Samuel Axon





Samuel Axon
When repair shop/publication iFixit tore down the iPhone 14, it discovered something Apple hadn't advertised: the iPhone 14 is easier to service and repair than other recent iPhones—including its Pro brethren—thanks to a removable back glass panel. For most users, that won't matter much, but for some, it could improve the longevity of the device and save money on repairs should you skip AppleCare+, Apple's repair service subscription.
On October 7, Apple plans to launch a new iPhone 14 model called the iPhone 14 Plus. It will likely be identical to the iPhone 14, just with a 6.7-inch screen (the same size as the iPhone 14 Pro Max) instead of 6.1 inches.
This year, the iPhone 14 Plus replaces the much smaller 5.4-inch iPhone 13 mini in the flagship lineup, though Apple is still selling the iPhone 13 mini for users who prefer one-handed phones at the cost of screen size and battery life.
By no means would we recommend upgrading from the iPhone 13 to the iPhone 14. We wouldn't even recommend going from the 12 to the 14, really—there have been iterative improvements, but even over a couple of generations it hasn't added up to anything radical, especially in the non-Pro models.
But if you're on an XS or earlier, there are some substantial upgrades here; for more on those, check out our iPhone 13 and 13 Pro review from last year. Pretty much everything said there about the 13 applies here, too.
Specs
Specs at a glance: iPhone 14, 14 Pro, 14 Pro Max
Screen
2532×1170 6.1-inch OLED (14), 2556×1179 6.1-inch OLED (14 Pro), 2796×1290 6.7-inch OLED (14 Pro Max)
OS
iOS 16
CPU
Apple A16 Bionic
RAM
6GB
GPU
Apple A16 Bionic
Storage
128, 256, or 512GB for 14; 128, 256, 512GB, or 1TB for 14 Pro/Max
Networking
Wi-Fi 6, Bluetooth 5, 5G
Ports
Lightning
Camera
Two 12 MP rear cameras (wide-angle, ultra-wide-angle) for 14; three rear cameras (48 MP wide-angle, 12 MP ultra-wide-angle, 12 MP telephoto) for 14 Pro/Max; 12 MP front camera; Dolby Vision HDR 4K video capture
Size
146.7×71.5×7.8 mm (14), 147.5×71.5×7.85 mm (Pro), 160.7×77.6×7.85 mm (Pro Max)
Weight
172 g (14), 206 g (Pro), 240 g (Max)
Starting price
$799 (14), $999 (Pro), $1,099 (Max)
Other perks
MagSafe, Face ID, Dynamic Island (Pro models), always-on display (Pro models)
The iPhone 14 Pro and iPhone 14 Pro Max are the first devices to use Apple's new A16 SoC, the first iPhone chip built on a 4 nm process.
The A16 has the same number of cores as its predecessor—that is, it has a 6-core CPU with two performance and four efficiency cores, a 6-core GPU, and a 16-core NPU called the Neural Engine—but Apple says it should offer up to 10 percent faster performance. The A16 has 50 percent more memory bandwidth than the A15, which matters a great deal for 3D games and a little bit for computational photography features.
So the A16 isn't a huge performance leap forward, apart from the memory bandwidth part. But this chip's updates weren't really focused on speed. Rather, they're about facilitating new features. Most importantly, the chip has a new ISP, which enables some of the new camera features and additional fidelity. It also has a new display engine. The display engine tweaks make the two flashiest new features possible: the always-on display and the functionality of the notch-replacing Dynamic Island.
Like the iPhone 13 Pro, the iPhone 14 Pro has 6GB of RAM.
Meanwhile, the iPhone 14 sticks with last year's A15, which is still faster than any other phone SoC on the market at most tasks. It gets a bump from 4GB of RAM to 6GB.
The screen sizes and display resolutions for all three phones are the same as last year: 6.1 inches and 2,556 by 1,179 pixels for the iPhone 14 Pro, 6.7 inches and 2,796 by 1,290 for the iPhone 14 Pro Max, and 6.1 inches and 2,532 by 1,170 for the iPhone 14. In terms of pixel density, all three clock in at 460 ppi. And all three use OLED tech, which is expected for just about any high-end flagship smartphone these days, and for good reason.
The iPhone 14 offers 800 nits of typical max brightness and 1,200 nits of peak HDR brightness—the same as the iPhone 13.
The iPhone 14 Pro and its bigger sibling offer a searing 1,000 nits of typical max brightness and 1,600 nits of peak HDR brightness, as well as a new ability to reach 2,000 nits in sunny, outdoor scenarios. That's better than even the very best high-end HDR TVs, and better than any computer monitor except hardware used by video professionals. In fact, the 1,600 nit peak HDR brightness matches Apple's $5,000 Pro Display XDR.
Our tests largely bore these claims out, which is quite impressive. These are probably going to be the highest-quality screens you've ever owned, regardless of what type of device we're talking about.
Last year, Apple introduced ProMotion to the iPhone, enabling dynamic refresh rates from 10 Hz to 120 Hz. That's still on offer here, but the feature can now go down to 1 Hz to support the always-on display. (More on that soon.)
There's also an added light sensor on the phone, bringing the count to two.
Finally, there's an updated sensor suite to enable a new crash detection safety feature. If it detects a crash, it will prompt to see if you are okay and call for help if you're not. This feature requires the updated sensors, so it won't be available in older iPhones, but it's available across the iPhone 14 line as well as new Apple Watch models launching this year.
Apple plans one more safety feature: the Pro models can send simple text messages and location data to emergency responders via satellite when you're off the grid and need help. That feature won't roll out until November, though.
One thing we wish Apple had improved is fast charging. All of these new iPhones still charge a lot slower than some Android flagships, both wired and wireless, which is a pity. That's the sort of little thing that can make a practical difference in users' day-to-day lives. Here's hoping we'll see some improvement next year.
As always, there's just one port: Apple's proprietary Lightning port. Like much of the rest of the world, we wish Apple would move on to USB-C.
In any case, Apple promises modestly improved battery life in the iPhone 14 Pro and iPhone 14 Pro Max. We're still running formal battery tests, but anecdotally it felt like the new phones offer about the same, or maybe even just barely worse, battery life.
eSIM
For the first time, the iPhone has completely ditched the physical SIM card tray—at least in the United States. On each new iPhone 14 model, you can store up to eight eSIMs on the device at once, and you can have two active at any given time. In places where carriers support eSIM, this can actually be quite a bit more convenient than the old way.
But it's worth noting that not all carriers around the world support this, so frequent international travelers who are in the habit of buying physical SIM cards at their destinations should set themselves up for some frustration here. Or they might want to consider buying a different phone.
But if you don't fall into that category, the benefit is easier phone setup and easier movement between carriers.
Design
The iPhone 14 Pro weighs 7.27 oz (206 g) and measures 5.81 by 2.81 by 0.31 inches (147.5 by 71.5 by 7.85 mm). The iPhone 14 Pro Max is, predictably, larger at 6.33 by 3.05 by 0.31 inches (160.7 by 77.6 by 7.85 mm) and heavier at 8.47oz (240 g). The iPhone 14 is 5.78 by 2.82 by 0.31 inches (146.7 by 71.5 by 7.8 mm) and 6.07 oz (172 g).
Those are very close to the same dimensions and weights as in 2021. From the back, the new phones look exactly the same as 2021's models, apart from more pronounced camera lenses.




Samuel Axon





Samuel Axon





Samuel Axon





Samuel Axon
They look the same on the front, too, except that the Pro models have a pill-shaped screen cutout instead of a notch to house the front-facing camera and sensors. (We'll say much more about that in just a minute!)
So if you're looking for a radically different iPhone that you can show off to all your friends, you'll be disappointed.
In fact, the only visual distinction that can be seen from afar is in the colors. The iPhone 14 comes in blue, purple, midnight, starlight, and PRODUCT (RED). For the Pro phones, it's deep purple, gold, silver, and space black.
That camera bump, though
It's great that the iPhone 14 Pro has better rear cameras. But this comes at a small cost: the camera bump on the phone is now even bigger than it was last year, which was bigger than it was the previous year, which… you get it.
It was a little wonky trying to use the iPhone flat on a table before, but now it is practically impossible without a case that makes the phone's back flush with the cameras. Placing the phone on a table and tapping a corner results in a bonkers amount of wobble.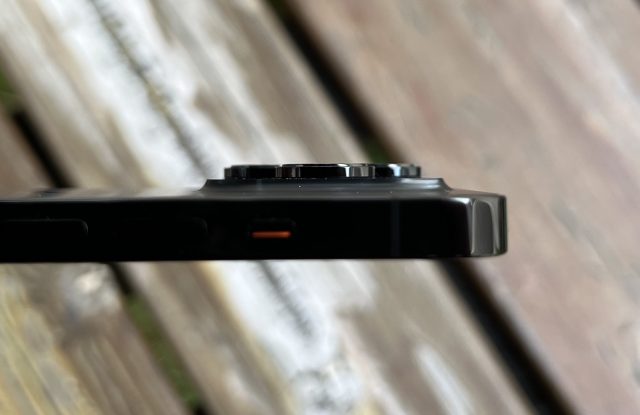 Virtually every survey ever done with consumers about what people want from their smartphones says that better cameras are of paramount importance, so we get it. But this really drives home the idea that these devices are cameras first, everything else second.
We doubt this will be a dealbreaker for most, but for a few of us, it might be just over the edge. You probably know which is the case for you.
Always-on display
Android phones have had it for what now feels like an entire epoch of the Earth, and now the iPhone does too: an always-on display.
It might be late, but it's definitely not too little. Apple's solution is much more robust than what we've seen in Android flagships. Whether that actually appeals to you or not will be a matter of preference.
Whereas most phones simply present the clock or some other very basic information in monochrome in their screens' always-on state, the iPhone 14 Pro actually gives you almost your entire lock screen, just at a low brightness and refresh rate. (1 Hz, to be exact, updated using the new power-efficient display coprocessor.)
This includes not just the time and date but your wallpaper (though it's a bit hard to see when it's this dim) and all your lock screen widgets, a new feature in iOS 16. This would be extremely useful if there were all that many lock screen widgets available, but sadly, iOS 16 launched with a paltry number. Weather, stocks, and battery indicators are highlights, but there's not too much more to go on.




Samuel Axon



We'll talk a lot more about the new, customizable lock screen—both what's cool about it and its various shortcomings—in our upcoming iOS 16 review, since every new lock screen feature except the always-on part is available on several other iPhone models, too. Just know here that while the widgets are neat, there are too few of them so far to be useful.
That could change as more third-party developers get on board. The most powerful implementations are yet to come, as Apple hasn't launched the Live Activities API, which is planned for later this year.
But even with the existing widgets, the always-on lock screen is more robust than what you typically see in other phones. If anything, there might be a little too much going on. For example, the screen shows album art for a currently playing song. It's not bright, but it could be distracting in certain contexts.
If you don't like the always-on feature, you can turn it completely off in Settings. But there's no way to make it behave like some other smartphones do, with just the time or some other essentials visible, apart from setting your lock screen background to a black image.
There are a number of situations in which the screen turns completely off on its own regardless of your chosen settings, though. It turns off when the iPhone is in your pocket or purse, when it's lying face down, when low-power mode is on, when the Sleep focus mode is enabled, when you're connected to CarPlay, when you're using the new Continuity Camera feature with a Mac, and when you walk away from the iPhone with a paired Apple Watch on your wrist.
Additionally, it can turn off automatically based on patterns it detects in your usage, like when it knows you are usually sleeping. It would be nice to control this more precisely, but we admittedly didn't run into any friction or unexpected behaviors with it when we were using it.
The always-on display is a neat perk, but it's not a phone seller in my view. It's not that hard to just tap the screen, but I'm glad to see this finally come to the iPhone for those who want it.
The Dynamic Island (if you really want to call it that)
Okay, the name "Dynamic Island" sounds ridiculous. But apart from improved cameras, the Dynamic Island is without a doubt the flagship feature of this flagship phone, at least in terms of distinguishing the iPhone 14 Pro from its 2021 predecessor or the cheaper iPhone 14.
Whereas flagship iPhones have since 2017 had a little black notch that sticks down from the top of the screen to house the front-facing camera and some other essential hardware, the iPhone 14 Pro and Pro Max (not, it should be noted, the regular iPhone 14) now have a horizontal, pill-shaped black cutout just a few millimeters below the top of the screen.
I'll get one thing out of the way so you know where I'm coming from as we proceed: I never much minded the notch. On its own, the new, pill-shaped cutout doesn't strike me as any better or worse than the notch was. I'm sure that's subjective, but I'm saying it here to make it clear that I'm not coloring my impressions of the related new software features with any sort of "thank goodness there's no notch anymore" thinking.
Whether it's a notch or a cutout, it's a little distracting at first compared to a perfectly square viewing area, but you get used to it in a day or so and then hardly notice it again. For all the years now that internet denizens have been debating notches versus cutouts versus bezels versus whatever, my personal feelings could be entirely summarized as follows:
¯_(ツ)_/¯
The designers at Apple have tried to turn what some see as a blemish into an attractive feature, and they've generally succeeded.




Samuel Axon





Samuel Axon
It doesn't transform your experience with the phone. It's just a flashy, neat new way to handle some notifications and other on-screen information and simple interactions, and it solves Apple's long-standing problem of having a confusing number of different types of top-of-screen UI elements popping in and out.
Basically, any time that anything happens in the background while you're on the home screen or using another app, it appears in the Dynamic Island. In some cases, two things can be displayed there at once; in those situations, one item occupies the pill and another occupies a small dot to its right.
Examples include but are not limited to background music playback, countdown timers in the Clock app, and the Face ID status indicator. Push notifications from apps generally remain in a distinct system and interface, though.
You have two available interactions. Tapping on the Dynamic Island takes you to whatever app's information is occupying the Island. Doing a long press on it often expands into some essential interactions that you can do without switching apps; for example, long pressing on the music indicator brings up simple playback controls and an interactive progress bar.
The animations are snappy, thanks in no small part to the 120 Hz screen. And Apple has employed a special kind of anti-aliasing on Dynamic Island UI elements and animations that make them smoother and more natural-looking than anything else across iOS.
Combine that with the precise per-pixel illumination and absolute black levels of the OLED screen and you get the illusion that the camera cutout itself is expanding, shrinking, moving, and animating. It's something you have to see in person to appreciate, but it is very cool, and unlike anything else we've seen before.
There are a plethora of app- and feature-specific Dynamic Island behaviors—far more than I could get into in this review. Numerous things that previously dropped down or materialized at the top of the screen before do so within the Dynamic Island now, sometimes with new interactions or expanded information.
Remember how I felt that Apple didn't put enough work into making new lock screen widgets, given the focus on the new lock screen customization and always-on feature? The Dynamic Island seems to be where all those design and engineering hours went.




Samuel Axon





Samuel Axon





Samuel Axon





Samuel Axon





Samuel Axon
Some of the most exciting applications are yet to come. This feels much like an opening volley, because the best stuff will be made by third-party developers. Already, Apple and Lyft have teased that with the launch of the Live Activities API later this year, you'll be able to track the status of your Lyft ride without going into the app. Anyone who has used Lyft knows that's a big deal.
The same will go for food deliveries in certain apps or sports scores from your favorite teams. To me, that's the stuff that's going to be really useful here. We'll have to wait a couple of months to see if the potential is realized.
The Dynamic Island is a clever and very Apple solution to the camera notch problem, and I do feel it's better than the notch, if only because it unifies and streamlines Apple's confusing array of miscellaneous stuff that pops in or scrolls down from the top of the screen on other iPhone models.
It's also just very cool. That shouldn't be enough on its own to make you spend $1,000 for a new phone, but it sure doesn't hurt. It's also made even more appealing by the promise of what's to come once Live Activities roll out.
Cameras
With the new camera systems in the iPhone 14, iPhone 14 Pro, and iPhone 14 Pro Max, the emphasis is very much on low-light performance. While Apple made some additions that ought to improve other kinds of photos in certain conditions, you won't see the difference between the iPhone 13 Pro and the iPhone 14 Pro most of the time.
That said, the low-light improvements can be a big deal—especially when looking at these phones next to much older models, like the iPhone X.
Before we get into comparing photos, though, let's quickly go over what Apple has changed this time around.
Camera specifications and changes
On the iPhone 14, the hardware changes are again relatively modest. Mainly, we have a bigger sensor and a faster aperture in the main camera—both of which contribute to better low-light performance in some situations. The front-facing camera has a faster aperture now, and it supports autofocus for the first time.
The iPhone 14 Pro and iPhone 14 Pro Max crank things up in a literally big way. The iPhone has had a 12 megapixel main camera on the back for long time, and the iPhone 14 still does. But the Pro models have raised that all the way up to 48 megapixels. That doesn't usually mean you're taking 48-megapixel photos (though you can if you take them in Apple's ProRAW format). Rather, Apple has divided the pixels into groups of four to produce a larger pixel rather than more pixels in a quest to reduce noise. When you're not shooting in ProRAW, you'll still produce 12 MP photos, but they'll ostensibly have clearer details and fewer issues—in low light, in particular.
The Pro phones also take advantage of this arrangement to bring back 2x zoom, which was standard in larger or Pro iPhones for a while until Apple switched over to 3x zoom in the telephoto lens. To accomplish this without an additional lens, Apple uses the middle 12 MP in the 48 MP sensor. It works pretty well, but it misses out on the benefits of that quad-pixel approach for reducing noise and improving low-light performance.
And while the Pro's main wide camera has a bigger sensor and wider focal length, the ultra-wide's sensor has doubled in size, the aperture is different, and there are more focus pixels.
There's also a redesigned flash with nine LEDs in an array; the flash adapts its pattern and intensity to the focal length of the photo. And the TrueDepth camera has seen some changes in the Pro models: a brighter f/1.9 aperture and autofocus support.
Photonic Engine
We've written many words in the past on Apple's approach to computational photography, including Deep Fusion, which takes multiple photos in rapid succession and algorithmically combines the best from each photo on a per-pixel basis into one optimized final image. With this new set of iPhones, the company has made substantial changes to this system while keeping the same core principles.
Most importantly, Deep Fusion now happens earlier in the process, and it works on the images before they are compressed. This means you can expect better results in some situations.
Historically, the iPhone has been known for taking photos that look less stylized and amped up than those taken by say, Samsung's phones. But that has gone out the window here; a lot of times, the iPhone now produces images that are even more heavily processed-looking than the competition.
To a certain extent, this is the cost of getting better photos out of a small device without the robust lenses of a professional camera. It looks more processed because it is more processed—that's one of the only ways to get these kinds of results without, you know, buying an actual camera and learning how to use it.
I touched slightly on this next point in an iPhone review a few years ago when computational photography was first getting started, but it seems even more apt now, so I'll dig my heels in further: I predict smartphone photos taken during this era will look odd and out-of-fashion in a decade or two. You know how you can pinpoint a traditional camera's photo by the decade in which it was taken, based on various attributes of the image like color, graininess, and so on?
I believe that will be even more extreme in this case, thanks to stuff like Deep Fusion and the Photonic Engine (and similar tech from Apple's competitors). Future decades will look back on today's smartphone images with an amused curiosity, calling this processed, hyperreal look an "aesthetic" or a "vibe." Even as it will be made fun of by some, it will be fetishized in nostalgic works made by others, Stranger Things and Synthwave or Vaporwave style.
I personally miss Apple's previous focus on neutral-looking photos, even as I understand why that has to go by the wayside to advance the versatility of these cameras.
Testing the cameras
I'm by no means a professional photographer, but in a way, that's perfect: a professional photographer would use a DSLR camera. The goal for the iPhone cameras is to make amateurs feel like professionals with these computational tricks. If you have to apply deep skill or knowledge to take advantage of said tricks, they don't work very well; most of us just point and shoot.
So here are some photos where I pointed, and I shot, and I got mixed results—as you'd expect. Let's start by taking a tour of the various zoom levels, utilizing the different lenses available across several recent iPhones (iPhone 13, iPhone 13 Pro, iPhone 14, iPhone 14 Pro, and iPhone 14 Pro Max) and one iPhone that's now quite long in the tooth: the iPhone X.
First up, the ultra-wide angle, 0.5x zoom level.




Samuel Axon





Samuel Axon





Samuel Axon





Samuel Axon





Samuel Axon
Next, 1x zoom with the wide angle camera:




Samuel Axon





Samuel Axon





Samuel Axon





Samuel Axon





Samuel Axon





Samuel Axon
Next, 2x zoom, which returns after a hiatus in the iPhone 14 Pro and iPhone 14 Pro Max. The only other phone we tested that offers this is 2017's iPhone X, which accomplishes it with a dedicated telephoto lens instead of the new method on the new phones:




Samuel Axon





Samuel Axon





Samuel Axon
Finally, here's 3x zoom, which uses the telephoto lens in very recent iPhones Pro:




Samuel Axon





Samuel Axon





Samuel Axon
As you can see, you generally can't find big differences between these images, except where the aging iPhone X is concerned. In strong, natural light, things look good across all recent iPhone models, and there is not a substantial step up year-over-year.
But maybe if we looked at something more detailed—would we notice a difference when using the new 48 MP wide-angle camera? Let's take a quick look:




Samuel Axon





Samuel Axon





Samuel Axon





Samuel Axon





Samuel Axon





Samuel Axon
Is there a major difference in quality? Not really, except for ye olde iPhone X. It goes to show you that the camera improvements Apple has made here are very situational. So let's try a situation Apple does claim huge improvement on: low light. Let's start with an indoor shot of some Ratchet & Clank figures with a very dim desk lamp nearby.




Samuel Axon





Samuel Axon





Samuel Axon





Samuel Axon





Samuel Axon





Samuel Axon
There it is—there's the difference. With the iPhone 13 and 13 Pro, the colors on the figures and the PlayStation shapes look a little washed out and, well, off from what I saw in person—to say nothing of the struggling iPhone X, with its excessive noise. The iPhone 14, iPhone 14 Pro, and iPhone 14 Pro Max expose more detail and look more appealing. Of course, as is often the case with these Night Mode shots, the photo does not accurately represent how dark the real-world lighting was at all; it was very dark in this room, but these photos make it look like it was as bright as any other.
Now an outdoor nighttime shot:




Samuel Axon





Samuel Axon





Samuel Axon





Samuel Axon





Samuel Axon





Samuel Axon
Some differences across devices are clear, though they're again not radical year-over-year. The iPhone 14 Pro and 14 Pro Max offer more detail and more subtlety in the lighting around the puddle to the left, and the city lights in the distance look less blown out. The iPhone 14 and iPhone 13 are a sure step down, but the iPhone 14 also has highlights that are less blown out than we see on the iPhone 13. And the iPhone X is a mess by comparison.
There's one other area where Apple has promised a really noticeable difference year-over-year: macro photos.




Samuel Axon





Samuel Axon





Samuel Axon





Samuel Axon





Samuel Axon





Samuel Axon
The macro mode introduced to the Pro line last year smokes the non-Pro phones and the iPhone X, but the year-over-year differences are subtle.
All told, the iPhone 14 line has excellent cameras, but don't expect a huge bump in quality compared to last year. These are the very definition of iterative improvements. But when you look all the way back to the iPhone X, you see just how far we've come in terms of capturing detail in five years—especially in low light. If you have a significantly older iPhone, these cameras will be a revelation. If you have an iPhone 13, or even an iPhone 12, it's not worth an upgrade, in my view.
Apple makes a lot of noise every year about these camera optimizations, and the noise seems warranted when you look at the big picture (pun not intended) over several years. But it's hard to judge just from some isolated comparison shots. Because the improvements Apple has made this year in particular lend themselves to improving your chances of getting a good image in that once-every-so-often photo that otherwise just wouldn't come out well.
With all this software at play, there can be some real variability from photo to photo—almost more than there might be when comparing the same photo across two devices. What these images don't capture is that in taking hundreds of photos over the past week, a higher percentage have turned out well on the iPhone 14 and 14 Pro than on older iPhones, even if the head-to-head comparisons aren't that different in most cases.
Video
There's a little bit more happening on the video capture side of things, too. Cinematic Mode can now shoot in 4K at 24 fps, doubling down on the whole "cinema" thing. And there's a new feature called Action Mode that crops and reduces resolution (from 4K to 2.8K) to achieve a more stable image in situations where the camera is getting moved around a lot. I still think Cinematic Mode is a gimmick, and my mind hasn't been changed by testing it on these phones. As for Action Mode, it works pretty well! It's a pity we lose the resolution, but if you're aiming to ultimately publish your video on social media, that's not going to be an issue—and that's where most videos end up anyway, so it's a win.
Oh, and one more thing loosely related to the cameras: Face ID now works in landscape mode. Nice!
Performance
Beyond the usual point that the iPhone is much faster than any of its competitors, performance is definitely not the story here. It wasn't Apple's emphasis with these new phones, and it's not ours either. But we can confirm Apple's claim that the A16 is a little bit faster than the A15. It's not something most users will notice in normal use cases, though. See the charts below.
Still among the best smartcameras you can buy
iPhone 14 and iPhone 14 Pro
When you look back at former Apple CEO Steve Jobs' first introduction of the iPhone, his pitch was famously that it combined three things into one device: an iPod, an Internet communications device, and a mobile phone. He didn't additionally say, "a high-end point-and-click digital camera." But that fourth pillar has evolved to the same importance as the three others—in fact, it's more important to many people than either the iPod or the phone part.
For all the noise Apple has made about these revolutionary new cameras, they're just an evolutionary step up from last year's models. Look at the multi-year picture, though, and it's crystal clear: the gains are huge over time, especially for low light.
This fits into the wider story of the iPhone and other flagship smartphones over the past five or so years: where do you go when you've more or less perfected the smartphone design? Apple is betting big on AI features, computational photography, and services, and so far, it's paying off. But since so much of the innovation is on the software and services side, there's less incentive to upgrade your iPhone every one, two, or even three years.
Some of the same complaints that have trailed the iPhone for years still linger, and these are pricey devices. But if you're happy to live in Apple's world—and most people have already made up their minds about the tradeoffs there, one way or the other—these phones are exceptional, standing tall against any high-end Android phone on offer. For their loyalty, Apple rewards consumers with better long-term device support than anyone else, giving you even less reason to upgrade frequently.
And that's a good thing. It's better for our pocketbooks, and in many ways it's better for the environment. If you have an iPhone 12 or later, we don't recommend upgrading, unless perhaps you're moving from a base iPhone to a Pro model. But if you have an iPhone 11—or an iPhone XS, X, or earlier—these will be a substantial leap by every measure.
The good
Excellent software
The fastest phones money can buy
Outstanding screens
Strong cameras that hold up against the best Android phone
The new Dynamic Island makes lemonade out of lemons with the camera cutout
The always-on display is a nice-to-have
The bad
Relatively modest year-over-year gains in both performance and camera quality
The camera bump has gotten out of hand
Still slow to charge
Still uses Lightning instead of USB-C
The ugly
Still more expensive than some people will want to (or be able to) pay
Listing image by Samuel Axon