Nothing Phone 1 review: an Android with funky lights on its transparent back
Novel design, good cameras, solid performance and battery life make a competitively priced package
The Phone 1 is the first smartphone from the British technology startup Nothing, led by the OnePlus co-founder Carl Pei, who set up on his own with the aim of bringing back a bit of interest and excitement to the increasingly samey world of consumer electronics.
But the firm's follow-up to the funky Ear 1 earbuds is no flashy top-spec phone. Priced at £399 (A$749), it looks to compete directly with more affordable models such as Samsung's mid-range A-series and Google's Pixel 6a. It does so while offering something unique: a series of white LED strips strewn across a transparent glass back to create patterns of light that Nothing calls "glyphs".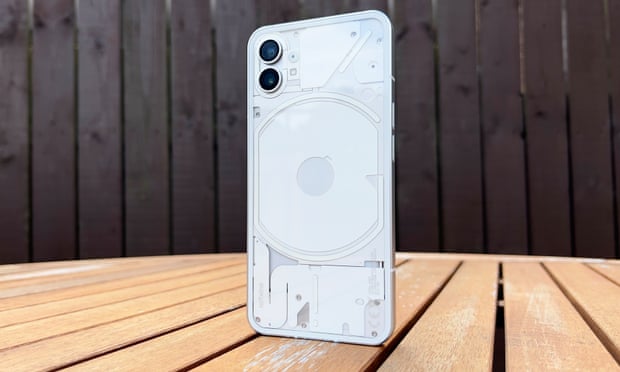 Different light patterns show who is calling, which app is notifying you or even different types of notification from the same app without having to see the screen. You can set one pattern for a work email or one for a personal email in Gmail, for instance, but, unfortunately, you can't differentiate between messages from different contacts, only calls.
The glyphs and transparent back add a bit of interest to an otherwise fairly understated design. The recycled aluminium sides and flat OLED screen look remarkably similar to an Apple phone, leading more than one person to ask if I was holding an iPhone 13. Still, the build quality is very good, and the full HD 6.55in screen is excellent for the money: big, bright, crisp and super-smooth, thanks to a 120Hz refresh rate.