This summer, when a copy of Super Mario 64 sold for over $1.5 million, no one could say for sure just how rare it was to find a copy in such pristine, unopened condition. That's because Wata Games—the company that's come to dominate the market for professional grading of video game rarities—wasn't releasing the population reports that would detail the quantity and quality of all the games that had come across its desk.
Now, Wata is beginning to open up a little bit, releasing its first partial population report for NES games and announcing plans to publish more robust data covering more consoles in the near future. The numbers in that first report show just how rare it is for Nintendo boxes to still exist in sealed, unopened condition decades later, and the report gives the public and collectors an idea which NES games are likely to be the most valuable to the right collector.
The time is now
So-called population reports—in which a collectible grading service shares the distribution of quality grades for every piece it has ever seen—have long been common in high-end collectible markets like sports cards and coins. But back in July, Wata's then-CEO (and current vice president of new ventures for new parent company Collector's Universe) Ryan Sabga told Ars he was hesitant to release such a report for video games.
At the time, Sabga said the small, self-selected universe of games submitted for Wata grading could provide a skewed and unreliable picture of the full market to collectors. A video game population report "would show some potentially misleading information; it would show rare games as common and common games as rare," he said. "Eventually, things would settle out, but the reality is that it would cause undue turmoil in the marketplace in the short term."







Wata Games





Wata Games





Wata Games





Wata Games





Wata Games





Wata Games
That was then, this is now. Wata's first partial population report of NES games breaks down information on over 7,000 shrink-wrapped boxes by Wata's 10-point quality-grading scale (as well as a portion of its opened "complete in box" and loose NES cartridge grades). Wata also announced plans to issue wider population reports for other consoles "in the first few months of 2022." Those expanded reports promise to include more detailed information on quality spreads for shrink-wrap seals, more separation of rare variants that are sometimes sought after by collectors, and "live" data that "will update automatically based on graded submissions."
Sabga told Ars in a recent interview that Wata is comfortable releasing the NES population report now because "the numbers are just enough that, while I think there is a definite selection bias, it is just enough that it can give customers, consumers, and collectors an idea of what's out there. Collectors were starting to get to a point where they didn't know exactly where to go with their collecting without a little bit of help from a population report, even a limited population report as this."
Looking back, Sabga said, "One of my concerns was I was afraid it was going to wreak havoc in the marketplace. The reality is I'm not the guardian of the hobby, I'm not the guardian of the marketplace by any stretch of the imagination. But… I always feel like there's some level of responsibility."
Known unknowns
While Wata's population report provides collectors with a bevy of information, it's still limited to the games that have been submitted to Wata for grading. That means the games collectors choose to get graded could skew the data with that "selection bias" that Sabga alluded to.
That bias can seemingly be quite severe, in some cases. Wata's sealed-NES report, for instance, only shows one graded, sealed copy of Jeopardy!, a game that most collector's regard as pretty common.
This disparity could be because sealed copies of Jeopardy! happen to be much rarer than open boxes or loose carts. Or it could simply be that almost no one has bothered going through the time, expense, and hassle of going to Wata for a professional grade on a relatively ignorable game like Jeopardy!.
Figuring out which explanation is correct can be of prime importance to collectors trying to assign a fair value to a "rare" game. And the real answer could take a while to shake out, according to Sabga.
"I think this is normal any time a pop report comes out for the first time," he said. "There's a following period of uncertainty, or certain things we never saw before. [That']s not because they're special but just because nobody bothered to submit it and they start showing up… it wasn't graded before because people weren't interested in it. Now people are going to send those in because they want to get them on the pop report and have a pop of 'one.'" In the case of Jeopardy!, Sabga joked, "Don't worry because next week we'll probably have 50."
Eventually, as a larger proportion of the complete supply of a collectible gets graded, a population report hits a point where collectors can feel confident that what's listed represents almost all of what's out there. For NES games, Sabga says Wata feels its selection has finally hit that point where "we're getting a big chunk" of the total population of "known" sealed games in collectors' hands.
The NES is Wata's most popular system by grading volume, Sabga said, and "significantly ahead of second highest system." That means it may take longer for other consoles to hit a similar critical mass, and some may never have enough graded games to produce a reliable population report.
While there could be a massive cache of unknown sealed NES games hiding out there somewhere, Sabga says that's unlikely at this point. "I don't think there's a bunch of people sitting on substantial [quantities of] sealed games that haven't considered grading them, at least on the systems we grade," he said. "I'd like to think our population as it looks in the report is indicative of what's out there… There's probably not 100,000 [sealed games] that some guy's sitting on, that he's just waiting on. I just don't see that."
That said, Sabga acknowledged that more games could be found and come in for grading as awareness of high-priced, sealed-game sales increases. "Things could come out of the woodwork because, as prices go up, ultimately what happens is people go search for things—I found this in my attic, I found this at an estate sale. And prices warrant things that would have been thrown out or discarded before are now preserved or discovered. So things will come out of the woodwork, but I don't foresee massive numbers."
"I think in time you'll see [new reports of] sealed games dwindle because there's just not an infinite supply of them," he continued. "Then I think you'll see a lot of very nice complete-in-box games start showing up [for grading]. We'll have plenty of things to grade, but it probably won't look like the same cross-section of games that we've been grading."
Rarest of the rare
Early reactions to Wata's first NES population report from collectors seem to match Sabga's assessment. "I think a lot of experienced collectors knew how rare this stuff is, particularly relative to other collectibles," experienced sealed-game collector Wayde Daigneault told Ars.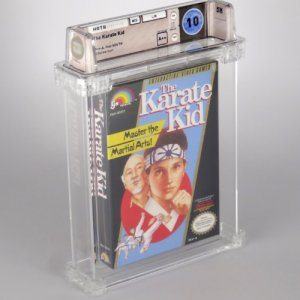 The one thing missing from Wata's report, Daigneault added as a caveat, could be the set of sealed games previously graded by the Video Game Authority (which dominated the space before Wata came around) that have yet to be regraded by Wata. That said, "I highly doubt VGA alone doubles this, especially given that probably like half of VGA [rated games] have been crossed to Wata," Daigneault said. And as far as sealed games that haven't been graded at all, Daigneault said, "there just isn't a lot. I mean, there's stuff out there, but the natural flow for years has been low, even before people cared. Even if you double all these numbers, it's really low."
Daigneault may have a point there. Take Super Mario Bros. 3, one of the most popular games ever made, with over 17 million copies sold on the NES alone. Wata Games has only graded 237 sealed copies of the game, according to its population report. Compare that to the sought-after 1986 Fleer "Michael Jordan" rookie card: PSA's population report lists 20,000 graded copies, including just 320 that received the service's perfect quality grade of 10. That makes a sealed Super Mario Bros. 3 in any condition roughly as rare as that holy-grail Michael Jordan rookie card in perfect condition. And that's a state of affairs that will remain true even if a few hundred additional sealed copies of SMB3are submitted and graded in the coming months.
Plus, those are numbers for a best-selling game; the most popular NES game in Wata's database, in fact. Sealed copies of games with smaller print runs, like 1994 release The Flintstones: The Surprise at Dinosaur Peak!, could be practically one-of-a-kind, as Wata's population report currently suggests.
The populations also shrink when you start looking at NES boxes with sought-after variants. The copy of Super Mario Bros. that sold for $100,000 in 2019 is still the only copy of the game Wata has seen sealed with a sticker that indicates it was part of the system's small New York test-market launch in late 1985. In fact, Wata has only graded 27 such "sticker-sealed" games across the whole NES library; some test-market NES titles, like Duck Hunt, don't have any sticker-sealed copies on Wata's records at all.
And when it comes to The Legend of Zelda, Wata says only three of the 128 sealed copies it has graded include a "TM" trademark symbol indicating they're part of the game's first printing. That could help explain why one of those copies sold for $870,000 in July.
Physical condition can also set certain copies of a game apart. While Wata has rated 18 different shrink-wrap-sealed copies of a 1987 "hangtab" edition of Super Mario Bros., only one of those received a near-perfect 9.8 on the service's quality scale. Collectible marketplace Rally bought that pristine copy for $140,000 in 2020, then resold it for a record $2 million a year later, showing just how much of a premium a high grade can command.
With such limited supplies and demand from collectors looking to own significant pieces of gaming history, it's no wonder that the right sealed game can draw six- or seven-figure purchase prices. "I think there was a pocket of collectors that knew how rare this stuff is, but I think that a lot more people are going to say now, 'Wow, this stuff's a whole lot rarer than we expected,'" Sabga said. "I think people will be surprised at the number of games that have been graded. I think many people will think it was a lot more, which is not the case."
"When you're dealing with a small population of things people want to have graded, I think this is pretty indicative of what you get," he continued. "How that changes the market, time will tell… it's going to be a bit of a litmus test for how the market reacts."