Netflix hit Shadow and Bone's second season follows up the heists and twists of season one, offering another glimpse inside the magical world of Leigh Bardugo's Grishaverse. While the pacing of the series is exceptionally fast and the three main plotlines feel cramped, the show still delivers an exciting-enough plot, successfully renders each of its (many) characters with brilliant and chaotic fury, and remains accessible without losing a sense of style.
In this season, after Alina Starkov (Jessie Mei Li) escapes the clutches of General Kirigan (Ben Barnes), she's forced to retreat and regroup. As she and Mal (Archie Reneaux) research the remaining two legendary amplifiers, they have to bargain with charismatic privateer Sturmhond—who's secretly the Ravkan prince, Nikolai Lantsov (Patrick Gibson), in disguise. Kirigan makes political moves at court, taking control of the country and raising a new army of Grisha. Meanwhile the Crows—a group of rogues and thieves on the island nation of Kerch—must contend with their own criminal jostling among the gangs of Ketterdam and, of course, pull off a daring heist or two along the way.
If this sounds like a lot, it is, especially for an eight-episode season. The show does a ton of work to pack in as much plot as possible into every episode, often at the expense of providing the connective tissue between fights and backstabbing. Alina and Mal get shuffled around various locales to say something before getting shuffled to another place to kill something. Sadly, much like in season one, Alina's agency dwindles in the later half of the season, a symptom of a show overly stuffed with twists, turns, reveals, and love confessions.
The biggest cause of this extremely rushed storytelling is the fact that the showrunners have attempted to cram two and a half books into an eight-episode season, discarding a lot of slow burn plot points in favor of opportunities where people can flashily fight each other with magic. The last two books of Alina's trilogy, Seige and Storm and Ruin and Rising, are mercilessly cut down to fit alongside plot points from Six of Crows, with a couple additional heists thrown in just for good measure. Unfortunately, many things are left with just a shrug and a "let's move on"—but even still, Shadow and Bone remains an enjoyable and entirely decent fantasy television show. The only truly disappointing part of this season is that Alina's story has been abbreviated to the point that the early episodes feel compulsory instead of engaging. (Author Bardugo, for the record, just signed an eight-figure book deal with Macmillan. No news yet on if she'll return to the Grishaverse.)
The Crows, once again, remain the best part of Shadow and Bone. This ragtag gang of troublemakers and criminals is so compelling, they made me want to skip through some of Alina and Kirigan's story just to get back to them. They continue to own the series, regardless of the world-ending stakes of Alina's plot. Sometimes, the writers seem not to know what to do with half of the plot points of the original young adult trilogy (and seem to continually play into tropes of the genre without any kind of compunction to subvert them)—but Shadow and Bone seems to relish focusing on this group of misfits, creating alluring romances, high-stakes friendship, and giving Kaz Brekker (Freddy Carter) the most dastardly and audacious plots, allowing the audience to experience vicarious thrills through his viciousness. Honestly, did we really trust a group of thieves not to steal the show?
G/O Media may get a commission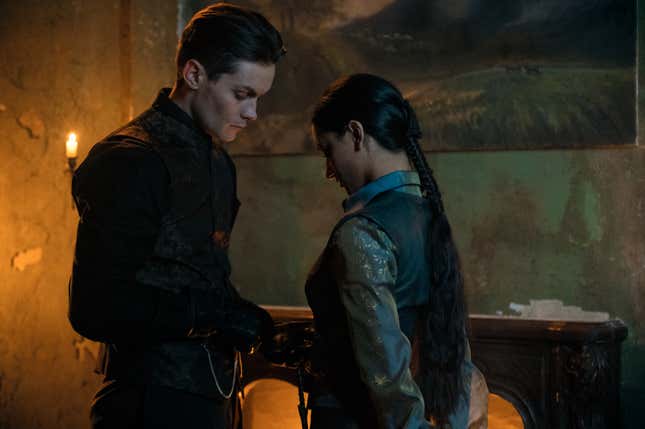 The newcomers to the ensemble cast (Gibson as Nikolai, Lewis Tan as Tolya Yul-Bataar, and Anna Leong Brophy as Tamar Kir-Bataar) take to the story with ease, sliding in with smirks and one-liners that balance Alina's serious determination and Kaz's cutting personality. Wylan Van Eck (Jack Wolfe), who becomes a part of the Crows as their demolitions expert, likewise finds a fantastic foil in Kit Young's Jesper Fahey, and their romance in the show is absolutely delightful, especially taken alongside the Crows' unrequited loves and separated sweethearts. Daisy Head's Genya Safin is at the center of a love story that is equal parts tragic and wonderful, adding personal tragedy to a story of a country ripping itself apart.
It seems that at every point in this show, the characters continue to stand out, but the weirdly provocative push and pull of Alina and Kirigan isn't quite replicated in this season. The antagonism doesn't quite reach the fever pitch intensity that the first season managed to capture… probably because the characters don't really have that many scenes together, beyond dream-walking into each other's nightmares. With their bizarre psychic connection taking center stage as a way to keep Alina and Kirigan interacting, some of the magic in the series becomes less grounded and less attached to the already pretty soft explanations. Although Alina has grown as a character, both she and Kirigan aren't nearly as fun to watch as they were last season. That said, their scenes are still appealing, and serve to tighten tension within their respective groups of allies, making their interactions a smart way to attempt to recreate that season one dynamic without having the two characters exist in the same physical space.
I could sing the praises of every actor. I haven't mentioned Reneaux's intensity when he speaks about love to Alina, or Amita Suman's delivery of some iconic lines from the book, or Danielle Galligan's mercurial shifts between flirty and heartbroken. But ultimately, I want to state that Shadow and Bone rushes through the plot points of the original trilogy—almost as if it's eager to be rid of Alina's story—and have set up the Crows and Nikolai to take center stage in the third season, should one be announced. I don't hate it, but Alina Starkov could have had a series that really showed her earning her story and her sainthood. Her personal connections never extend far beyond her inner circle… which doesn't feel like a good start for a character who is supposed to be the savior of her nation. But perhaps this is all setup for further seasons of development where lost plots can be brought back.
Regardless, there is something about the style of Shadow and Bone that is deeply admirable; certain shots and direction feel like deliberate choices to achieve maximum flair and show off a sense of humor. The highest compliment I can give the series is that it knows what it wants to do and it works with itself to achieve that internal language. Shadow and Bone is an absorbing, fast-paced series that sacrifices plot points at the feet of its characters, and doesn't regret it for a second.
Shadow and Bone season two is now streaming on Netflix.
---
Want more io9 news? Check out when to expect the latest Marvel, Star Wars, and Star Trek releases, what's next for the DC Universe on film and TV, and everything you need to know about the future of Doctor Who.