Introduction
Sony is back at it again and despite the ever dropping sales results, it's even got a few smartphone firsts for us. The Xperia 1 III, the latest true flagship in the lineup, is the logical vehicle for those, and we're here to tell you all about it.
Ever since the Xperia Z5 Premium all the way back in 2015, Sony's top-tier phones have had 4K resolution displays. The Xperia 1 III combines the high resolution and a high refresh rate in one, making it the first smartphone with a 4K 120Hz display (with some caveats).
The other novelty is the variable focal length periscope telephoto camera. 5x periscopes are essentially mainstream now, and the long reach is most welcome. But for intermediate zoom levels, you typically need to rely on digital zoom or a second telephoto camera. The Xperia 1 III presents an alternative – its periscope camera can switch between 2.9x and 4.4x zoom levels (70mm and 105mm respectively). Now that's a first.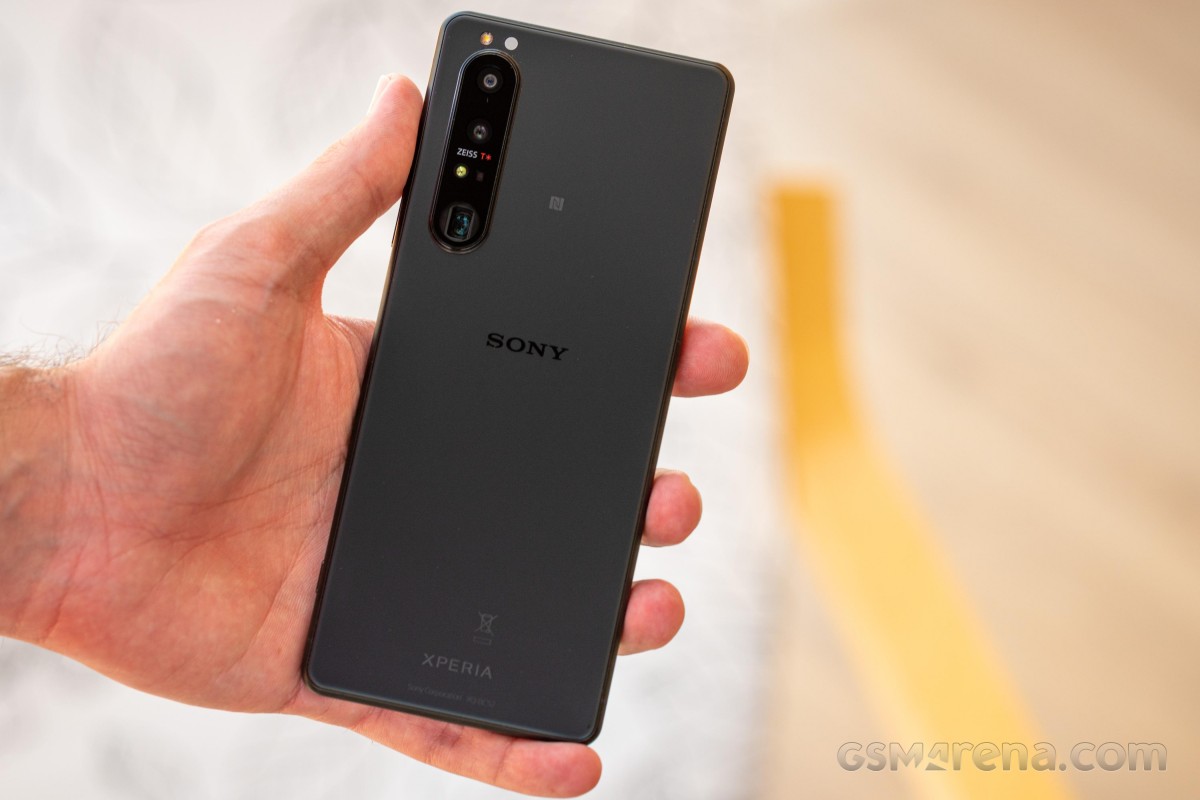 The rest of the Xperia is fairly standard, or at least not something we haven't seen before. It's a high-end Android phone in 2021, so that means the Snapdragon 888 is at the helm, and there's more RAM than on this reviewer's ultrabook (12GB come standard). Gorilla Glass front and back, dust and water protection, a 4,500mAh battery with (somewhat) fast charging – some things just can't be all that different.
Sony Xperia 1 III specs at a glance:
Body: 165.0×71.0x8.2mm, 186g; Glass front (Gorilla Glass Victus), glass back (Gorilla Glass 6), aluminum frame; IP65/IP68 dust/water resistant (up to 1.5m for 30 mins).
Display: 6.50″ OLED, 1B colors, 120Hz, HDR BT.2020, 1644x3840px resolution, 21.02:9 aspect ratio, 643ppi; 4K@60Hz / FHD@120Hz.
Chipset: Qualcomm SM8350 Snapdragon 888 5G (5 nm): Octa-core (1×2.84 GHz Kryo 680 & 3×2.42 GHz Kryo 680 & 4×1.80 GHz Kryo 680); Adreno 660.
Memory: 256GB 12GB RAM, 512GB 12GB RAM; UFS 3.X; microSDXC (uses shared SIM slot).
OS/Software: Android 11.
Rear camera: Wide (main): 12 MP, f/1.7, 24mm, 1/1.7″, 1.8µm, Dual Pixel PDAF, OIS; Ultra wide angle: 12 MP, f/2.2, 124˚, 16mm, 1/2.6″, Dual Pixel PDAF; Telephoto: 12 MP, f/2.3, 70mm, f/2.8, 105mm, 1/2.9″, Dual Pixel PDAF, 3x/4.4x optical zoom, OIS; Depth: 0.3 MP, TOF 3D.
Front camera: 8 MP, f/2.0, 24mm (wide), 1/4″, 1.12µm.
Video capture: Rear camera: 4K@24/25/30/60/120fps HDR, 1080p@30/60/120/240fps; 5-axis gyro-EIS, OIS; Front camera: 1080p@30fps, 5-axis gyro-EIS.
Battery: 4500mAh; Fast charging 30W, 50% in 30 min (advertised), Fast wireless charging, Reverse wireless charging, USB Power Delivery.
Misc: Fingerprint reader (side-mounted); NFC; 3.5mm jack.
Sony Xperia 1 III unboxing
The Xperia 1 III ships in what's been Sony's go-to two-piece white packaging for a few years now. The Xperia logo and the model number are embossed in the center of the lid in shiny lettering, while a smaller gray 'Sony' logo sits on the near end. It's a simple, yet stylish and sturdy box.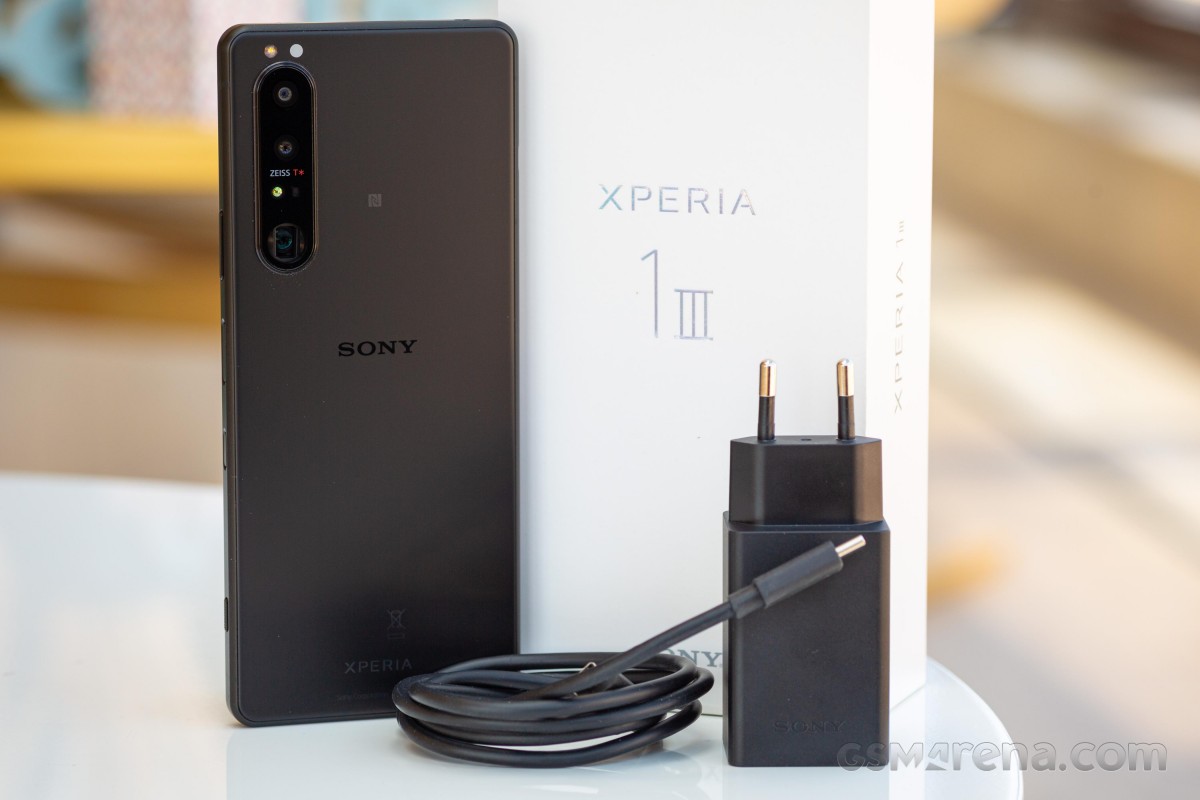 Our review unit came bundled with a charger and a USB-C cable, and nothing else. We got the XQZ-UC1 adapter (30W, USB PowerDelivery) which is the best one Sony has to offer, and we reckon that's what will ship with retail-grade units as well. Still, your bundle may differ from ours.
Design
Sony's design principles have always been rooted in continuity and evolution rather than groundbreaking changes. The Xperia 1 III is, then, a true Sony smartphone. Perhaps some bolder strokes every once in a while wouldn't hurt, but it's not this Xperia that will introduce them, and maybe it doesn't need to.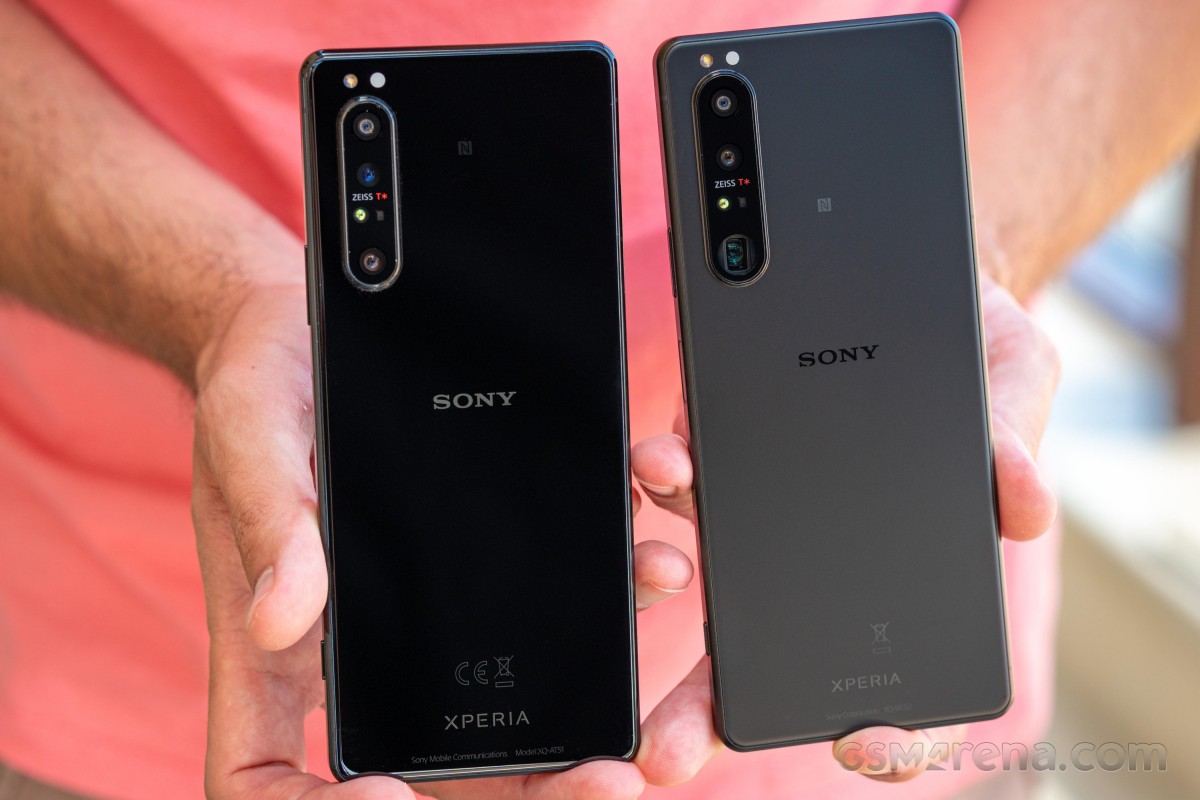 Xperia 1 II (left) next to the Xperia 1 III
As you can see, the Xperia 1 III is a familiar, no-nonsense blocky rectangle – a revelation for minimalism-inclined souls. The straight lines and flat surfaces – front, back, and frame – make the 1 III look more like a precision tool than a fashion accessory.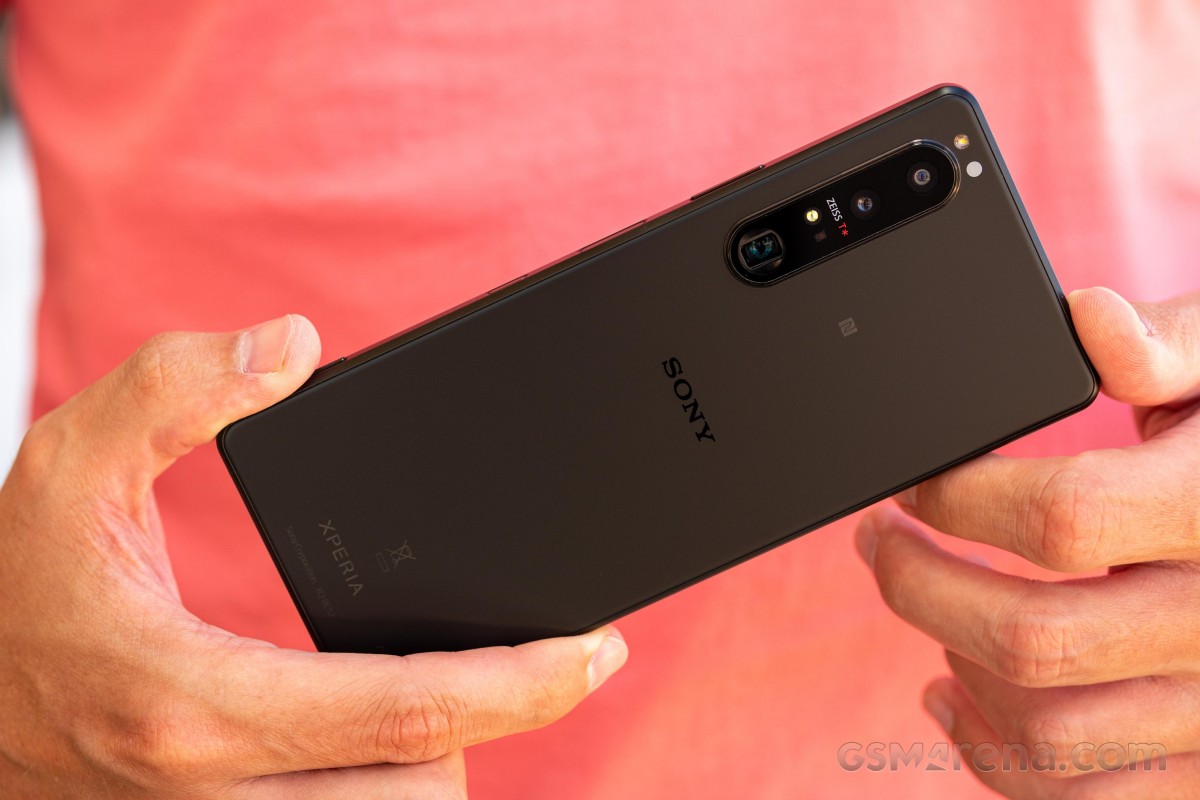 The 1 III is not entirely unchanged compared to last year's model, of course. You'll note that the glossy mirror-like finish of the rear panel has made way for an antireflective frosted treatment. It's nowhere as accommodating to fingerprints as the old design, and that's a most welcome change, though it still picks up some smudges. The panel is made of Gorilla Glass 6.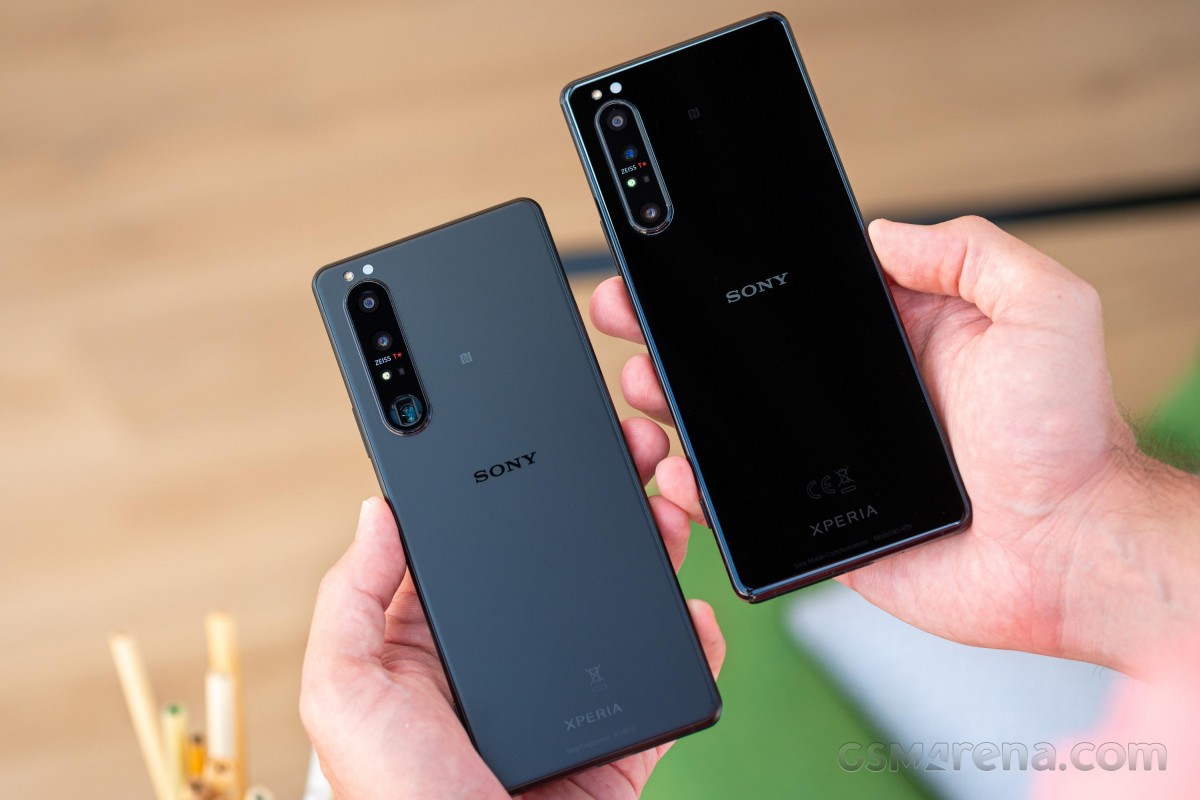 Matte Xperia 1 III (left) next to the glossy Xperia 1 II
The arrangement of bits on the back remains the same. The slightly larger triple-camera island is in the top left corner and sticks out by about 1.3mm. That's enough to make the Xperia wobble on a table – something you'll likely only notice if you type with the phone lying down. A ToF pair is also part of that cluster, while the flash and the light temperature sensor are above it, outside of the raised area.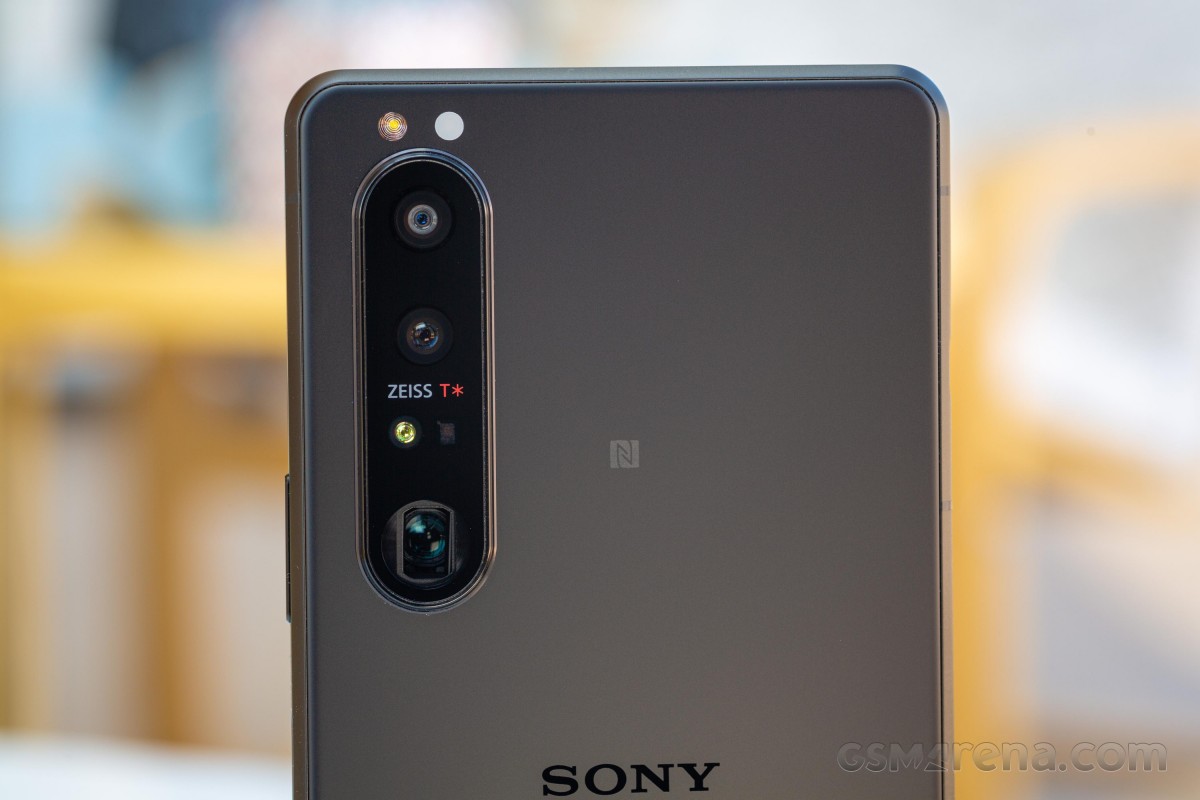 The exposed aluminum frame that surrounds the entire handset has undergone a similar change to the one on the back panel – it's now matte instead of shiny. Another new development we're seeing this year across the Sony lineup is the inclusion of a hardware Google Assistant key. The 5 II from 2020 already had that, but it only now makes it to the 1.
The power button is just above the midpoint of the phone, and it houses a capacitive fingerprint sensor. We generally had a positive experience unlocking the Xperia 1 III with either the left index finger (this reviewer is a leftie when it comes to smartphone use) or the right thumb – both in terms of speed and success rate.
That said, the usual caveats with side-mounted fingerprint readers apply – you're likely to accidentally brush against the sensor with other parts of your hand maxing out the number of unlock attempts allowed, only to find yourself unable to unlock with a fingerprint when you do actually want to. Alternatively, you may slip the phone in your pocket, touching the sensor in the process and unlocking it, ultimately leaving it unlocked. There's no provision in settings to require a press of the button to unlock – the usual way to avoid accidental sensor activation on other phones – so that's definitely a usability issue.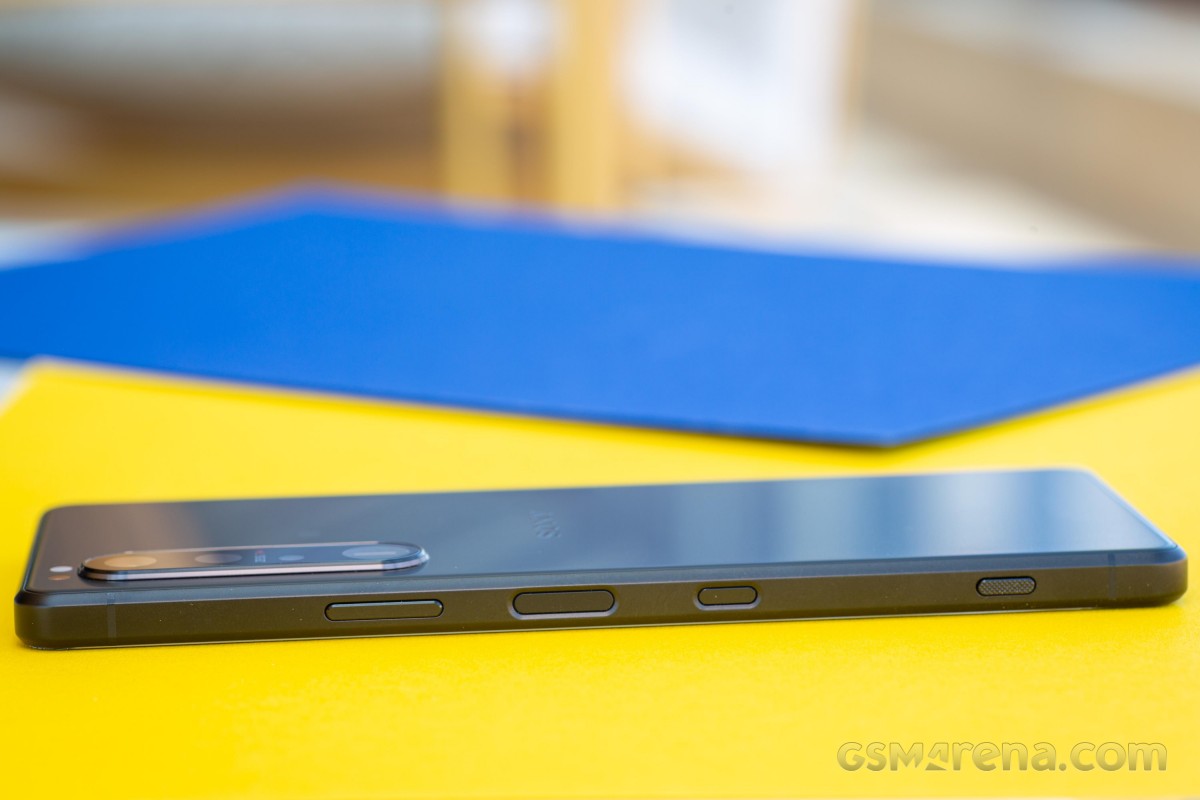 One feature you won't find on many other phones is the two-stage shutter release button the Xperia 1 III has. A staple of the lineup, it mimics the operation of a shutter release button on a standalone camera. We do tend to prefer touch operation in our smartphone cameras in most cases, and for those situations where mechanical input is preferred (say, when wearing gloves), power or volume button shortcuts typically do the job just fine.
The Xperia's dedicated key doesn't hurt, of course. It's got a knurled texture and is easy to locate by feel, though a slightly fatter size would have helped its usability. Then again, we probably would have complained about a big button that nobody uses, so we'd say it's just right as it is.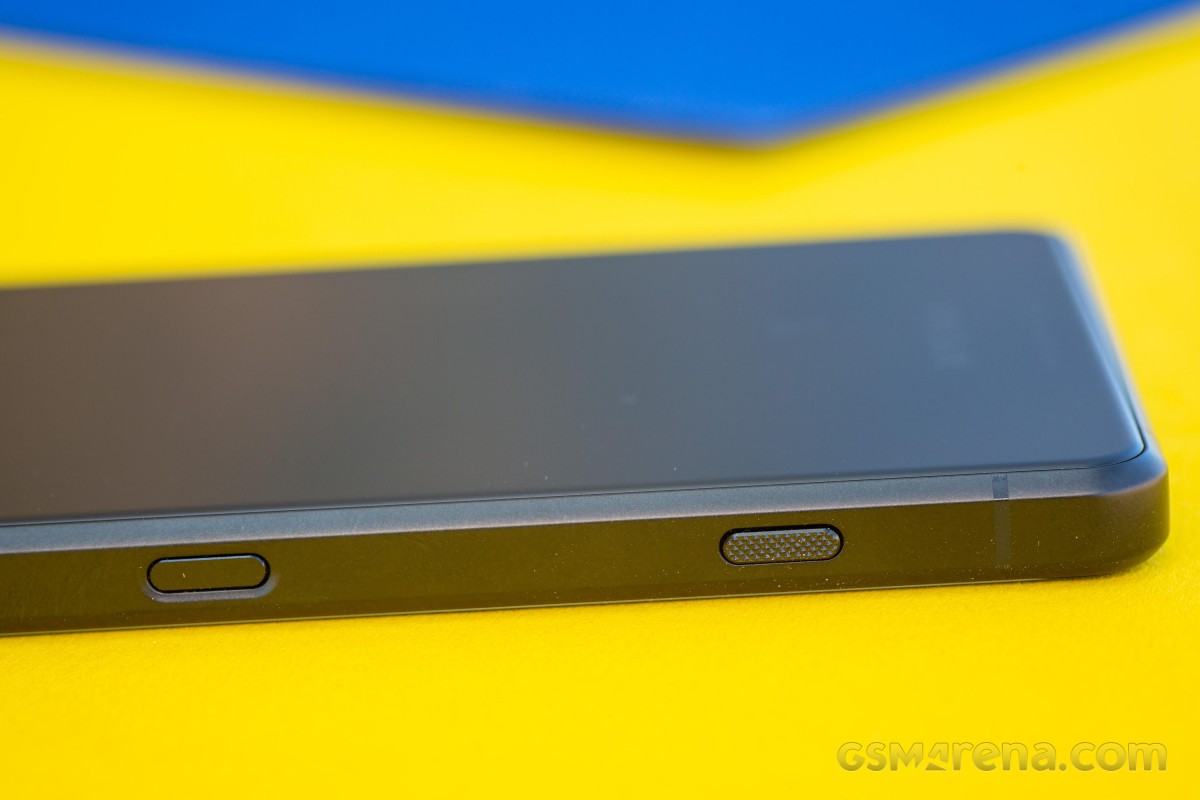 The left side of the Xperia 1 III is home to the card slot, and it takes two nano SIMs or a nano-SIM and a microSD card – a hybrid slot then. Sony card slots are opened by prying out the tray with a fingernail, no pin required, and we're fans of that, particularly since Xperias stopped restarting every time you pull out the tray. The tray has a gasket to keep the elements out, and that's a good moment to point out that the Xperia 1 III has an IP65/IP68 rating for dust and water protection – it's rated for both water jets (the IPx5) and submersion (IPx8).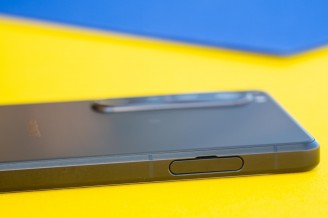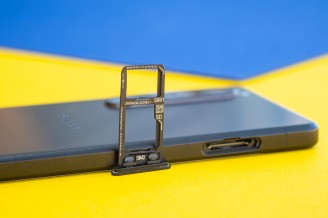 Pry-out card tray • Hybrid microSD slot
The top and bottom of the phone hold a mic each, and the bottom has the USB-C port, while the top proudly hosts a headphone jack.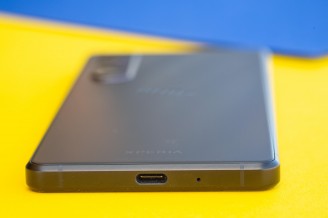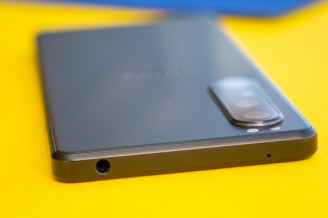 USB-C port on the bottom • 3.5mm headphone jack up top
Over on the front, there's the 6.5-inch OLED display – it's the same unit, at least physically, as on the last generation. The official specs list the new handset as being smaller by 0.1mm in both the X and Y directions, and that looks just like it sounds – the face that greets you is unchanged.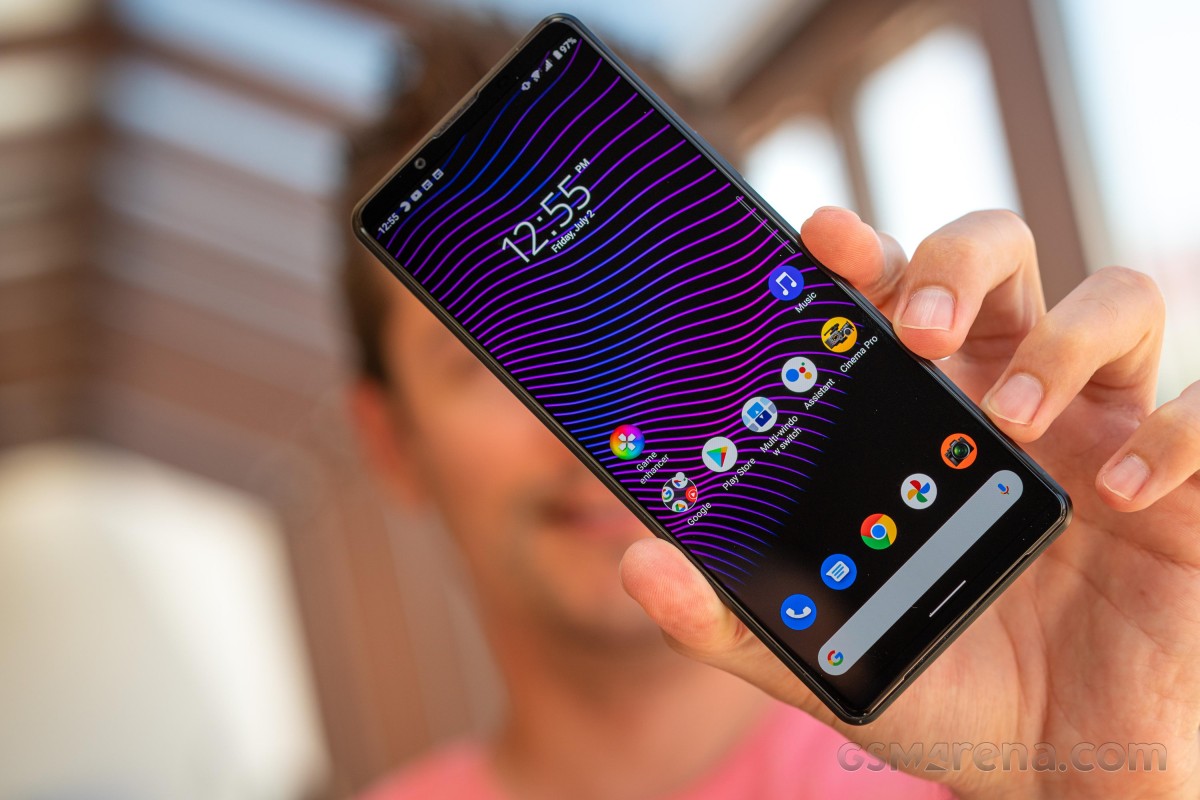 There's a reasonably thin black border on the sides of the display while the top and bottom bezels are thicker. The black area above the screen houses a selfie camera, ambient light and proximity sensors, an RGB notification/status LED, and an earpiece that also serves as a second speaker – as bezels go, this one seems pretty warranted, and we don't really mind it.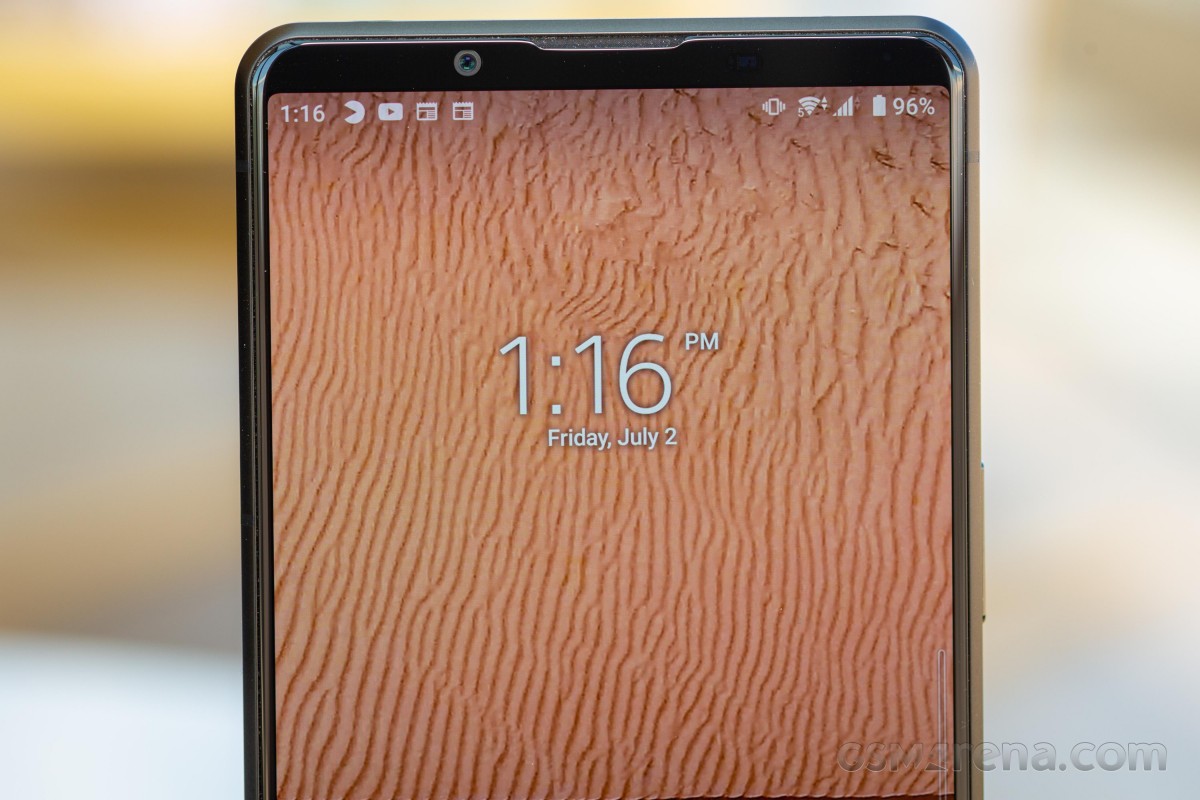 A symmetrically sized one below the display hides the bottom speaker, itself also directed towards the front. If you're the type to appreciate a bit more chin on your phone for handling reasons, the Xperia 1 III is just right for you. The symmetry argument for its existence is strong too – top bezels that are thicker than bottom ones look just plain wrong, and Sony should know, it's done a few of those (check out the original Xperia 10).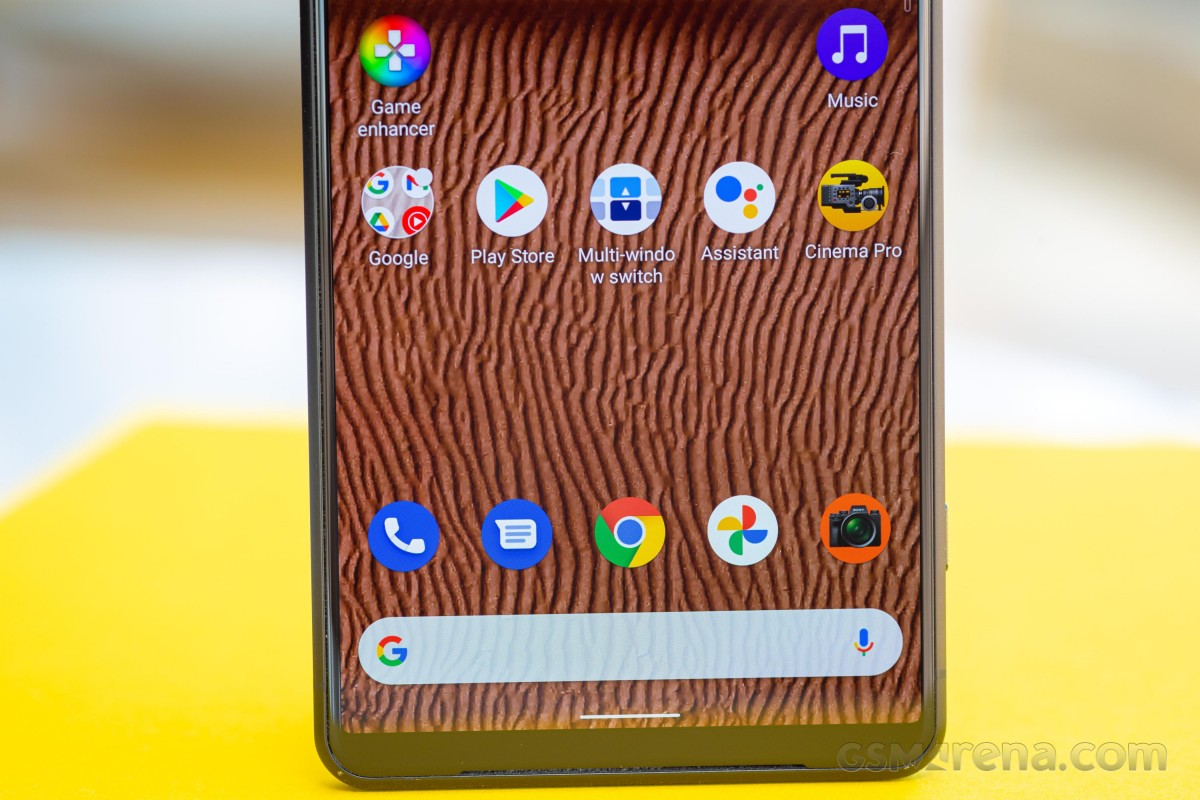 The Xperia 1 III handles a lot like the 1 II. It's undeniably a tall phone and reaching the top isn't something you do with one hand. It'll also require relatively deep pockets so that it doesn't stick out – there's no escaping the fact that it's a 6.5-inch phone in a 21:9 aspect. For what it's worth, it's 40+ grams lighter than the Galaxy S21 Ultra or the Mi 11 Ultra, so it's a lightweight phone in this context, odd as it may sound, given its 186/187g weight (depending on the 5G setup).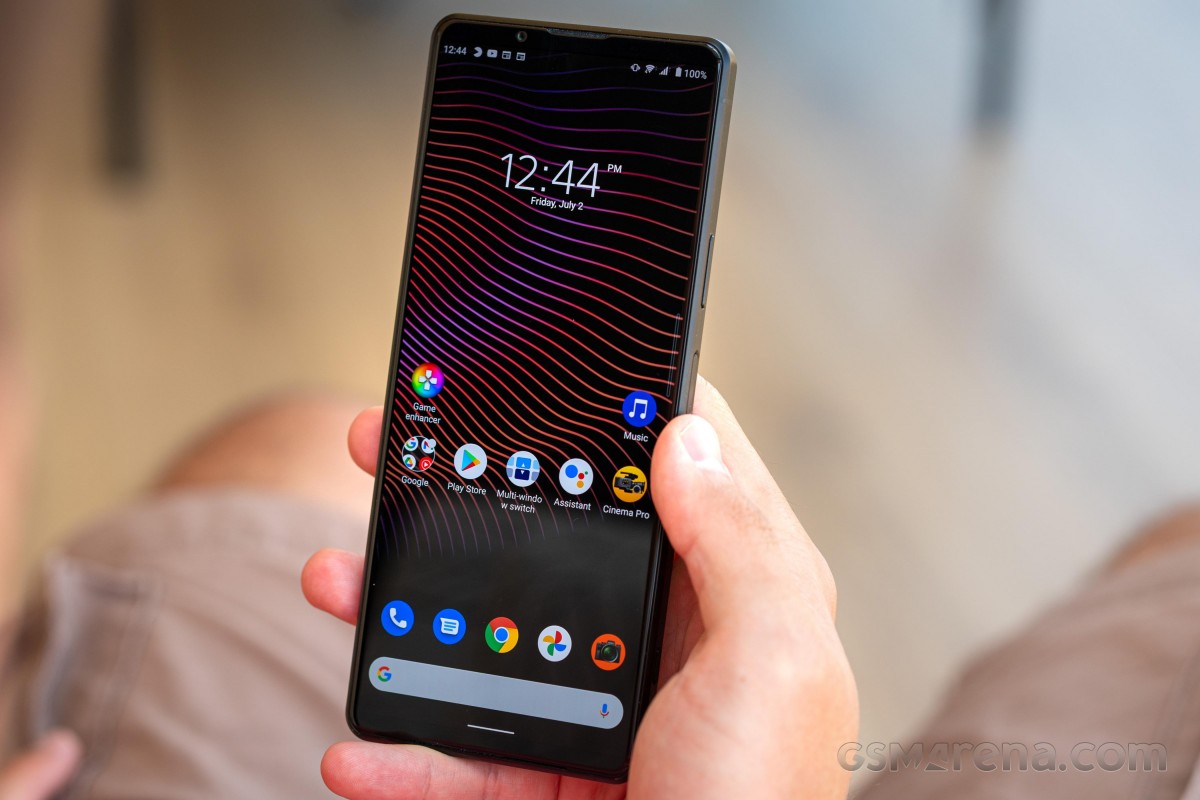 4K and 120Hz in one display, but not simultaneously
Top-end Xperias have pushed the boundaries of display technology for as long as we can remember, typically in directions different than what others are doing. The 1 III takes Sony's unique 4K resolution and adds a 120Hz refresh rate – so the first 4K 120Hz OLED panel in the smartphone world.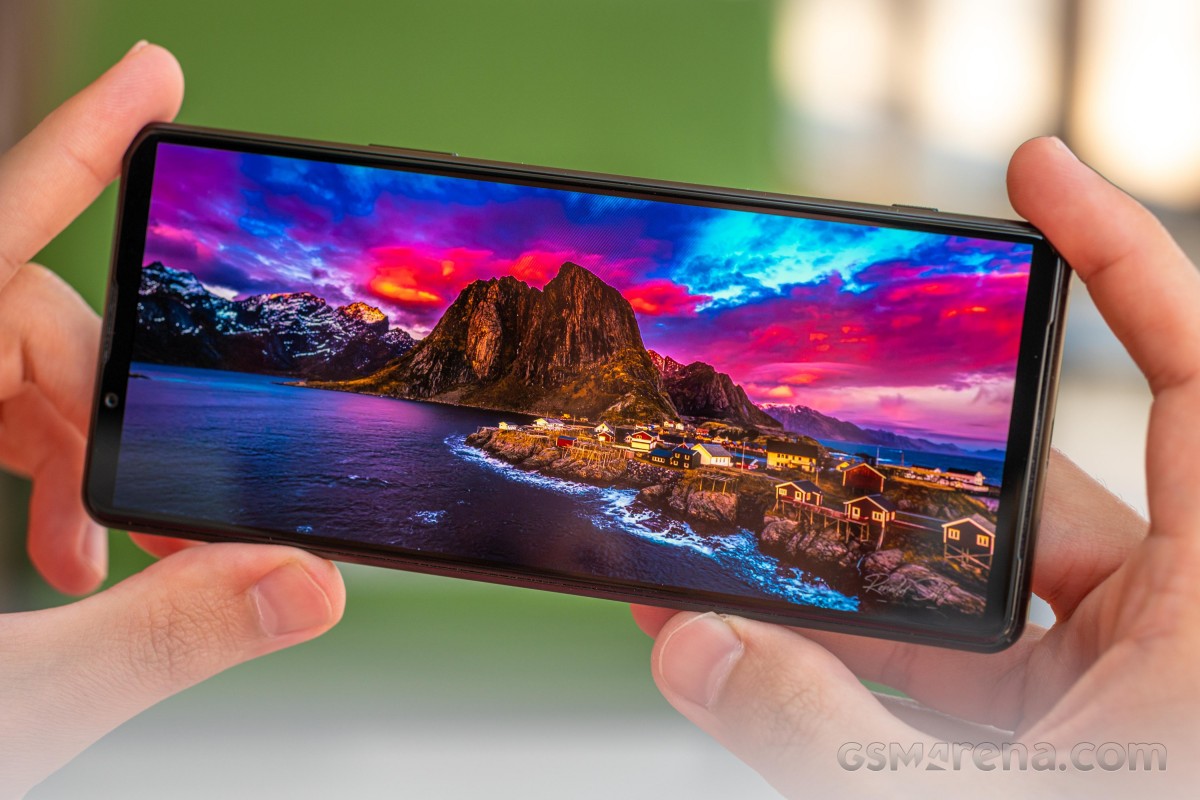 It's a commendable achievement indeed, but with several important caveats. 4K resolution is not always on, the phone can auto-enable it only for a few select apps (there is no easy way to tell which ones) and everything else is rendered in 1080p.
And if and when the phone decides to enable 4K, the max refresh rate would go down to 60Hz because 120Hz is not supported at the highest resolution.
Behind the '4K' moniker, you get a 3840x1644px resolution – the UHD type of 4K in 21:9 aspect ratio – it's the same resolution as previous Xperia 1s, and we don't mind the 4K term being used in this context. Pixel density on the 6.5-inch diagonal works out to an unrivaled 643ppi – when you get it to actually work in 4K, that is.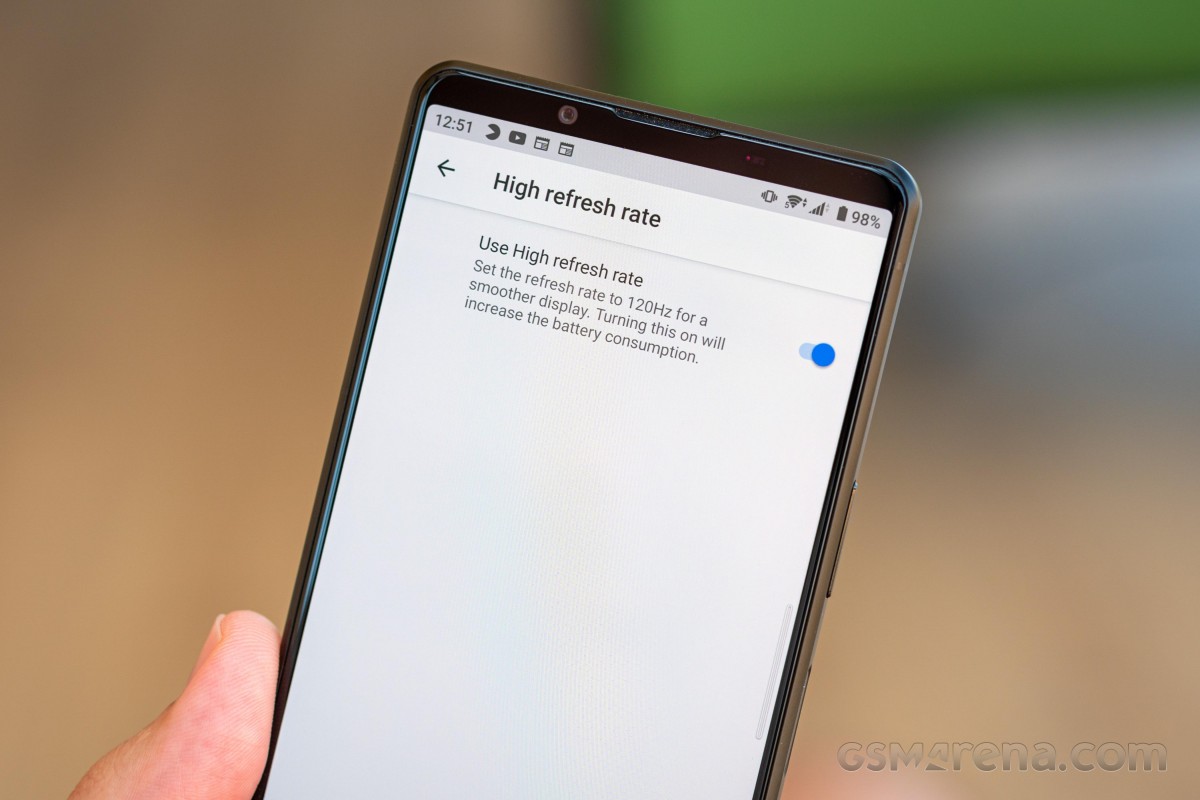 The Xperia 1 III's maximum brightness tops out at 560nits in adaptive brightness mode and 356nits when operating the slider manually. This result isn't competitive against rivaling high-end offerings.
It's nice that the higher number is also achievable even without high ambient light in Google Photos and possibly in other multimedia apps. Higher brightness for smaller patches of the display area is potentially possible as well, for HDR applications, but that's not something we can reliably test for.
Display test
100% brightness
Black,cd/m2
White,cd/m2
Contrast ratio
Sony Xperia 1 III
0
354
∞
Sony Xperia 1 III (Max Auto)
0
560
∞
Sony Xperia 1 II
0
333
∞
Sony Xperia 1 II (Max Auto)
0
538
∞
Samsung Galaxy S21 Ultra 5G
0
458
∞
Samsung Galaxy S21 Ultra 5G (Max Auto)
0
1023
∞
Samsung Galaxy S21+ 5G
0
459
∞
Samsung Galaxy S21+ 5G (Max Auto)
0
883
∞
Apple iPhone 12 Pro
0
802
∞
Apple iPhone 12 Pro Max
0
822
∞
Xiaomi Mi 11
0
498
∞
Xiaomi Mi 11 (Max Auto)
0
926
∞
Xiaomi Mi 11 Ultra
0
514
∞
Xiaomi Mi 11 Ultra (Max Auto)
0
943
∞
OnePlus 9 Pro
0
525
∞
OnePlus 9 Pro (Max Auto)
0.038
871
22921:1
Oppo Find X3 Pro
0
493
∞
Oppo Find X3 Pro (Max Auto)
0
774
∞
vivo X60 Pro+
0
477
∞
vivo X60 Pro+ (Max Auto)
0
816
∞
Asus Zenfone 8 Flip
0
518
∞
Asus Zenfone 8 Flip (Max Auto)
0
735
∞
Dealing with color reproduction on the Xperia 1 III is the same as any recent high-end Sony. There are Creator, and Standard modes for 'Image quality', with further 'White balance' adjustment options that include Warm/Medium/Cool presets, as well as RGB sliders for extra granular tweaking.
Creator mode, when it recognizes sRGB content, is capable of rendering it very accurately, if you set up the white balance to Warm – the default Medium setting results in a slightly noticeable blue shift. Our testing software couldn't trigger Creator mode to switch to the DCI-P3 color gamut, so the color accuracy results we get aren't representative of the phone's behavior with actual content made for that color space. You should be alright using with any application where color is important.
Standard mode (the out-of-the-box setting), meanwhile, delivers a punchier output that doesn't necessarily aim for accuracy; there's a provision for auto Creator mode engagement in Standard mode, so that phone can switch accordingly when presented with compatible content.
The Xperia 1 III's display is HDR capable, and we got HDR streams from popular sources like Netflix, Amazon Prime Video, and YouTube.
As we observed last year on Sony's first phone with a 120Hz display, the Xperia 5 II, the way the Xperia X 1 III handles its refresh rate is very straightforward. A single toggle in settings enables the 120Hz mode, and you'd be getting that refresh rate pretty much across the board with little to no activity-based or app-based switching. Notable exceptions include the camera viewfinder and Google Maps that do force 60Hz mode, as does video playback in Google Photos (but not in the streaming video platforms mentioned above). Such a non-adaptive approach is potentially more taxing on the battery, though the savings achieved with the adaptive implementations on competing phones are hard to quantify.
As for games, from the Game Enhancer utility settings, you can switch the refresh rate for the display to 120Hz for titles that can go above 60fps – it's at 60Hz by default. You can also force it to 120Hz regardless of whether you know for a fact that the game itself supports a higher frame rate – just to be sure. That's done on a per-game basis and is buried several levels in the Game Enhancer, so it's not the most intuitive implementation.
Sony Xperia 1 III battery life
The Xperia 1 III has a 4,500mAh battery inside, an increase over the 4,000mAh number of last year's model. It's the same capacity as the OnePlus 9 Pro, but slightly less than what the Galaxy S21 Ultra and Mi 11 Ultra have (those have much larger displays, though).
In our testing, the Xperia returned unremarkable results for endurance – a rating of 82h.
The 9 hours we clocked in Wi-Fi web browsing (with the display set at 120Hz) are the particularly underwhelming number.
The nearly 13 hours of video playback (at 60Hz) is closer to what we'd call okay, though still lower than pretty much all competitors.
The 22:42h voice call longevity is on the low end of the spectrum as well, though at least standby turned out relatively good.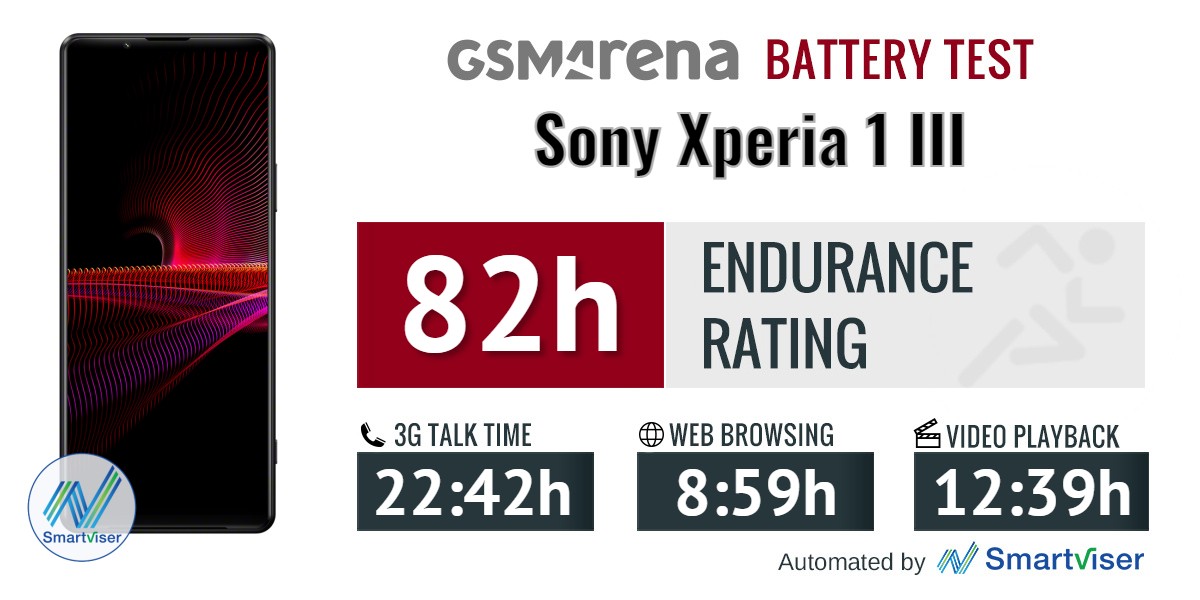 Our battery tests were automated thanks to SmartViser, using its viSerDevice app. The endurance rating denotes how long the battery charge will last you if you use the device for an hour of telephony, web browsing, and video playback daily. More details can be found here.
Video test carried out in 60Hz refresh rate mode. Web browsing test done at the display's highest refresh rate whenever possible. Refer to the respective reviews for specifics. To adjust the endurance rating formula to match your own usage – check out our all-time battery test results chart.
Charging speed
The Xperia 1 III is bundled with the company's XQZ-UC1 adapter, a 30W unit that supports USB PowerDelivery in both PDO (5V/3.0A, 9V/3.0A, 15V/2.0A) and PPS flavors (3.3V/3.0A – 16.0V/1.85A). It's the same charger that the Xperia 10 III is listed to support but doesn't get as standard. Buying it separately will set you back a hefty €50/£50, so it's nice that you get it in the Xperia 1 III's box.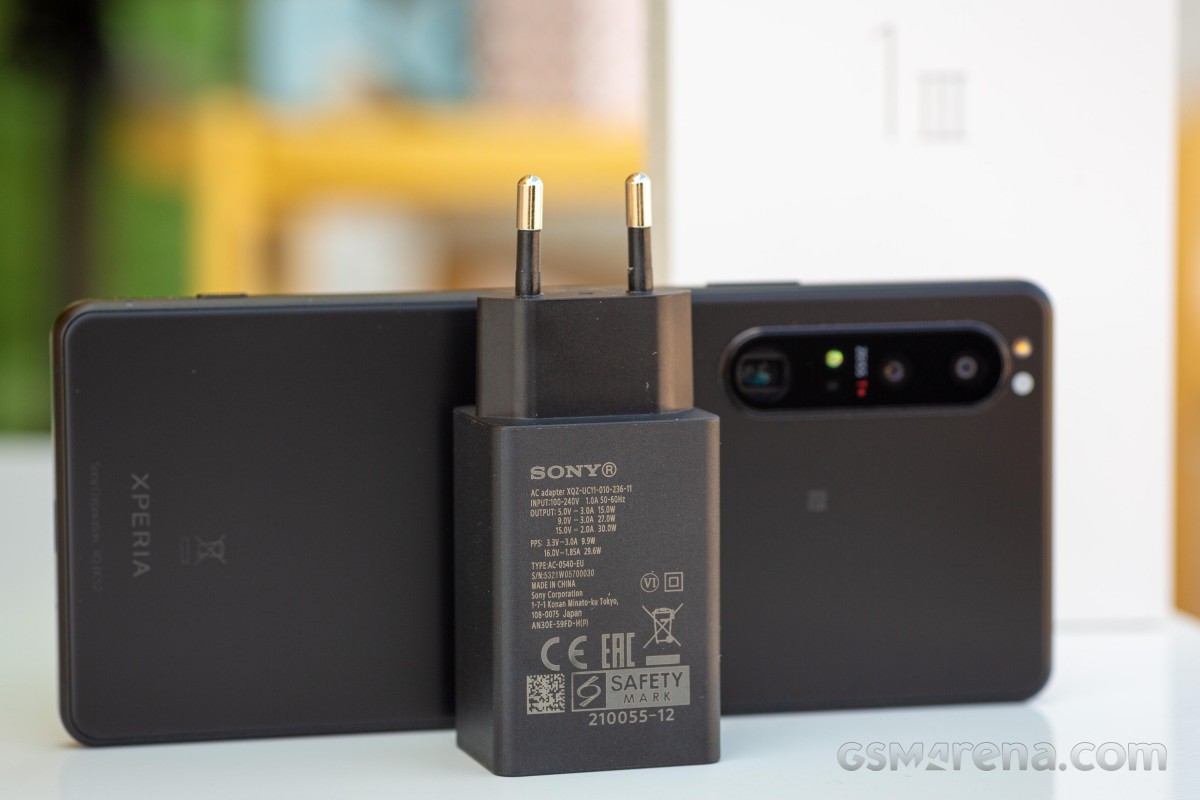 Using that brick, we measured decent but ultimately unremarkable charging speeds on this Xperia. Half an hour will get you from flat to 42%, while a full charge requires just short of two hours. The funny thing is that last year's Xperia 1 II was ever so slightly quicker than this 2021 model.
30min charging test (from 0%)
Higher is better
Oppo Find X3 Pro




100%

OnePlus 9 Pro




99%

Xiaomi Mi 11 Ultra




89%

vivo X60 Pro+




84%

Xiaomi Mi 11




83%

Apple iPhone 12 Pro Max




55%

Samsung Galaxy S21 Ultra 5G




54%

Samsung Galaxy S21+ 5G




54%

Asus Zenfone 8 Flip




53%

Sony Xperia 1 II




46%

Sony Xperia 1 III




42%

Sony Xperia 10 III




20%
Time to full charge (from 0%)
Lower is better
Oppo Find X3 Pro




0:28h

OnePlus 9 Pro




0:32h

Xiaomi Mi 11 Ultra




0:37h

vivo X60 Pro+




0:42h

Xiaomi Mi 11




0:50h

Samsung Galaxy S21 Ultra 5G




1:11h

Samsung Galaxy S21+ 5G




1:12h

Apple iPhone 12 Pro Max




1:32h

Asus Zenfone 8 Flip




1:40h

Sony Xperia 1 II




1:51h

Sony Xperia 1 III




1:57h

Sony Xperia 10 III




2:58h
Mind you, because of the typical Sony approach to charging where the long-term battery health is prioritised, the final 10% take almost half an hour – 0-90% requires 1:30h. Sony claims that after three years of daily charging, the battery's capacity wouldn't dip below 80%, thanks in part to this relatively conservative charging curve.
The Xperia 1 III supports wireless charging, and the Wireless Power Consortium database entry says it adheres to the Extended Power Profile for a maximum input power of 15W.
Speaker test
The Xperia 1 III has a stereo speaker setup with both units facing forward – one is below the display, the other – above it (that one is also the earpiece). As is common on Sonys, the phone has a correct-side-up landscape orientation – the buttons must be on top. So it won't switch channels based on the accelerometer's input and will feed the left channel through the earpiece even if you've got it the other way around ('you're holding it wrong' kinda situation).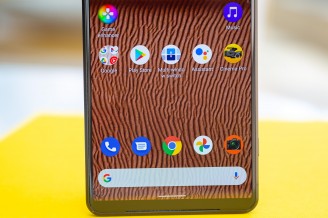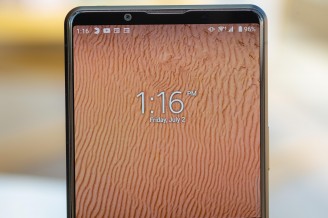 Bottom speaker • Earpiece is always left channel
The Xperia earned a 'Good' rating for loudness in our test, one notch below most competitors. The 1 III is a bit lacking in the low end, where the Mi 11 Ultra is notably boomier, but the Xperia makes up for it with clean vocals and sparkly treble. The symmetry and parity between the two speakers is also much appreciated.
Use the Playback controls to listen to the phone sample recordings (best use headphones). We measure the average loudness of the speakers in LUFS. A lower absolute value means a louder sound. A look at the frequency response chart will tell you how far off the ideal "0db" flat line is the reproduction of the bass, treble, and mid frequencies. You can add more phones to compare how they differ. The scores and ratings are not comparable with our older loudspeaker test. Learn more about how we test here.
Android 11, Xperia style
The Xperia 1 III boots Android 11, and as is customary for Sonys, the user interface has a very stock feel. Looking deeper, though, there are several touches from Sony that add extra functionality.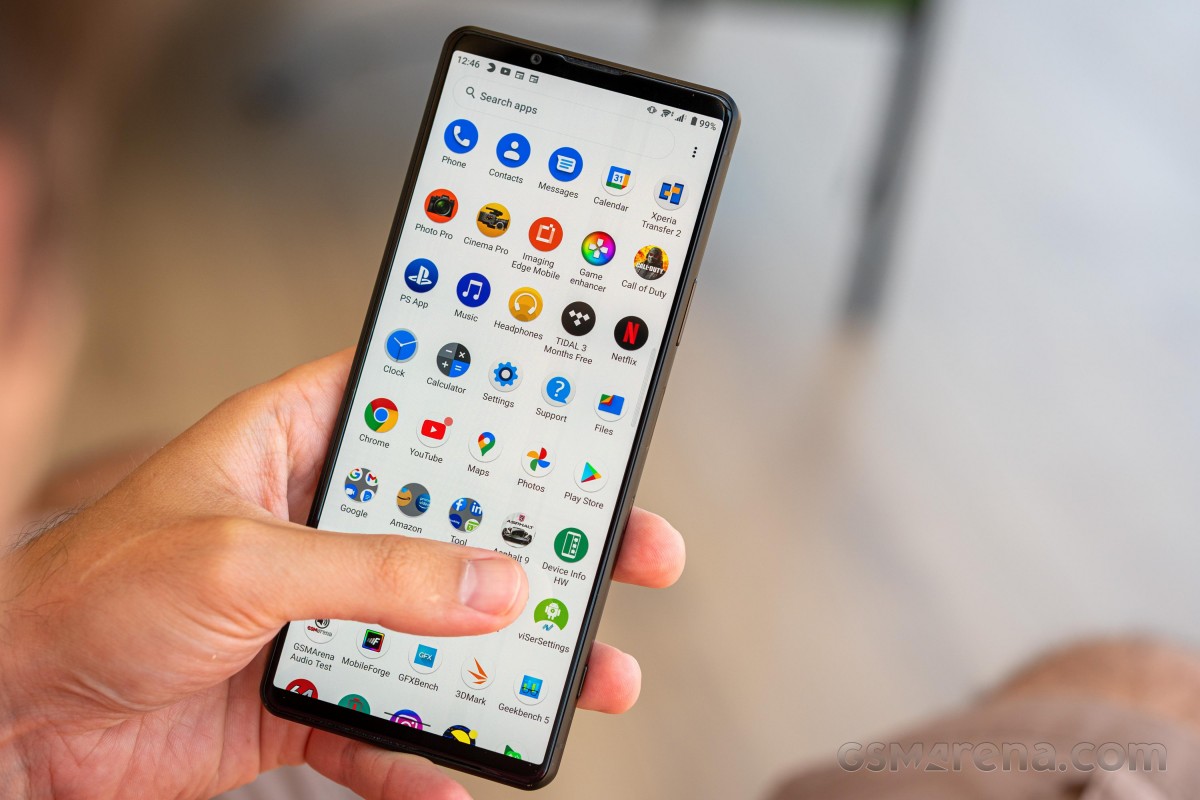 Starting with some of the basics, there's an Always-on display feature with a limited set of customization options. The lockscreen is business as usual with a clock (that you can customize), a shortcut to the camera and another one for Google Assistant (a bit redundant when there's a hardware key for that already).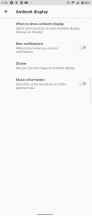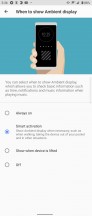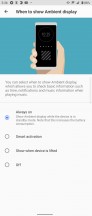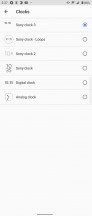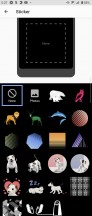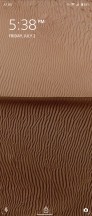 Always on display • Lockscreen
The homescreen, too, is as standard as they come. The Google feed is the leftmost pane, but you can disable it if it's not your thing. The quick toggles/notification area is Google's stock too. With this version of Android, you get Notification history and the Bubbles shortcuts as part of the Conversations features – both available on the Xperia, unlike some more heavily customized UIs.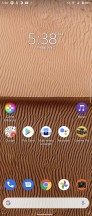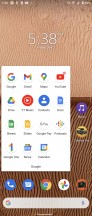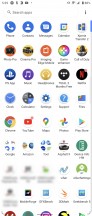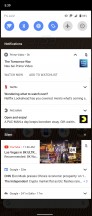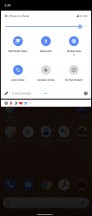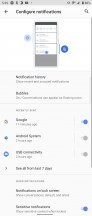 Homescreen • Folder view • App drawer • Notification shade • Quick toggles • Notification settings
This brings us to one of the Sony exclusives, already available on the previous generation, the Multi-window switch. Split-screen multi-window implementation is one of the bits Google changes most often, but the current one has stuck for a couple of years, and it's a really clunky one, so Sony intervened.
You access Multi-window switch from the task switcher or from the dedicated shortcut icon on the homescreen, and you get sort of like two stacked task switcher rolodexes with your currently opened apps to pick one for the top half and one for the bottom half of the screen. The rightmost pane in each half lets you launch another app, not just pick from the already running ones. The phone remembers three previously used pairs so you can access them directly, though we couldn't find a way to save custom app pair presets. It's worth mentioning that the window split can be done in almost any arbitrary ratio, not just 50/50.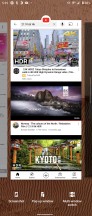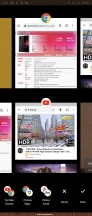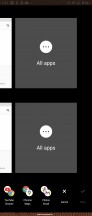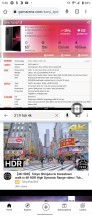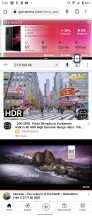 Task switcher • Multi-window switcher
Side sense is another of the in-house Sony features. A bar shortcut on either side of the phone opens up a menu of shortcuts to apps and features, most of them user-configurable. The 21:9 multi-window pairs can be customized here, but they don't go into the three pair shortcuts in the regular task switcher. A new addition to the menu a widget to control the Sony headphones app – handy if you have Sony headphones.
There's a fairly standard set of gestures for call handling, as well as a one-handed mode and smart backlight control. It's in this menu that you'll find the navigation options with the two basic types available – gestures or a navbar.
Missing on the midrange Xperia 10 III, Sony's Game Enhancer is part of the 1 III's software package. It's a comprehensive utility for dealing with.. well, games, and comprises of two interfaces – a game hub/launcher, and an overlay you pull out from the side while in a game.
Performance profiles (or Game Mode) can be set on a per-game basis, and it's in here that you get to set the screen refresh rate and lock it at 120Hz regardless of whether the game supports it (though, obviously, it would make sense on the games that do). Additional sliders let you select Touch response speed and touch tracking accuracy.
H.S. power control is the setting that deals with power management, and it won't charge the battery but will only essentially meet your current power consumption to avoid unnecessary heat generation – H.S. stands for Heat Suppression.
The Focus settings is an array of toggles that let you disable pesky notifications, turn off adaptive brightness, disable the camera button and the side sense functionality – limit distractions.
There are also screenshot and video capture features.
Synthetic benchmarks
The Xperia 1 III is powered by the Snapdragon 888 – no surprises there. Qualcomm's current top-level chipset comes with tons of raw power in both the CPU and graphics departments and has a built-in 5G modem, plus all the efficiency benefits of the 5nm manufacturing process.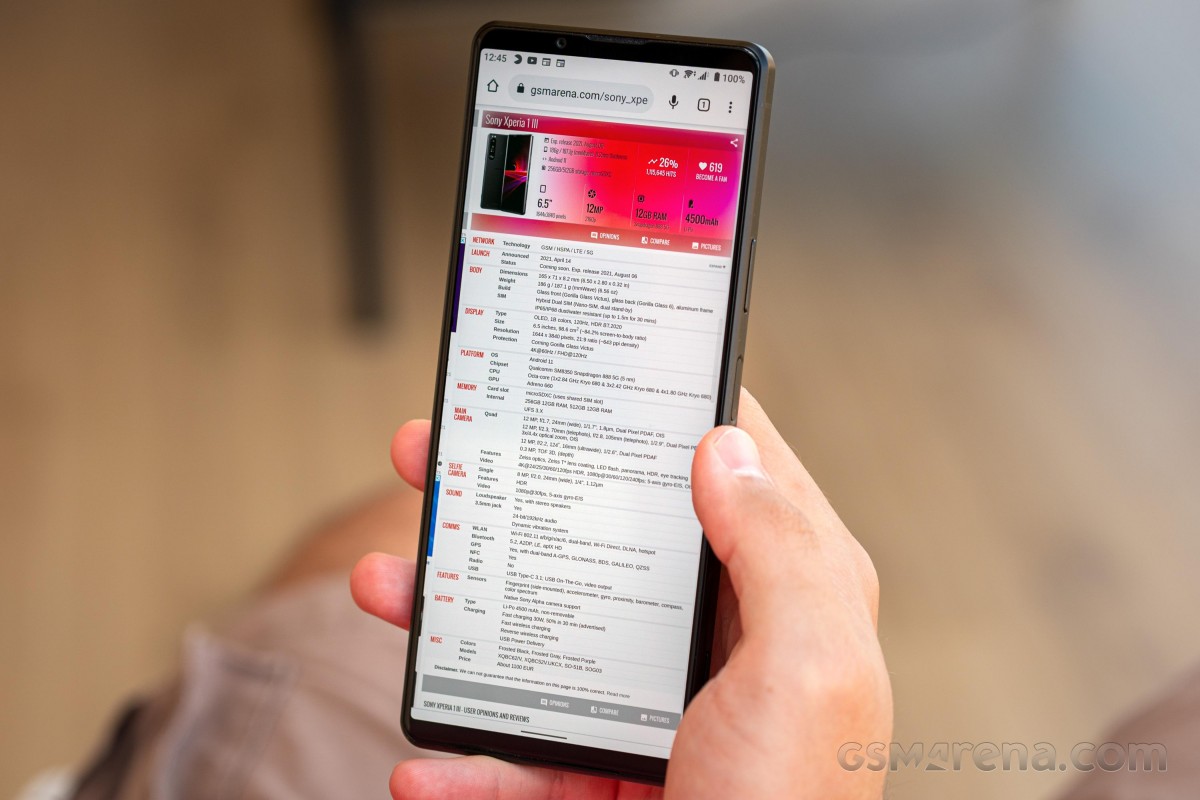 Having said that, the Xperia 1 III put out low to average results, with the notable exception of single-core GeekBench, where it was towards the top of the chart.
GeekBench 5 (multi-core)
Higher is better
vivo X60 Pro+




3749

Huawei Mate 40 Pro (perf. mode)




3704

Asus Zenfone 8 Flip




3673

OnePlus 9 Pro




3636

ZTE Axon 30 Ultra 5G




3582

Galaxy S21 Ultra 5G




3518

Sony Xperia 1 III




3515

Xiaomi Mi 11




3489

Galaxy S21+ 5G




3476

Sony Xperia 1 II




3318

Oppo Find X3 Pro




3316

Huawei Mate 40 Pro




3275

Galaxy S21 Ultra 5G (Snapdragon)




3244

Xiaomi Mi 11 Ultra




3191
GeekBench 5 (single-core)
Higher is better
vivo X60 Pro+




1143

Sony Xperia 1 III




1130

OnePlus 9 Pro




1126

Xiaomi Mi 11 Ultra




1126

Asus Zenfone 8 Flip




1126

ZTE Axon 30 Ultra 5G




1124

Galaxy S21 Ultra 5G (Snapdragon)




1109

Galaxy S21 Ultra 5G




1107

Galaxy S21+ 5G




1091

Xiaomi Mi 11




1085

Huawei Mate 40 Pro (perf. mode)




1020

Oppo Find X3 Pro




926

Huawei Mate 40 Pro




920

Sony Xperia 1 II




897
Antutu didn't show the Xperia 1 III in the best possible light, with both v8 and v9 of the benchmark placing it at the bottom of the current pack of flagships.
AnTuTu 8
Higher is better
vivo X60 Pro+




734811

ZTE Axon 30 Ultra 5G




703270

OnePlus 9 Pro




691055

Xiaomi Mi 11 Ultra




688720

Huawei Mate 40 Pro (perf. mode)




686835

Asus Zenfone 8 Flip




675851

Xiaomi Mi 11




668722

Galaxy S21 Ultra 5G (Snapdragon)




657273

Galaxy S21 Ultra 5G




657150

Oppo Find X3 Pro




656467

Galaxy S21+ 5G




622276

Sony Xperia 1 III




607423

Sony Xperia 1 II




534701

Huawei Mate 40 Pro




531270
AnTuTu 9
Higher is better
vivo X60 Pro+




836826

ZTE Axon 30 Ultra 5G




804626

Asus Zenfone 8 Flip




797484

Xiaomi Mi 11 Ultra




794016

Sony Xperia 1 III




749132
Graphics benchmarks treat the Xperia a bit more favorably thanks in part to the 1080p resolution which the phone renders onscreen benchmarks in. The Xperia even manages to snach a narrow victory in the 3DMark Wild Life benchmark.
GFX Manhattan ES 3.1 (offscreen 1080p)
Higher is better
OnePlus 9 Pro




119

vivo X60 Pro+




119

Asus Zenfone 8 Flip




118

ZTE Axon 30 Ultra 5G




118

Xiaomi Mi 11 Ultra




116

Oppo Find X3 Pro




113

Sony Xperia 1 III




111

Xiaomi Mi 11




111

Galaxy S21+ 5G




111

Galaxy S21 Ultra 5G (Snapdragon)




109

Galaxy S21 Ultra 5G




107

Huawei Mate 40 Pro




97

Sony Xperia 1 II




84
GFX Manhattan ES 3.1 (onscreen)
Higher is better
vivo X60 Pro+




105

Asus Zenfone 8 Flip




104

Galaxy S21+ 5G




100

ZTE Axon 30 Ultra 5G




93

Sony Xperia 1 III




91

Huawei Mate 40 Pro




64

Xiaomi Mi 11 Ultra




60

Sony Xperia 1 II




59

Galaxy S21 Ultra 5G (Snapdragon)




58

Galaxy S21 Ultra 5G




58

Xiaomi Mi 11




57

OnePlus 9 Pro




57

Oppo Find X3 Pro




55
GFX Car Chase ES 3.1 (offscreen 1080p)
Higher is better
vivo X60 Pro+




71

OnePlus 9 Pro




70

Oppo Find X3 Pro




70

Xiaomi Mi 11 Ultra




69

Asus Zenfone 8 Flip




69

ZTE Axon 30 Ultra 5G




69

Sony Xperia 1 III




68

Xiaomi Mi 11




67

Galaxy S21 Ultra 5G (Snapdragon)




66

Galaxy S21+ 5G




66

Galaxy S21 Ultra 5G




64

Huawei Mate 40 Pro




56

Sony Xperia 1 II




51
GFX Car Chase ES 3.1 (onscreen)
Higher is better
vivo X60 Pro+




62

Asus Zenfone 8 Flip




62

Sony Xperia 1 III




54

ZTE Axon 30 Ultra 5G




54

Galaxy S21+ 5G




54

Sony Xperia 1 II




39

OnePlus 9 Pro




36

Xiaomi Mi 11 Ultra




34

Galaxy S21 Ultra 5G (Snapdragon)




33

Xiaomi Mi 11




33

Oppo Find X3 Pro




33

Galaxy S21 Ultra 5G




33

Huawei Mate 40 Pro




25
GFX Aztek Vulkan High (onscreen)
Higher is better
Asus Zenfone 8 Flip




45

vivo X60 Pro+




44

ZTE Axon 30 Ultra 5G




41

Galaxy S21+ 5G




37

OnePlus 9 Pro




27

Galaxy S21 Ultra 5G (Snapdragon)




25

Xiaomi Mi 11 Ultra




25

Sony Xperia 1 III




24

Xiaomi Mi 11




24

Galaxy S21 Ultra 5G




23

Sony Xperia 1 II




20

Huawei Mate 40 Pro




17
GFX Aztek ES 3.1 High (onscreen)
Higher is better
vivo X60 Pro+




43

Galaxy S21+ 5G




43

Asus Zenfone 8 Flip




41

ZTE Axon 30 Ultra 5G




39

Sony Xperia 1 III




36

Sony Xperia 1 II




27

Huawei Mate 40 Pro




26

OnePlus 9 Pro




24

Galaxy S21 Ultra 5G




24

Galaxy S21 Ultra 5G (Snapdragon)




23

Xiaomi Mi 11 Ultra




23

Xiaomi Mi 11




22
3DMark Wild Life Vulkan 1.1 (offscreen 1440p)
Higher is better
Huawei Mate 40 Pro




6170

Sony Xperia 1 III




5807

Galaxy S21+ 5G




5757

ZTE Axon 30 Ultra 5G




5714

OnePlus 9 Pro




5701

vivo X60 Pro+




5695

Galaxy S21 Ultra 5G




5691

Asus Zenfone 8 Flip




5677

Xiaomi Mi 11 Ultra




5676

Xiaomi Mi 11




5673

Oppo Find X3 Pro




5653

Galaxy S21 Ultra 5G (Snapdragon)




5547
These numbers you see above are obtained on the first benchmark runs on a cool phone. However, scores drop rapidly with repeated runs and drop pretty badly – by 20%, even 25%, in Antutu. The phone also heats up to uncomfortable levels – that's good in a way because it means heat is being dissipated, but it's apparently not being dissipated efficiently enough. All in all, the Xperia 1 III's performance leaves us wanting.
Triple camera with four focal lengths on the back
The Xperia 1 III has a triple camera setup on its back, but unlike other triple cameras out there, this one offers four native focal lengths, or zoom levels if you prefer. That's because of its novel telephoto that switches between a 70mm and 105mm equivalent within its periscope assembly.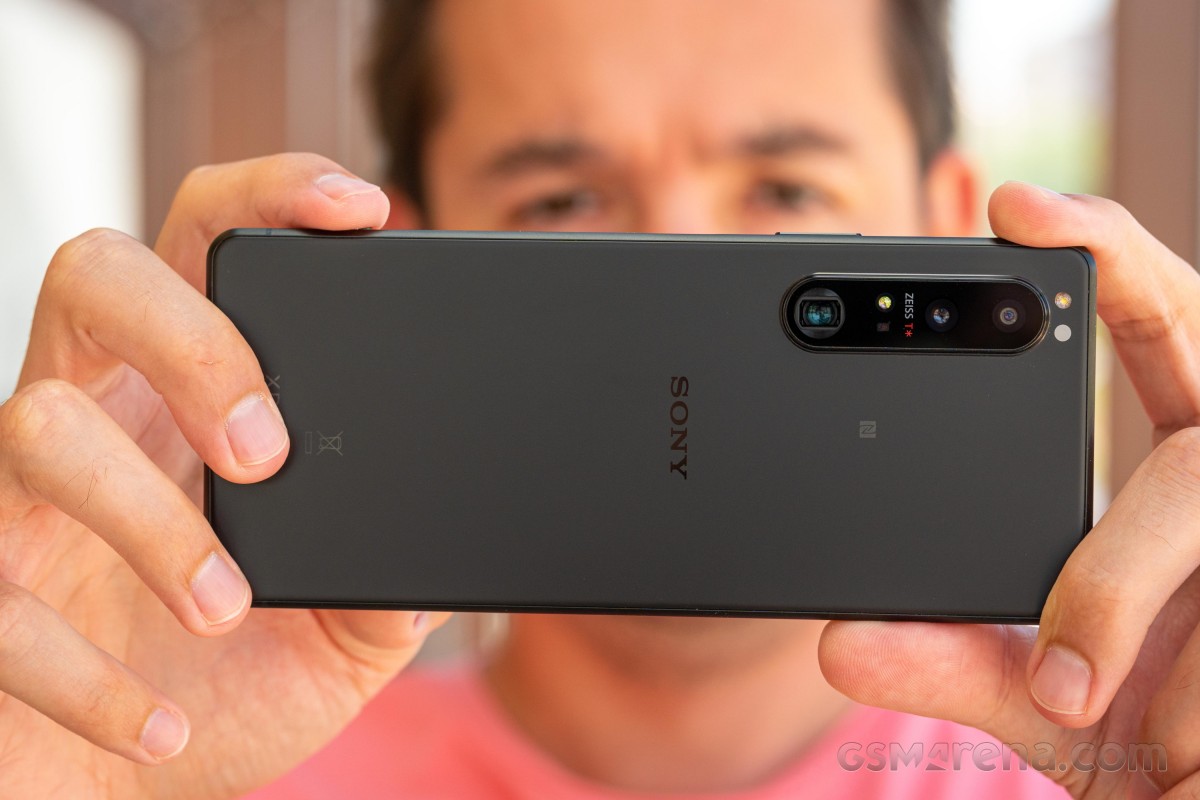 The technological star of this show, the telephoto camera offers 2.9x and 4.4x zoom magnifications with the aperture changing from f/2.3 at the 70mm setting to f/2.8 at the long end. Optical stabilization is also available. The sensor behind all this is Sony's own IMX 663 – a 12MP 1/2.9″ imager with Dual PDAF.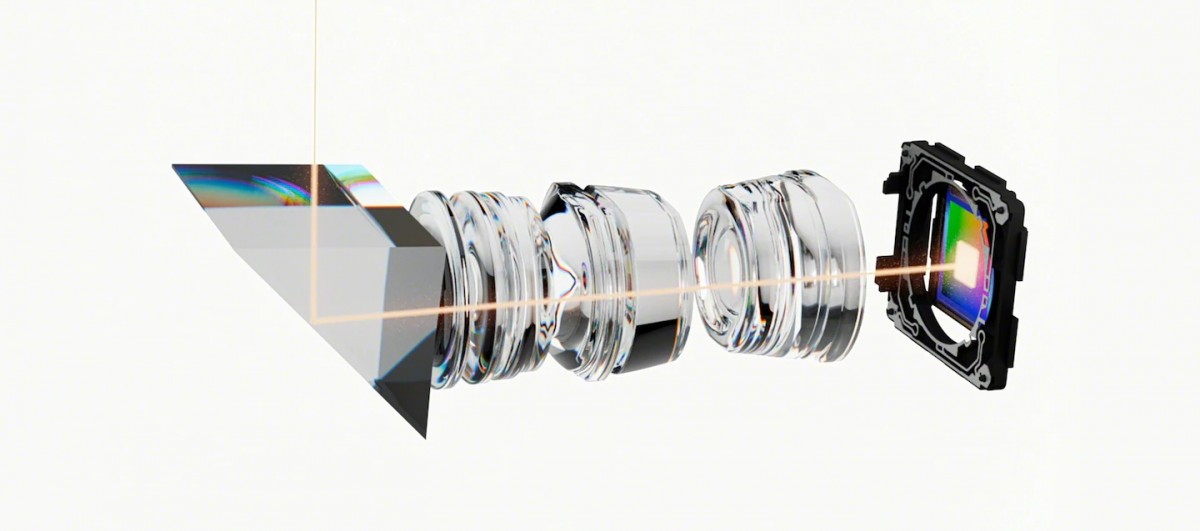 The other two cameras come straight from the Xperia 1. The primary one uses a Sony IMX 557 sensor, this one a type 1/1.7″ – it's smaller than competing efforts like the Galaxy S21 Ultra (1/1.33″) or the Mi 11 Ultra (1/1.12″) but Sony touts its imager of choice to be much faster to read than these larger Quad Bayer and Nonapixel designs thus enabling the Xperia to do 20fps bursts. It's got a 12MP resolution, and each pixel is 1.8µm big. This camera has a stabilized 24mm equivalent lens with an f/1.7 aperture.
The ultrawide employs another Sony sensor, the IMX363 – a type 1/2.55″ unit with 1.4µm pixels. The lens has a 16mm equivalent focal length and an f/2.2 aperture and features autofocus.
In addition to these 'real' cameras, there's also a ToF emitter/receiver pair which aids with focusing.
The 8MP selfie camera is another familiar sight, and it's the only one to use a Samsung sensor, the S5K4H7. The lens has a 24mm equivalent focal length and an f/2.0 aperture but lacks autofocus, sadly.
Photography Pro
The Xperia 1 III features Sony's new Photography Pro camera app. Essentially, it merges the functionality of the previous regular camera app with the previous advanced photography Pro app.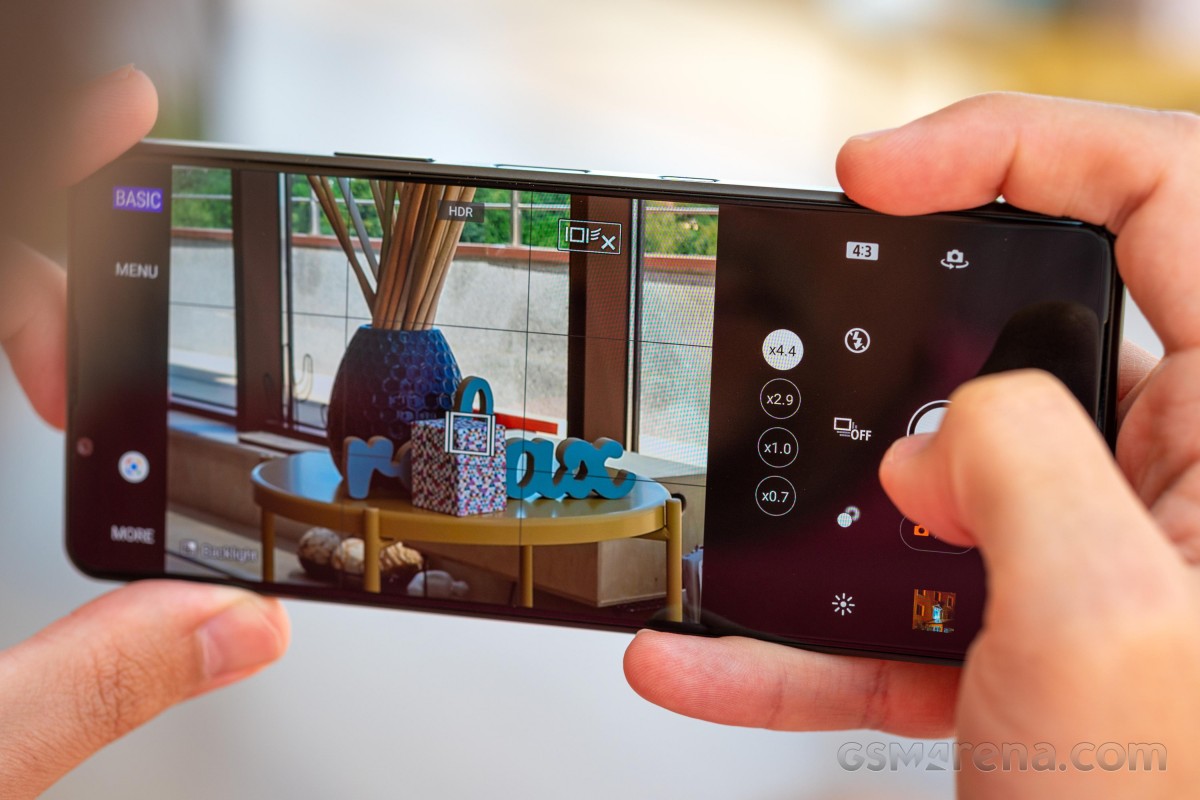 Basic mode is the heir of the old app and likely where you'll spend most of your time. It's been reworked, and the changes are for the better. The controls for (implied) white balance and exposure compensation, bokeh mode, drive mode, flash and aspect ratio have been moved immediately next to the shutter release, and with the zoom selector already here, you can just about operate all functions with a single thumb without having to use your other hand. Meanwhile, the zoom selector itself now uses numerical values instead of the tree designation of the old app – it's hard to convey the difference between 2.9x and 4.4x in pictograms.
At the opposite end of the viewfinder, and for these you'll need your other hand, you'll find a More button, a shortcut to Google Lens, a Menu button to access the (rather lengthy) Settings menu, and the button that lets you switch between this Basic mode/app and its Pro alter ego.
When in the Pro section of Photography Pro, you get an Auto mode, as well as the classic Program, Shutter priority and Manual modes, plus a Memory Recall option where you can store a pre-set state of settings to be able to come back to quickly.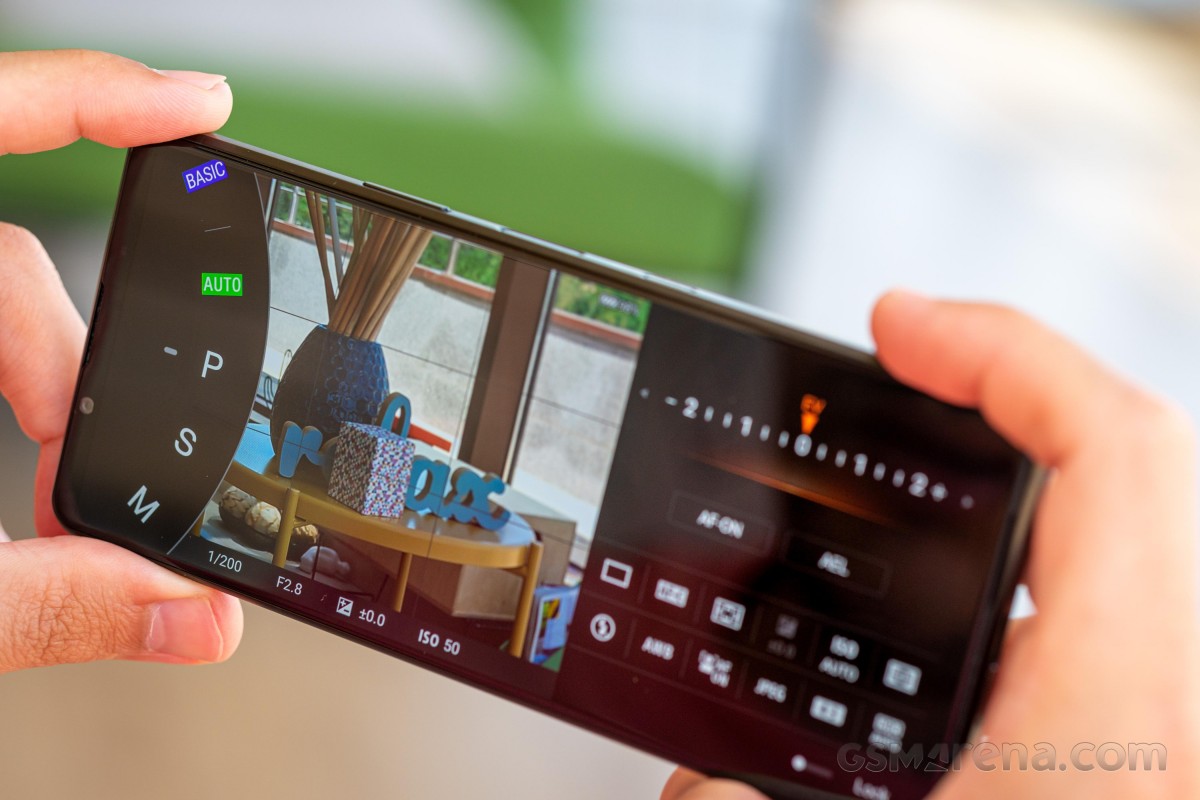 The Photo Pro interface is reminiscent of that of a dedicated Sony Alpha camera, only adapted for smartphone use. On the right, you get to change photographic settings like focus mode and area, white balance and ISO, but it's exposure compensation that's apparently the most important control since it gets about a third of the screen area.
One thing we complained about last year's Photography Pro app was the lack of a touch-based way to engage the shutter release. The dedicated mechanical button is the default way, and the volume rocker is also an option, but that's that. Unfortunately, it's uch the same situation here. If you like the Photography Pro interface but you're not too keen on having to squeeze the phone to take a picture, you're out of luck.
Another somewhat annoying bit is that you need your left hand to switch cameras/zoom levels in this UI mode. We get that serious photographers use serious cameras with both hands, but it's unwise to directly apply that logic to smartphones, which have entirely different use cases.
We covered Photography Pro in-depth last year in the Xperia 1 II review and you can head over there for more details – it's essentially unchanged.
One new development that's shared between both the Basic and the Pro modes is the inclusion of Sony's Real-time Tracking autofocus. Available on all three cameras, it lets you tap on your subject in the viewfinder and the phone will track it as it moves inside the frame. It's the industry standard for autofocus on standalone mirrorless cameras and it's nice to see it make it to smartphones.
Real-time Tracking now also works in conjunction with the shutter release button. Half-pressing the button will engage continuous AF and keep the subject focused on top of tracking it.
Mind you, if you're used to tapping on the screen to acquire focus and/or bias exposure for that point, you'd need to go into the menu and change the respective setting. It's otherwise set to Object tracking in both Basic and Pro modes.
Real-time tracking comes in addition to human and animal eye AF, another feature Sony pioneered on standalone cameras. It was introduced on last year's Xperia flagships and there's something really satisfying in seeing the small green rectangle lock onto your subject's eye.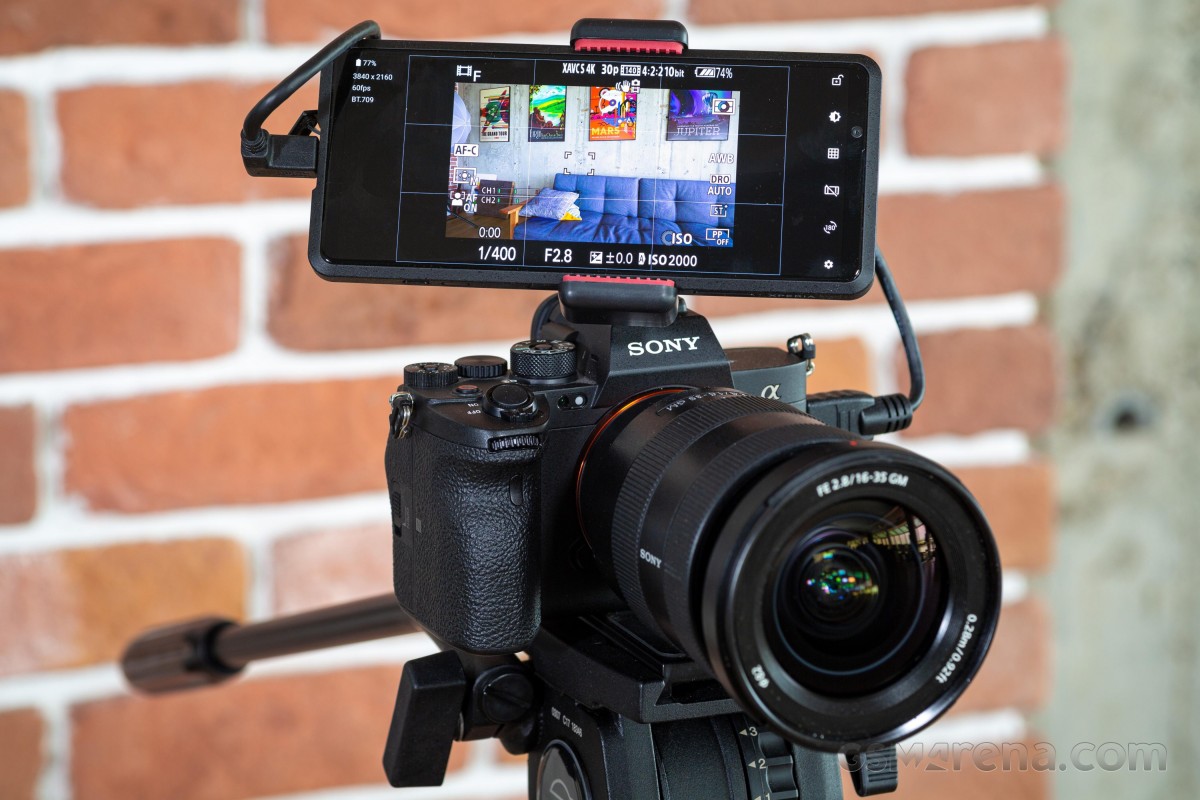 External Monitor app on the Xperia Pro with the A7S III
The Xperia 1 III should supposedly be able to work as an external monitor for the A7S III and the A1 cameras (and presumably future models), a feature until now reserved for specialized devices such as the Xperia Pro, where the connection happens over HDMI. On the 1 III, it should work over USB-C, or as the fine print in specs says: "It uses USB video class (UVC). Requires compatible camera with USB video class (UVC) or HDMI to USB cable and adaptor (Not supplied). Camera compatibility and features may vary."
Our attempts to get it to work with an A7S III failed on a number of levels – the External Monitor app we had on the Xperia Pro wasn't available for the 1 III, and after repackaging it from the Pro and installing it on the 1 III, it (rather predictably) refused to run. Additionally, we couldn't find one source that claims that the AS7 III can actually output video through its USB-C port, and we couldn't find the right HDMI to USB cable to try the alternative route. Though, really, even if we had gotten the cable, we still wouldn't have had the app anyway. Buty it could be down to the pre-production status of our device.
Cinema Pro
If video capture is more up your alley than stills, there's another Pro app for you – Cinema Pro. This too has been around for a while, and the version we have on our Xperia 1 III review unit appears for all intents and purposes identical to what we had on the Xperia 1 II, where we examined its functionality in more detail.
We'll just mention in passing that it offers additional resolutions and frame rates to the ones available in the Basic app's video mode, has proprietary color profiles, lets you select shutter speed by shutter angle (like the pros do), and has some of the nicest tools for manual focus racking (on a smartphone).
Daylight image quality
Daylight photos from the Xperia 1 III's main camera are really good overall. Detail is on par with other 12MP cameras, but more importantly, it's rendered in a very natural and appealing way – Sony's grass and foliage are some of the best out there. Noise is virtually non-existent in these images.
We're also liking the color rendition – things are looking lively, yet not in an overdone way, and we got consistently accurate white balance as well. Dynamic range is generally excellent though we'd prefer slightly brighter shadows – Sony's contrasty tone curve leaves them a bit too dark for our taste.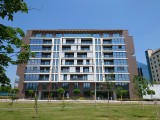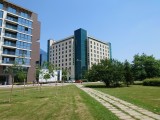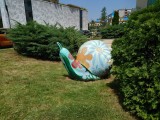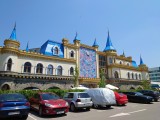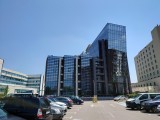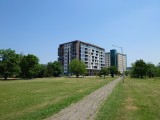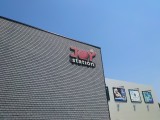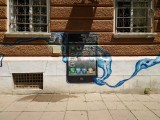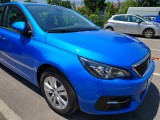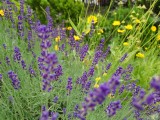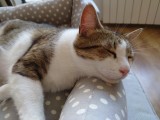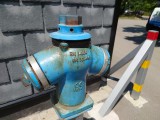 Daylight samples, main camera (1x)
The ultrawide camera continues that strong performance, delivering sharp and detailed images on far and near subjects alike. Some softness can be observed towards the extreme corners, but that's not unique to the Xperia, or most lenses, really. Dynamic range is typically respectably wide, though depending on the scene and scene mode the phone goes for, you may end up with the occasional blown highlights like in the snail shot below. Colors maintain that positive impression we got from the main camera and are, in fact, essentially perfectly matched between the two.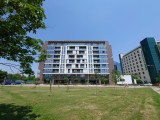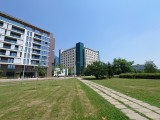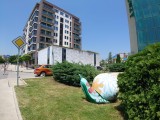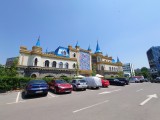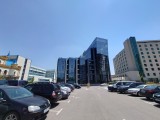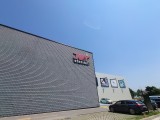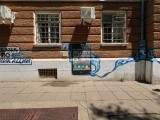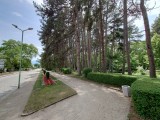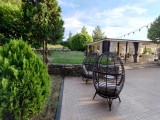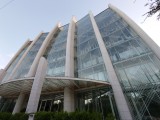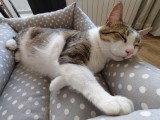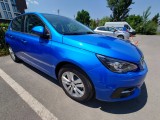 Daylight samples, ultrawide camera (0.6x)
Which gets us to the telephoto. The Xperia's images are well detailed at the 2.9x zoom setting (or a 70mm equivalent focal length) but somewhat lacking in bite – absolute sharpness is so-so. That's when the phone manages to acquire focus correctly, which isn't always the case – samples 2 and 6, for example, are out of focus. It's not a prevailing issue, but it does happen more often than we'd like.
We also observed a certain pixelation, particularly notable along diagonal lines (the blue roof 'tiles' of the castle, the snail's tentacles, the 'station' letters) – not a big deal, but unnatural-looking when examining from up close. Some noise is also present in these shots, for a change.
We have little to complain about when it comes colors – they maintain consistency with the other two modules. Dynamic range is very good as well.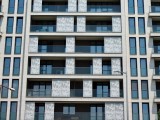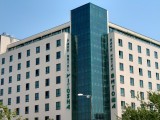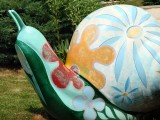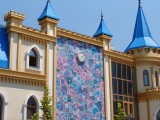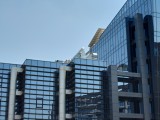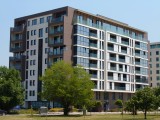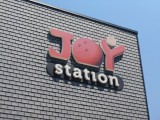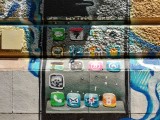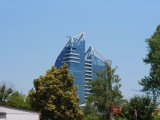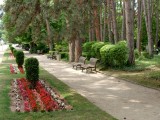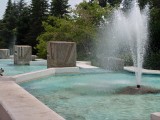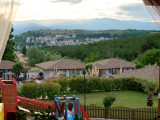 Daylight samples, telephoto camera (2.9x, 70mm)
Things get softer at the 4.4x setting. We wouldn't go so far as calling the photos unusable – they're certainly very good at fit-to-screen magnification, and there's fine detail at 1:1 as well, but you need to look for it through a haze that's hard to like.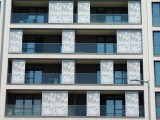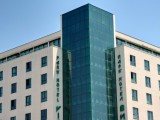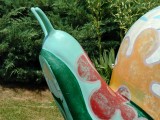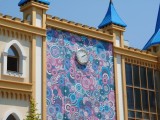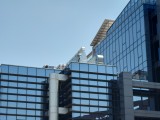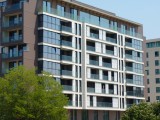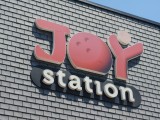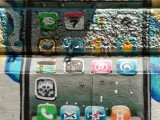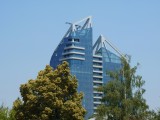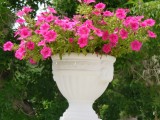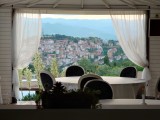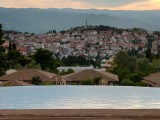 Daylight samples, telephoto cam (4.4x, 105mm)
Low-light image quality
In low light, the Xperia 1 III's main camera captures sharp and detailed images with well-controlled noise. Color fidelity is maintained as well. Dynamic range is generally good, particularly in the highlight areas, but a boost in shadows and mid-tones wouldn't hurt, especially in darker scenes.
It's typically Night modes on other phones that take care of bringing out shadow detail, but the Xperia 1 III doesn't do Night mode. A classic but flawed argument is that Night modes capture unrealistically bright scenes, and Sony's approach is the more photographically 'correct'. However, human eyes/brains are capable of adjusting for scenes with a very high dynamic range, higher than what a single exposure can capture anyway. Plus, anecdotal data we have here points that Night mode style processing, unrealistic as it may be, looks more universally pleasing than a more canonical rendition like we have here. That said, there's clearly some multi-exposure image stacking going on on the Xperia; it's just that certain scenes would benefit from a more liberal application of it.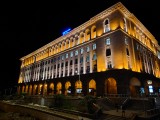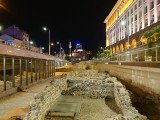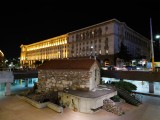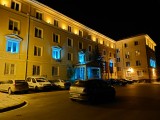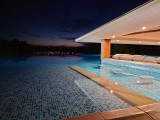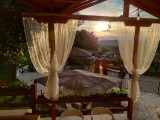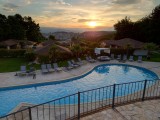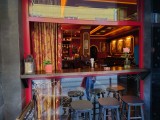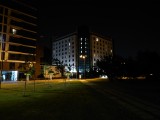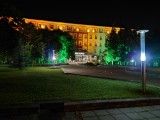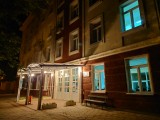 Low-light samples, main camera (1x)
The ultrawide camera is pretty well covered by the above assessment as well – sharp, detailed, and low-noise images that could benefit from better-developed shadows.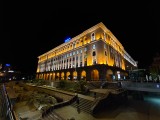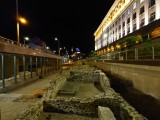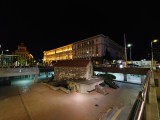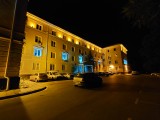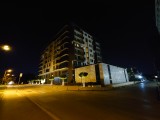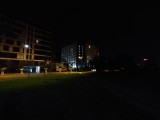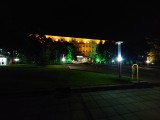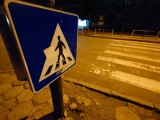 Low-light samples, ultrawide camera (0.6x)
Switching to the telephoto, the Xperia 1 III's captures decent images at 2.9x. Well-lit scenes are rendered nicely, with good detail and reasonable noise levels. While not pin-sharp, these photos do stand up to scrutiny in the context of 3-ish times zoom camera from competitors in low light. Darker scenes aren't looking quite as good – if they require something more extreme than the apparent ISO 1000 and 1/8s limit, you'd get underexposed photos.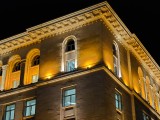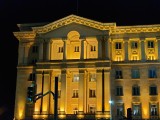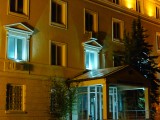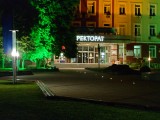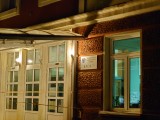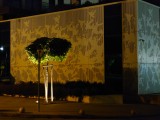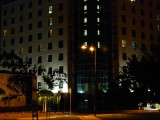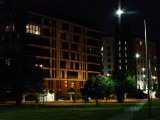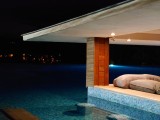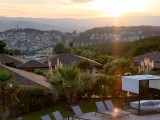 Low-light samples, telephoto camera (2.9x, 70mm)
Sharpness drops significantly at the 4.4x zoom level, and a Mi 11 Ultra's 5x tele will get you notably crispier shots. That said, the Xperia's photos look perfectly okay at fit to screen and exhibit good color and dynamic range. Again, the phone has no answer if the scene is too dark to expose at its maximum ISO 1000 and 1/8s.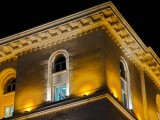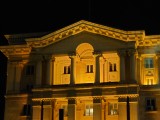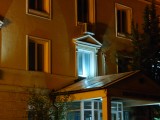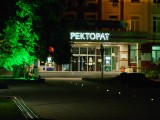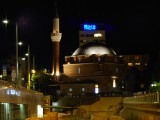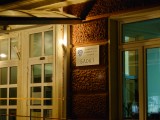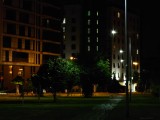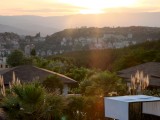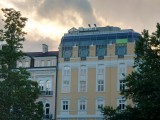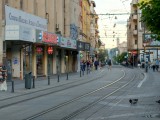 Low-light samples, telephoto cam (4.4x, 105mm)
Once you're done with the real-world samples, head over to our Photo compare tool to see how the Sony Xperia 1 III stacks up against the competition.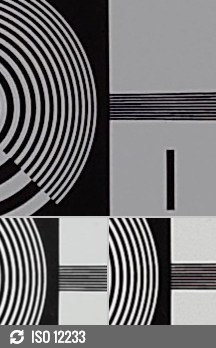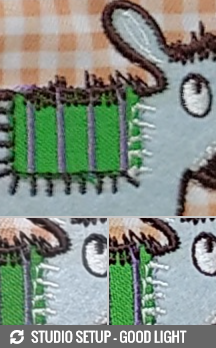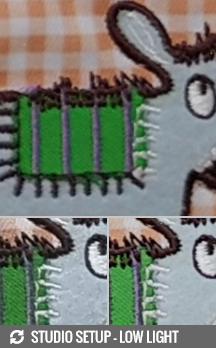 Sony Xperia 1 III against the Galaxy S21 Ultra and the OnePlus 9 Pro in our Photo compare tool
Portrait mode
The Xperia 1 III bokeh mode can be enabled for the main camera and both zoom levels of the telephoto. Main camera portraits have very good detail on the subject and generally proficient separation of subject from background. No HDR is a bummer, however, particularly for backlit scenes.
The good subject detection remains a feature on the zoom camera's portraits. Here it's aided by the much-improved perspective you get from standing away from your subject. Unfortunately, the telephoto camera simply isn't sharp enough.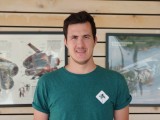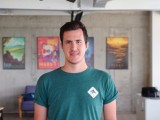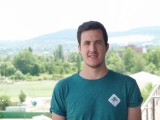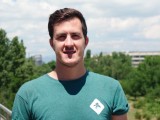 Portrait samples (4.4x, 105mm)
Selfies
Sony's lagging behind in its selfie game, and the 8MP front-facing camera is somewhat out of place on a top-tier handset such as the Xperia 1 III – we'd like to see autofocus and some more and/or bigger pixels. That said, it takes okay images with a fairly wide dynamic range and really likable colors. There is adequate detail too, about as much as you could expect from the number on the tin.
Selfie portraits don't get that HDR treatment of the regular photos, and challenging backlit scenes will have their highlights blown out. Subject detection isn't perfect either, with bits of background around clothes lines left sharp and the occasional blurry cheek or ear.
Video recording
The Xperia 1 III records video up to 4K30 with all three of its rear cameras. If you want a higher frame rate, there's the 1080p/60fps option, again on all rear cameras.
Using the Cinema Pro app, you can unlock a host of other frame rates on the main camera – you get 4K at 24, 25, 30, 60, and 120fps, though that's not the UHD type of 4K, but 21:9 3840x1644px instead. The Pro in the name implies a better understanding of video capture parameters and workflow. It requires a certain level of ability (and willingness) to post-process the footage – you likely won't be shooting casual 4K60 clips using the Camera Pro app.
Back to the Basic camera app and its results. Main camera footage in 4K (bit rate is 55Mbps) is overall good. Dynamic range is excellent, and colors are lively yet still mostly accurate. Noise is nearly non-existent too, but it's the level of detail that isn't getting us too excited – virtually all competitors offer an extra bit of crispness and finer textures.
The ultrawide camera maintains the wide dynamic range and dials down the saturation a bit, and footage generally looks great on a global scale. At 1:1 magnification, these videos stand up to scrutiny better and offer competitive levels of detail and sharpness to rivaling high-end smartphones. However, the Mi 11 Ultra in particular still holds a small advantage.
Similarly to stills, the telephoto doesn't quite live up to expectations. While detail isn't strictly bad, there's a prevailing haziness and lack of micro contrast in footage shot at the 2.9x zoom setting. Colors and dynamic range remain hard to fault.
At the 4.4x zoom level, things are looking similarly with a certain lack of definition and local contrast – look at the grass and the road lane markings. Dedicated 5x modules like the ones you'd find on the Mi 11 Ultra and the vivo X60 Pro+, for example, are vastly superior.
Stabilization on the main camera is very good, and the phone will competently iron out the walking shake. Pans have smooth transitions, too.
The ultrawide camera continues with the strong performance and also delivers very stable footage.
The output from the telephoto camera isn't quite as steady, whether it's at 2.9x or 4.4x zoom. Even though it does offer a significant improvement over the non-stabilized mode, there is a noticeable shake remaining in the resulting footage with stabilization enabled.
Here's a glimpse of how the Sony Xperia 1 III compares to rivals in our Video compare tool. Head over there for the complete picture.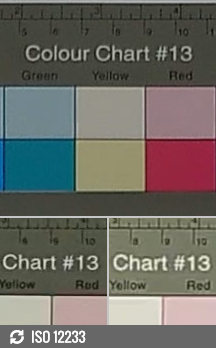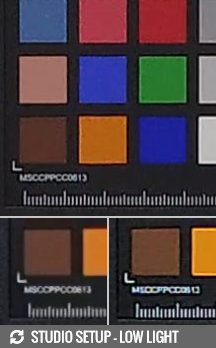 Sony Xperia 1 III against the Galaxy S21 Ultra and the OnePlus 9 Pro in our Video compare tool
Competition
The Xperia 1 III launches with an asking price of $1300/€1300, and even if that includes a pair of noise-canceling headphones in most regions, the number means that this Xperia is taking on the best of the best.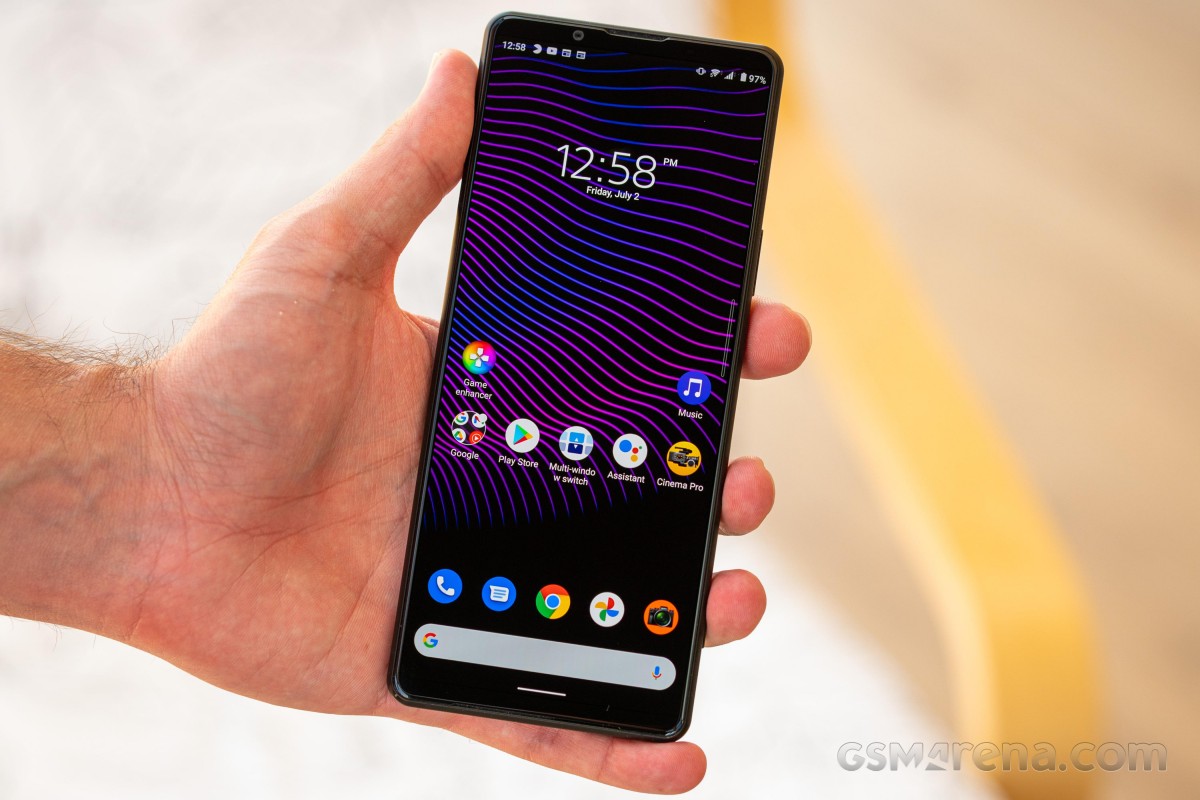 The Galaxy S21 Ultra easily comes to mind then, itself a camera juggernaut. There's hardly anything that the two do the same way in the imaging department – vastly different primaries, varied approaches to zooming, polar opposite processing – we're saying you're likely to have a strong preference for one over the other with little inclination to even think of switching camps. That said, we consider the Galaxy the more well-rounded and overall superior cameraphone. The S21 Ultra's battery also lasts way longer and charges faster, and its display is better all around. With comfortable wins in these areas and hardly any real measurable advantages for the Xperia (weight and footprint, maybe?), the Samsung is a much more sensible choice in our book.
The Mi 11 Ultra isn't sold in the US, and getting one in Europe won't be cheap or easy either. However, if you're eyeing the Xperia for its cameras, it's only logical to consider the Mi as well, even if that means going through hoops to acquire one. The Xiaomi is, well, easily the better cameraphone in this head-to-head, too. And, again, the Xperia loses for display quality and battery life. The Mi is hardly a looker and is some 50g heavier than the Xperia, so these could be arguments in favor of the 1 III.
Going back to global offerings, the OnePlus 9 Pro is about as easy to get in most corners of the world as the Galaxy. We're not exactly fans of its camera output, but it's not half bad and can actually compete with the Xperia. Endurance is closer to a tie between these two, so that's not going to settle it either, though the OP charges four times faster than the Xperia, and that can be a life-altering difference. The 9 Pro's display is better too, but it's probably the 200-400 dollar/euro savings versus the Xperia's asking price that are more important.
Not quite global, but widely available in Europe, where Sony is hoping to sell some Xperia 1 IIIs, the Oppo Find X3 Pro can be had for less than €1000. While its optical zoom capability maxes out at 2x, the Find does make a strong case for itself through its other two cameras, not to mention that good 2x may be more important than meh 2.9x or 4.4x. The Xperia does win this endurance race, for a change, but the Oppo makes up for it with speedy top-ups, and the Find too has a measurably superior display. Once again, though, if you're one to appreciate storage expansion and wired headphones connectivity – the Xperia has them, the Oppo doesn't.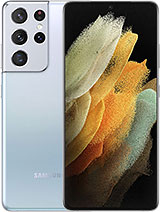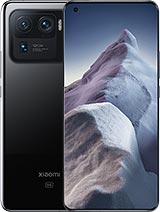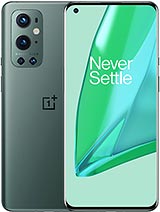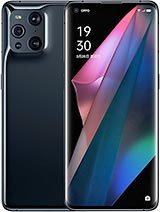 Samsung Galaxy S21 Ultra 5G • Xiaomi Mi 11 Ultra • OnePlus 9 Pro • Oppo Find X3 Pro
Verdict
The Xperia 1 III isn't after taking rivals head-on, that's for sure. Like a typical Sony, it is doing things its own way and dancing to its own tune. Forget about huge camera sensors with odd Bayer color filters, Night modes, or adaptive refresh rates – Sony wouldn't care less about those. Yet, while we've all but given up on memory card slots and headphone jacks on competing phones, here they are on the Xperia 1 III.
You've seen the flashy colors and shiny surfaces the other go for. Well, this Xperia would have none of that. If you are one to appreciate its stealthy design, straight lines, flat and matte surfaces and sharp corners, the others probably don't quite do it for you. Similarly, if a two-stage physical button is your preferred way of capturing photos, it's really only the Xperia that has one.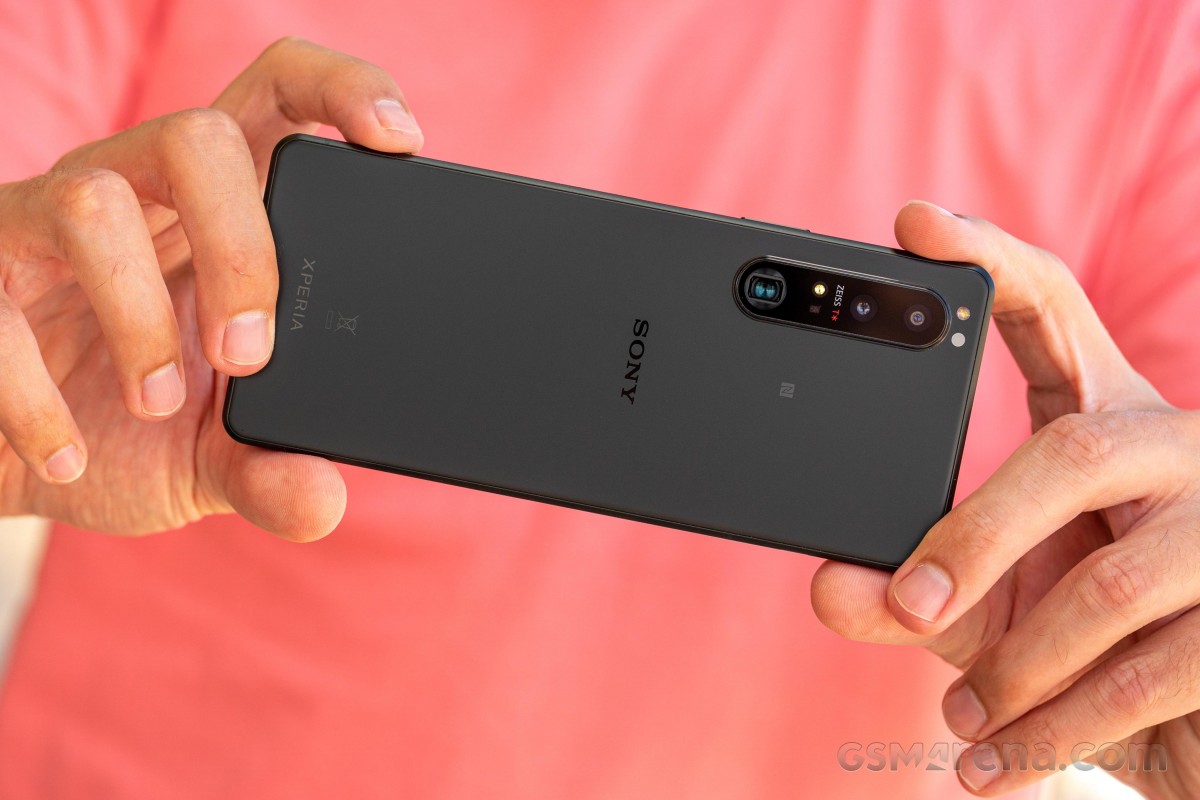 But comparisons are inevitable. For all its promising camera hardware, the Xperia 1 III appears to be lagging behind in the actual photo quality. The technological marvel that is its periscope telephoto takes largely underwhelming photos, while the other two are good, maybe even very good, but nowhere near class-leading.
Other letdowns can be found elsewhere, too. The 4K 120Hz display sounds great on paper but think again if you fancy both features simultaneously. The 4K resolution is little more than a marketing talking point, while its maximum brightness is a little over half that of the best in the business. Add to that the middling battery life, and the Xperia isn't looking great when it comes to the fundamentals, regardless of the interesting bits that sit on top.
Ultimately, the Xperia 1 III is not a bad phone. But it's a phone that takes a special type of person to appreciate. We certainly can't recommend it to anyone who isn't a brand loyalist, and maybe even those folks could be better off exploring alternative paths in the search of the ultimate smartphone.
Pros
Minimalistic, technical-looking design, high-end build, IP65/IP68 rating.
The advanced photo and video capture apps are a boon if you know what you're doing.
The dedicated shutter release button is still unique.
Has stereo speakers, microSD slot, audio jack, and a notification LED, too.
Cons
You can have the screen in either 4K or 120Hz; doesn't get very bright either.
Battery life is below average even for SD888; so is charging speed.
Has a tendency to overheat under sustained load, with heavy throttling too.
An engineering feat as it may be, the dual-focal-length zoom camera doesn't produce all that impressive photos.